The horse looks out SSE over Pewsey Vale towards the new Pewsey Horse, and can be seen for many miles. Good views are from Alton Barnes, and from the road from Alton Barnes to Lockeridge. It has been well maintained over the years.

Milk Hill, where this white horse is located and nearby Tan Hill are the joint highest points in Wiltshire at 294 metres. There was at one time a white horse on Tan Hill, but this no longer survives.

Created for Robert Pile, of Manor Farm, Alton Barnes. Possibly the same who created the first Pewsey Horse, or possibly his son. Robert Pile paid twenty pounds to a John Thorne, (Jack the Painter), in 1812 to design the white horse and get it made. Thorne designed the horse based on the earlier one at Cherhill, then commissioned John Harvey of Stanton St Bernard to do the rest. Before Harvey had finished Thorne took off with the money, and Robert Pile ended up paying a second time. Thorne eventually was hanged, however we haven't been able to work out what for.

The horse has changed over the years, the neck becoming thinner, the eye becoming enlarged and the addition of ears and lips and the improvements of the shape of the legs.

Since 2001 on a number of occasions the horse has been lit by candlelight, using candles in glass jars. There are suggestions that this is to become an annual event. Taking place on the night of the winter solstice, 21st December. This has been organised by the Wiltshire Crop Circle Study Group, who currently maintain the white horse.

Alton Barnes and its surrounding villages, Alton Priors and Honey Street are the centre of crop circle activity since 1990 as Alton Barnes is home of the famous East Field – hallowed ground to all crop circle enthusiasts. East Field is the birthplace of the pictogram and complex circle designs over a decade ago. I have heard that thousands of people can visit this, are looking at or for crop circles and the white horse is a favourite site giving a good high view over fields and a place that many of the crop circle pictures have been taken from. Also a renowned place to spot passing UFOs.

Adams grave, a long borrow is very near the white horse.

I have also read and seen a photo, but not seen in the nearby village of Alton Priors, a sarsen stone by the roadside which has a miniature replica of the Alton Barnes white horse carved on it. click here to see the stone.


Click on small image to see a larger version
---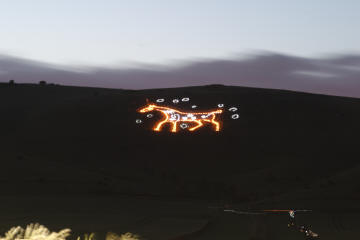 The White Horse was lit up on 30 June 2012 to celebrate it being 200 years old, done in conjunction with London 2012 and Salisbury International Arts Festival 2012.