Audley End House & Gardens

Saffron Walden, Essex

Location Guide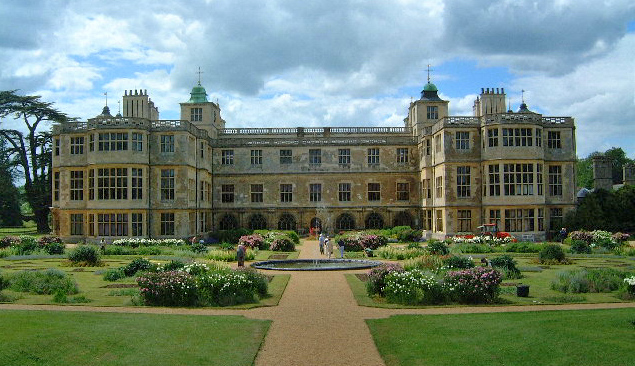 Rear view of house and gardens by Steve McShane


There are three parts to Audley End, the posh part, where you see how those in power and with wealth used to live, the service quarters where you see how the house ran and the gardens.
The House
On this site stood the Benedictine, Waldon Abbey. When the suppression of the monasteries occurred, Henry VIII gave the abbey to his Lord Chancellor, Sir Thomas Audley. After 1538 he adapted it to make it his mansion.
His grandson, Thomas Howard, first Earl of Suffolk, rebuilt the house on a massive scale between 1603 and 1614. Known as 'the Palace of Audley End', this Jacobean 'prodigy house' was three times its present size, and one of the largest mansions in England. But in 1618 Suffolk fell from favour and into massive debt, and his great house went into decline.
In 1668 Charles II bought Audley End for a home when he was visiting the Newmarket races and Queen Catherine of Braganza held court here that autumn. Repairs were carried out by Sir Christopher Wren, but costs were very high and King William III returned the house to the Suffolk family in 1701.
When the Suffolk line died out in 1745, Audley was bought by the Countess of Portsmouth for her nephew and heir, Sir John Griffin Griffin, later to become the first Baron Braybrooke. He made extensive changes to the house, adding a suite of neo-classical rooms designed by Robert Adam and a Gothic chapel. His refurbishments included a rare set of English Soho tapestries, now conserved and displayed in the Tapestry Room, this has also been redecorated to depict the room as it would have appeared when the tapestries were first installed there in 1767.
'Capability' Brown was employed to remodel the grounds.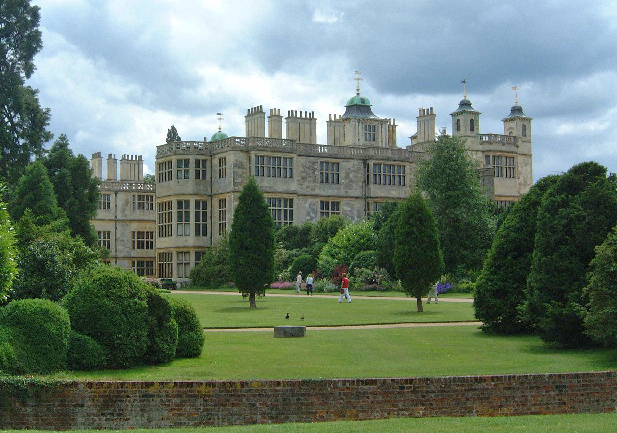 South Side view of house and grounds By Steve McShane


Today the house interiors largely represents the taste of the third Baron Braybrooke who, during the 1820's redecorated many of its rooms in the Jacobean style. He installed his extensive picture collection, and filled the rooms with inherited furnishings. The fourth Baron Braybrooke's natural history collection also remains an appealing feature of the house.
A fuller history with old prints of earlier times can be found in the Wikipedia article.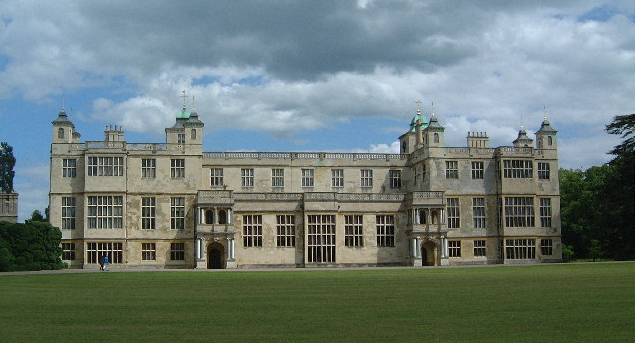 Front View By Steve McShane


The Service Wing
Making history come alive or perhaps stepping back in time, can occur here, especially on special days when visitors can see and hear from costumed interpreters cooking, washing and ironing in traditional ways.
The service wing is the refurbished Victorian section of the house where you get to see a unique insight into the 'below stairs' working of this great household during the 1880s. Rooms open to the public include the kitchen, dairy, dry larder and laundries. Refurnished and equipped with original and reproduction Victorian fixtures and fittings, they are also vividly animated with lifelike sights and sounds, film projection and even examples of food eaten in the era. This creates an atmospheric portrait of daily life for the individuals - from butler and cook down to dairy maid and lowly houseboy - who once toiled there, governed by an even more rigid hierarchy than 'above stairs', and coping with problems like keeping food hot over the 200 yards between kitchen and dining rooms.
Incorporating research into the real lives of the 25 or so indoor servants employed here during the 1880s, the Service Wing presentation illustrates how familiar household tasks were conducted on a near-industrial scale, to cater for the needs of the Braybrooke family and their retinue.
The Service Wing was also at the heart of a largely self-sufficient community. Food was grown and produced on the estate for consumption by those living on it - in 1884 there were 2,600 strawberry plants in the kitchen garden alone. So travel back in time complete with sights, sounds and smells of the 1880s.
If you are a teacher within range, then don't miss the opportunity to take your pupils and give them hands on experience, click here for more details.

Tea rooms are self-service in the Housekeepers Room and the Servants Hall.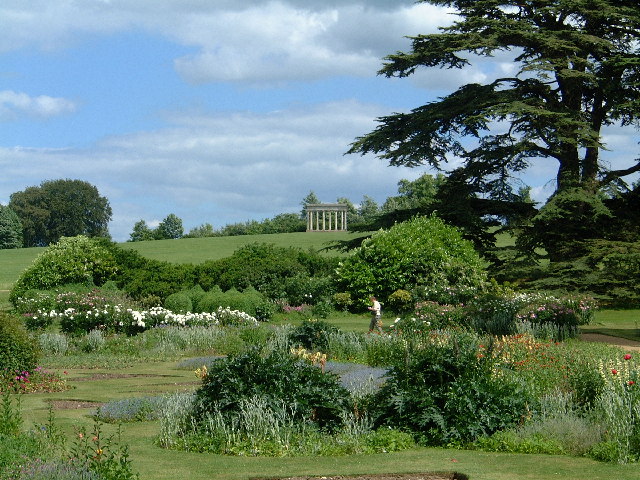 Temple of Concord By Steve McShane


The Gardens
Like the service wing, the gardens have been largely restored, so you can see Victorian gardens at their best. This includes an artificial lake, and 19th-century formal parterre garden. Within the walls of the Kitchen garden there is also a building including a dovecot, see Audley End Dovecot,

for details.
The Classical Temple of Concord, built in 1790 in honour of George III, should not be missed and all this is set in an 18th century parkland.
The Capability Brown parkland still includes many of the mock-classical monuments, although some are not in the care of English Heritage. The grounds are divided by the River Cam, which is crossed by several ornate bridges, and a main road which follows the route of a Roman road. The park beyond the river is frequently used for open air concerts. There is also a miniature circular railway in the grounds, (see links under nearby locations).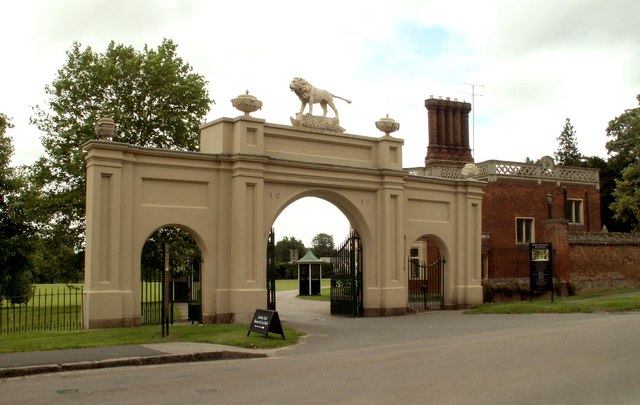 The entrance By Robert Edwards


---
Location: Audley End, Saffron Walden, Essex

Grid Reference: TL524381
Ceremonial County: Essex

Map Link: StreetMap

Aerial photo: Google Aerial

Getting there: 1 mile W of Saffron Walden on B1383, off London Road. (M11 exit 8 or 10)

Access: parking 200m from entrance. House: Via loose gravel, tarmac, cobbles and smooth grass. Ground floor level apart from Butler's Pantry which has 4 steps.
Gardens: Via tarmac and gravel paths and very smooth grass. Seats provided. A number of bridges either have a step or steep slope.

Website: English Heritage

Other Useful Websites: Wikipedia Garden Organic
Email:
Address: Audley End House, Audley End, nr Saffron Walden, Essex
Postcode: CB11 4JF
Telephone: 01799 522399 (info line)

Opening Times: House Wed-Sun + BH Mon 1 Apr-30 Sep 12noon-5pm; 1 Oct-31 Oct 12noon-4pm on certain dates within these ranges will be open by guided tour only, see website for details. Closed 1 Nov-31 Mar

Gardens and Service Wing Wed-Sun & Bank Holidays: 1 Apr-30 Sep 10am-6pm; 1 Oct-1 Nov 10am-5pm; 14-28 Feb 10am-4pm; 1 Mar-31 Mar 10am-5pm

1 Feb-13 Feb Sat & Sun 10am-4pm; Closed 20 Dec-31 Jan

Charges: English Heritage members FREE; Adults £12.50; Concession £11.30; Child £7.50;
Family £32.50 (children in member groups £1 each on some event days)

Garden and service wing (NOT available on event days) Adult £8.70; Concessions £7.80; Child £5.20; Family £22.60

Nearby Locations: Audley End Railway Wikipedia

Other Location Pages: Audley End Dovecot, Essex
Other Relevant Pages:

Notes: No photography or stiletto heels allowed in the house. Disabled access: 01799 522842,
Local Tourist Information: Saffron Walden: 01799 524002, Cambridge: 01223 464732
Please let us know any other information that we can add to the Grid(s) or page and any errors that you discover. Before making a long trip to any location it is always wise to double check the current information, websites like magazines may be correct at the time the information is written, but things change and it is of course impossible to double check all entries on a regular basis. If you have any good photographs that you feel would improve the illustration of this page then please let us have copies. In referring to this page it is helpful if you quote both the Page Ref and Topic or Section references from the Grid below. To print the planning grid select it then right click and print the selected area.
Please submit information on locations you discover so that this system continues to grow.