Jackfield Tile Museum

Ironbridge, Shropshire

Location Guide
"A part of the World Heritage Site Ironbridge Gorge"
Jackfield is one of the oldest known centres for the production of ceramics in Shropshire, a tradition that is thought to date back to the sixteenth century. It developed into a thriving community in the 18th century due to its close proximity to the River Severn and therefore the ability for it to get its goods out of the valley to other parts of the country. It is located on the south side of the Ironbridge Gorge and housed in the former works of Craven Dunnill and Company. With its displays, educational facilities and manufacturing tenants, the museum is a celebration of the British decorative tile industry between 1840 and 1960.

The manufacture of decorative tiles began in the area in 1852 with John Hornby Maws and his two sons, they traded as Maw & Co. They set up a factory in Jackfield in 1883 and they enjoyed a monopoly until the early 1860's when the Jackfield potworks on the original site of today's museum was taken over by Hawes & Denny.

However today's building and the Jackfield Tile works popularity and success was down to a Yorkshire man, Henry Powell Dunnill, who originally started out as manager of the tileworks until he bought shares in the company in 1872 and formed Craven Dunnill & Company Ltd, and becoming the managing partner. Today's building is down to him as in 1870 he announced he was to pull down the old factory and build another one. In 1871 newspapers reported that a local builder had been appointed to erect the new building and that a length containing 24 windows and one door had been erected running nearly parallel with the Severn Valley Railway. However after this initial burst of activity progress slowed and it was not actually opened until two years later in 1874.

Tiled Floor in the Entrance
Up until the 1940's the main employment opportunities in Jackfield were this factory and that of Maw & Co, both producing tiles and within the numerous brick and roofing tile works. At the end of the second world war the majority of the factories closed down and a landslip in 1950's destroyed many of the houses in the area. Craven Dunnill left the Jackfield works moving to Bridgnorth and the buildings were taken over by a firm making iron and bronze castings.
In 1983 the Ironbridge Gorge Museum Trust with the help of others purchased the site and since has spent time restoring the buildings and encourage the return of ceramic manufacture. This resulted in 1989 of tile manufacture returning to this building and in 2001 Craven Dunnill returned after 40 years of absence.
Today it operates as a museum, a working site for Craven Dunnill and within new buildings encouraging others to use the space to promote their goods, such as glassware, cermaics, jewellery etc.
Your Museum Visit
You enter the museum in the shop and cafe area, and then as you wander through the original gas-lit trade show room, galleries and period room setting you are able to see, touch and even walk on British made tiles.
Various rooms are set up as galleries showing examples of individual tiles including ones showing mediaeval stories and nursery rhyme scenes in large panels. The style gallery has cabinets full of tile designs including some national collections as well as some ceramics. The Trade Show Room has various panels of tiles on the walls, and in cases showing the various designs and motifs used over the period they were made at this site, as well as physical tiled structures such as tiled fireplace surrounds, and tiled Washstands by Maw & Co and displays of factory mosaic flooring.
There are also period room settings depicting various locations that would have been decorated with tiles. You get to walk through an Edwardian Tube Station, the bar of an Hotel, a children's hospital ward, the butchers shop and a 1930s 'front room'.
Find out how the different varieties were made; encaustic, embossed, dust press and tube-lined. The final exhibit before you end your tour of the main old factory is the Museum Gallery which has large panels both uprights and lengths of various tile designs and patterns. You end your visit in the Craven Dunnill factory where on certain days you can see it in operation.
Allow 1-2 hours for your visit. As well as the Museum itself there is also a small group of specialist shops offering items such as glassware, ceramics, bike hire and more for you to take a look at before returning to your car.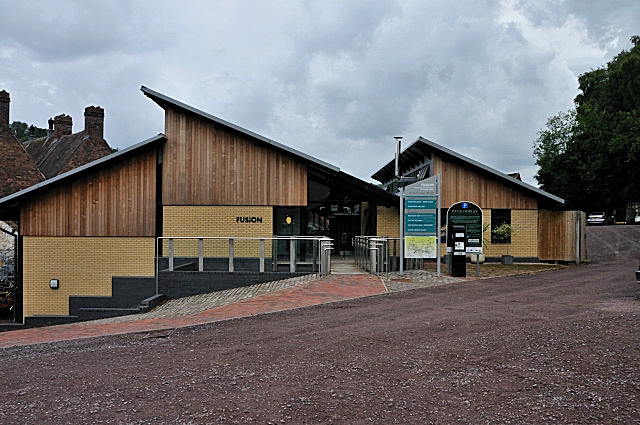 The Annual Passport. The Ironbridge Museums operate an Annual Ticket and Passport where for one price you can get access to all 10 of their sites with unlimited day time access during normal opening hours, so you can return as often as you like for a whole year. If after 12 months you have still not visited particular sites, you can return at any time in the future to make one free visit to the sites that you've missed. These tickets are sold at all the museums and the visitor information centre in Ironbridge itself or you can buy them in advance by phone. The 2009 prices for the Passport tickets are:
Adult £19.95; 60+ £15.95; Child £12.95 or a family ticket for 2A up to 3C £54.95.
---
Location: Jackfield Tile Museum, Jackfield, Ironbridge, Shropshire

Grid Reference:

SJ686029

Ceremonial County: Shropshire

Map Link: Multimap

Aerial photo: Multimap Aerial

Getting there: Exit J4 or 6 of M54. Follow signs for Ironbridge Gorge. Then follow signs for Ironbridge Museums. Pick up signs for Tile Museum in the town. Heading towards Bridgnorth cross the New Bridge and turn immediate left.

Access: Has it's own free car park at the rear.
Website: Jackfield Tile Museum
Other Useful Websites:
Email:
Address: Jackfield Tile Museum, Jackfield, Ironbridge
Postcode: TF8 7LJ
Telephone: 01952 884391
Opening Times: All Year 10am-5pm

Charges: Use the Annual Passport as detailed above or for entry to the Tile Museum only prices are: Adult £6.75; 60+ £6.25; Child £4.50

Other Location Pages:
Other Relevant Pages:

Notes: On site cafe serving drinks and snacks.
Please let us know any other information that we can add to the Grid(s) or page and any errors that you discover. Before making a long trip to any location it is always wise to double check the current information, websites like magazines may be correct at the time the information is written, but things change and it is of course impossible to double check all entries on a regular basis. If you have any good photographs that you feel would improve the illustration of this page then please let us have copies. In referring to this page it is helpful if you quote both the Page Ref and Topic or Section references from the Grid below. To print the planning grid select it then right click and print the selected area.
Please submit information on locations you discover so that this system continues to grow.