Llanddwyn Island Lighthouse(s)

Llanddwyn Island, Anglesey

Featured Location Guide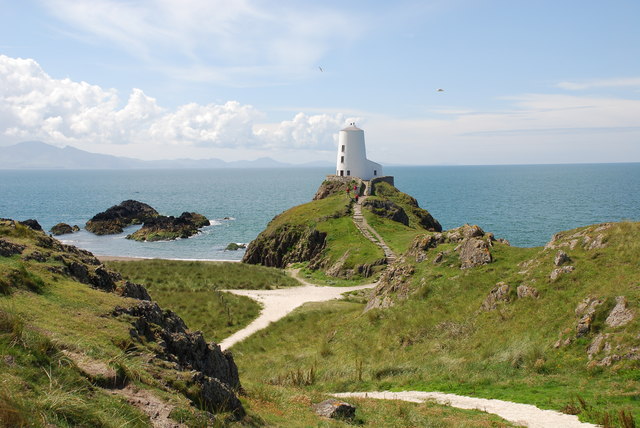 The Anglesey Coastal Path

skirts Ynys Llanddwyn (and can be seen in this image)

Photo by Ian Warburton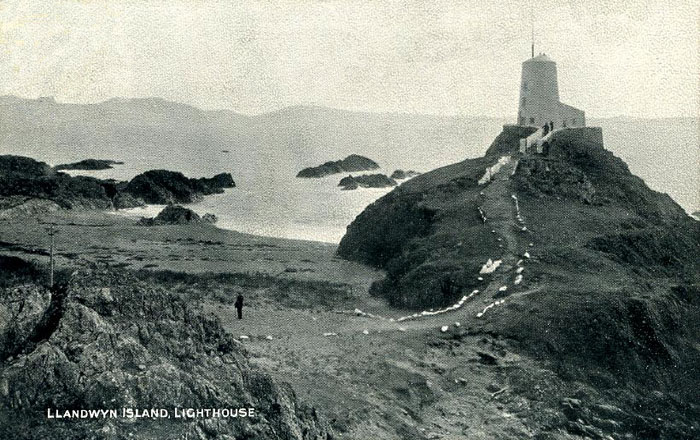 Old photo from Postcard about 1910, when it was in use
On the far southerly end, sticking out from the southern end of Anglesey, just west of the entry to the Menai Strait, in the island of Llanddwyn. On this island we have two towers, a little way apart, but for recorded history there has been one functioning lighthouse here.
We first appear to have had a beacon on a tower, it is said from 1800, but possibly before, then from 1873 until 1975 we had a lighthouse, but the lighthouse is now shut and we have, from 1975, a light on the top of the old tower. But when we delve deeper the situation is less clear cut.
Neither tower showed on charts by Lewis Morris, of 1800, but both appear on the Ordnance Survey 1818-1823 2 inches/mile map so both may have originated as unlit markers. It may be that they were originally constructed to be a pair of beacons.
The Lighthouse
We find that in 1873 or was it 1845, when they constructed the lighthouse, that the lantern and fittings cost £250 7s 6d, including the adaptation of an 'earlier tower'.
The tower is tapered in a way very similar to Anglesey windmills, it is 10.7m (35ft) high and 5.5m (18ft) in diameter. It may have been constructed by an Anglesey stone mason, and some think it is possible that the tower itself was originally used as a windmill, although there is nothing other than its shape to support this.
The north east door is flanked by small windows, and the two floors above also have small windows, but the top does not. The conical roof is slated and has a flag pole. The present lantern window is about 2m (6ft 6ins) by 0.61m (2ft). The optic, silver plated reflector and Fresnel lens were used into the 1970s and are dated 1861. The lantern was originally lit by six Argand lamps with reflectors.
The postcard photo around 1910 above shows an image that could be mistaken for today except that there is a line from the top, perhaps a flag pole or perhaps a chimney with smoke on a still day. Plus the path to the lighthouse has white painted edge stones.
The lighthouse ceased to be used from 1975.
The Second Tower
A smaller, conical tower, with a domed top, can be found to the north east of the island, (nearer the Menai Strait) and may be an earlier structure. The white painted walls are 2.03m (6ft 8ins) in radius and 0.91m (3ft) thick with a door to the north west and shows signs of cracking to the rubble filled walls on the west. As far as we know this was first lit in 1975 and is still lit today.
The island
The cottages nearby have been used as craft workshops, and the local community here once serviced pilot boats and life boats. The island is also the site of the ruined church of St. Dwynwen and now part of a national nature reserve, although fully open to the public with paths.
The nearby pilot house is now a museum of local maritime history.
Although called an island the majority of the time you can just walk straight onto it, and the Anglesey Coastal Path

skirts it. Only at extremely high tides does water flow between it and the mainland of Anglesey.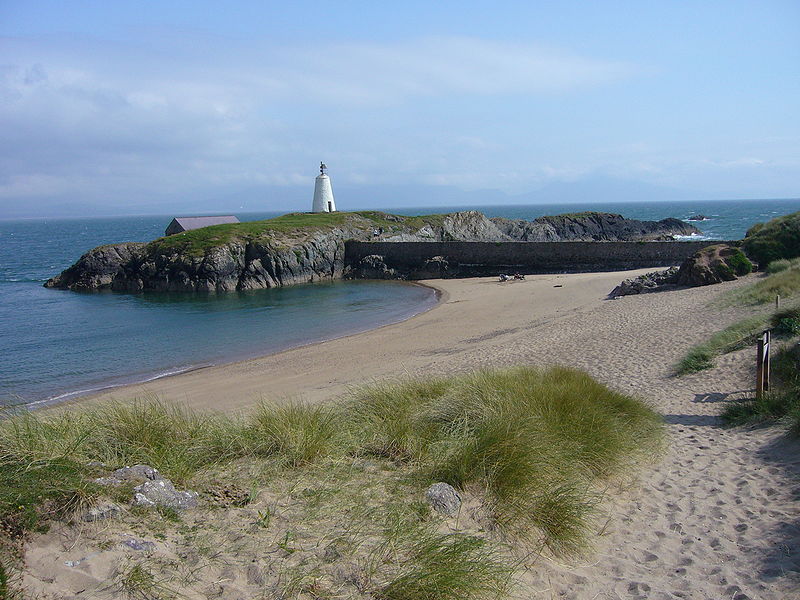 Photo by Robin Drayton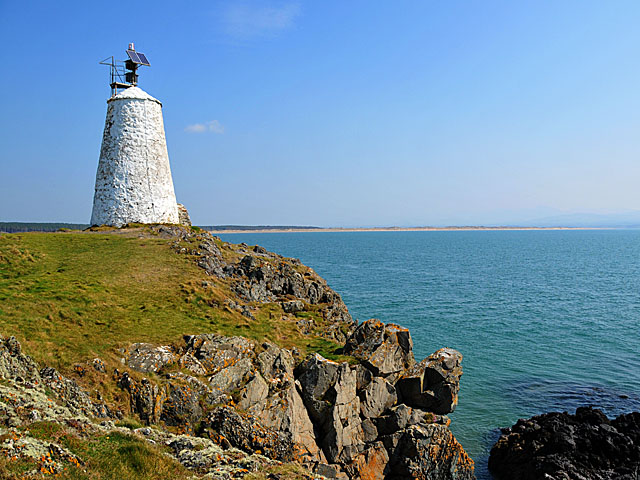 Navigation beacon on Llanddwyn Island.
This has come back into use since the decommissioning of the lighthouse nearby. In the distance
is Newborough Warren. In the far distance are the mountains of Snowdonia, half hidden in the haze.

Photo by Dr Richard Murray

Cross and old lighthouse on Ynys Llanddwyn
The lighthouse is no longer in use. Hills of the Llyn Peninsula in the distance on the left.

Photo by Dr Richard Murray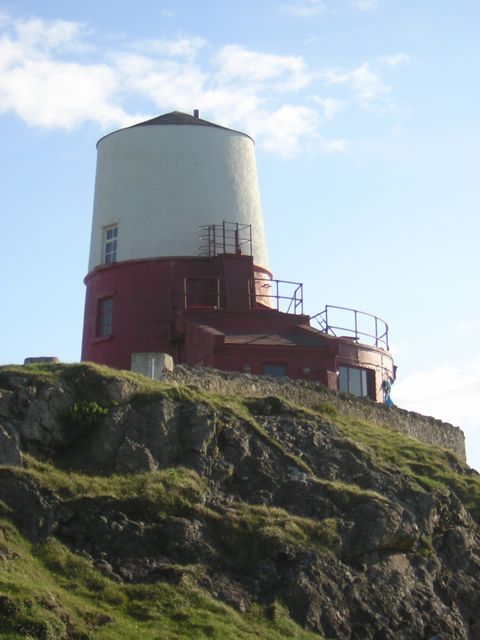 Llanddwyn disused lighthouse painted up for the "Halflight" movie

Photo by Stephen Elwyn Roddic

---
Lighthouse information Grid

Name:

Llanddwyn Island Lighthouse(s), Anglesey

Current status:

Tower from 1800 + since 1975 has light

Old lighthouse 1845-1975 now disused

Geographic Position:

Tower 1800 +1975 on

Old lighthouse 1845-1975

Grid Reference:

Tower 1800 +1975 on SH386624

Old lighthouse 1845-1975 SH385625

Ceremonial County:

Anglesey

Appearance:

Tower 1800+1975 on, round conical stone tower, painted white.

Old lighthouse 1845-1975 round old style stone tower attached to a keeper's house, photos appear to show a small lantern. Lighthouse painted white.

Map Link:

Aerial photo:

Google satellite view.

Other photos:

Originally built:

Tower 1800 +1975 on

Old lighthouse 1845-1975

Current lighthouse built:

no one knows for sure, converted to lighthouse

Height of Tower:

Tower 1800 +1975 17ft

Old lighthouse 1845-1975

Height of light above mean sea level:

Tower 1800 +1975 12m (39ft)

Old lighthouse 1845-1975 11m (36ft)

Character of light:

Tower 1800 +1975 flash every 2.5 s, white or red depending on direction.

Old lighthouse 1845-1975

Character of fog signal:

None

Range of light:

Tower 1800 +1975 = 5 miles

Owned / run by:

Tower 1800 +1975 Owner/ Operator: unknown. Site manager: Llanddwyn Island National Nature Reserve

Old lighthouse 1845-1875 its thought the owner is Anglesey local council.

Site manager: Llanddwyn Island National Nature Reserve.

Getting there:

By paths about a 3 mile walk from nearest roads. See map.

Access:

Tower 1800 +1975 - Site open, tower closed.

Old lighthouse 1845-1875 - Site open, tower closed.

Website:

Other Useful Websites:

Routes:
Anglesey Coastal Path
Nearby Locations:
Other Relevant pages:

Notes:

In 2004, the 1845-1975 lighthouse tower was repainted with its lower half red for its appearance in the movie 'Half Light', starring Demi Moore. See photo of this above.
Please let us know any other information that we can add to the Grid or page and any errors that you discover. Before making a long trip to any location it is always wise to double check the current information, websites like magazines may be correct at the time the information is written, but things change and it is of course impossible to double check all entries on a regular basis. If you have any good photographs that you feel would improve the illustration of this page then please let us have copies. In referring to this page it is helpful if you quote both the Page Ref and Topic or Section references from the Grid below. To print the planning grid select it then right click and print the selected area.
Please submit information on locations you discover so that this system continues to grow.