Big Pit National Coal Museum

Blaenavon, Gwent

Featured Location Guide
"A part of the World Heritage Site Blaenavon Industrial Landscape"
Big Pit is now a museum in Blaenavon in South Wales, which is dedicated to the Welsh history of coal mining. Until it closed in 1980 it was a working coal mine, first opening in 1860. It stands on the edge of Blaenavon, a town that played a vital part in the Industrial Revolution. World Heritage Status has been designated to the town and landscape which marks the wider impact of Blaenavon's industrial heritage.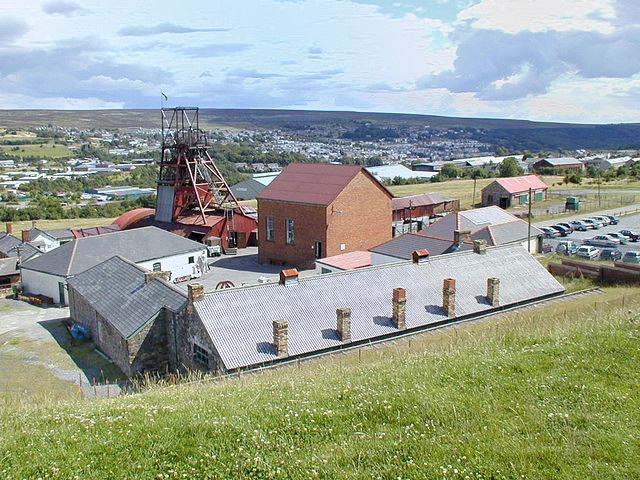 by Chris Gunns

It is called 'Big Pit' because it was the first shaft in Wales large enough to take two tramways (5.5m by 4.6m), at its deepest the shaft was 293ft. It was the first mine in South Wales to be electrified and by 1910 the ventilating fan, pumps and underground haulage system were worked by electricity. The original twin cylinder horizontal winding gear however was steam driven right up to 1953, when it too was electrified. Coal winding stopped in 1973 when a new drift was driven allowing coal to be brought to the surface near to the washery. The shaft then only being used to transport men and for ventilation.
In 1908 it provided employment for 1,122 people, but by 1970 this had decreased to 494, and by its' closure in 1980 only 250 were employed. Up until 1939 miners travelled to and from work in their working clothes, but in that year the pithead baths were opened. Each miner had two lockers - one for his clean clothes and one for his working clothes, separated by the showers. In today's museum the baths now house an exhibition and a licensed café.
In 1983 Big Pit re-opened as a Museum. What you will be able to see and experience on a visit includes:
An hour-long underground tour, led by ex-miners, which takes you down 300 feet in the pit cage to walk through underground roadways, air doors stables and engine houses.
On the surface you can explore the colliery buildings which include:

the winding engine-house,
the blacksmiths' forge
Fan House
Stables
the Pithead baths where you can learn more about the story of coal and its extraction from below the ground as well as the people who worked within the industry. There is also a 'traditional' mining exhibition with flame safety lamps, tools of the trade and displays.
within the mining galleries there is a 20 minute audio-visual presentation of life at the coal face and the methods of coal mining. You are taken through a simulated mine with the use of light and sound to bring the modern coal face to life.

by Peter Evans

Big Pit National Coal Museum is an Anchor Point of ERIH, The European Route of Industrial Heritage.

Nearby locations include the preserved Pontypool and Blaenavon Railway.

It is run and managed by the National Museum Wales, and because of this entry is FREE.

Allow 3-4 hours for your visit, an hour of which is taken for the underground tour.

by Mick Lobb
Click on the smaller images to see a larger version
---
.
---
Planning Grid

Location:

Big Pit Coal Museum, Blaenavon, Gwent

Grid Reference:

SO237087

Getting there:

From the M4 — follow the brown Tourism signs from J25a (westbound) or J26 (eastbound). Also signposted off the A465 at Brynmawr and Abergavenny.

Access:

Parking:

Free parking on site, disabled parking on each of three main levels.

Facilities:

Pithead baths canteen offering meals and snacks, Coffee shop open during peak season , Gift shop.

Things To Do, See and Photograph:

Underground tour, buildings

What to take:

warm clothing and suitable footwear for the underground tour.

Nature highlights:

Address:

Big Pit National Coal Museum

Blaenafon

Torfaen

Postcode:

NP4 9XP

Telephone:

(01495) 790 311

Opening times:

Open daily 9.30am–5pm. Underground tours run 10am–3.30pm.

Call for December and January opening times

Charges:

FREE

Photo Restrictions:

Can't take camera underground.

Other Restrictions:
Special Needs Access:
On the side of a steep hill and on a number of different levels. Ramps provided but they are long and climb arduous. Floor can be uneven or slippery in places and there are steps to negotiate. One or two places underground are low and you will need to bend your head. During underground tour need to walk for 700 metres wearing safety hat and carrying a lamp which weights 5 kilos. Maximum 4 wheelchair users underground per tour.
Special Needs Facilities:
Wheelchairs available on request, toilets but not underground
Children Facilities:
Baby changing facilities, in Pit Head baths and coffee shop building. Children must be over one metre tall to go underground
Dogs Allowed:
Assistant dogs are allowed, guide dogs are not allowed underground.
Please let us know any other information that we can add to the Further information and Planning Grids or page and any errors that you discover. Before making a long trip to any location it is always wise to double check the current information, websites like magazines may be correct at the time the information is written, but things change and it is of course impossible to double check all entries on a regular basis. If you have any good photographs that you feel would improve the illustration of this page then please let us have copies. In referring to this page it is helpful if you quote both the Page Ref and Topic or Section references from the Grid below. To print the planning grid select it then right click and print the selected area.
Please submit information on locations you discover so that this system continues to grow.