Royal Gunpowder Mills

Waltham Abbey, Essex

Quick Guide
See below grid for details
Science, nature, railways and history in one place
The Royal Gunpowder Mills, Waltham Abbey, was one of three Royal Gunpowder Mills in the United Kingdom of Great Britain and Ireland, the other mills were at Ballincollig and Faversham, but is the only site to have survived virtually intact.

Set in 175 acres of parkland and containing 21 buildings of major historical importance, it mixes history, science, and attractive surroundings.

It is an Anchor Point of the European Route of Industrial Heritage, (ERIH).

The Royal Gunpowder Mills, Waltham Abbey, were in operation for over 300 years, however, from the mid 1850s onwards the site was involved in developing new nitro-based explosives and propellants. The site grew in size, and gunpowder became less important. Shortly after World War II it became solely a Defence Research Establishment. Its superior production methods and high quality results earned it a reputation on an international level and played a significant part in the rise of Great Britain as an international power.

| | |
| --- | --- |
| Click on any image to see a larger version | Above Image |
---
History

This site started out as a 'fulling' mill, for cloth production, when it was converted to an 'oyle' mill for producing vegetable oils, but in the second Dutch war (1665-67) gunpowder was in short supply and this site was converted for gunpowder production. The Waltham Abbey Mills were one of the first examples in the 18th century of an industrialised factory system, not often recognised. In 1735 they were described by Thomas Fuller, a local historian, as 'the largest and complete works in Great Britain.' In the 1780s there was more concern about gunpowder supply and the government bought the mill in 1787. It produced powder for Waterloo, the Crimea, and Boer wars. By the 19th century as well as military supply there was large demands for civil construction, mining, quarrying, tunnelling, and railways being some uses.

The first gun cotton was developed here as was cordite. The First World War brought increased demand and staff increased from 3,000 to 6,230, the increase being mostly local women and being a major change in work practice. After this a lot of the production was moved away from Europe for security reasons but development continued with development work on TNT and RDX. At the outbreak on WW2, it was important for cordite and produced all the RDX. Later total RDX production was transferred to Bridgwater, and cordite production split across a number of sites including Scotland and Wales.

After this more development and testing work took place here until the Royal Gunpowder Mills finally closed in 1943. In 1945 the establishment re-opened as a research centre known as The Explosives Research and Development Establishment, or ERDE; and was in existence until 1977, when it became the Propellants, Explosives and Rocket Motor Establishment, or PERME. As a research centre Waltham Abbey was responsible for military propellant and high explosives and expanding into the increasingly significant field of rocket propellants, solid and liquid and a range of specialised applications, e.g. 'snifters' for altering space vehicles direction when in flight, cartridges for firing aircraft ejector seats, engine and generator starter cartridges - these applications have been called 'a measured strong shove'. The rocket activity later extended to the production of rocket motors.

In 1984 the South site and the Lower Island works were handed over to Royal Ordnance Plc immediately prior to its privatisation. The North side however remained in Ministry of Defence control as a research centre becoming part of the Royal Armament Research Development Establishment. After various reorganisations of Governmental research, the research centre finally closed in 1991, bringing to an end 300 years of explosives production and research.

Rocket Lab Photo By Steve Parker
Group E Mills By Steve Parker
Blast proof walls By Steve Parker
---
Recent and now
The south site was closed, decontaminated and all buildings removed and site redeveloped, but the north site with funding from Government and Heritage Lottery Fund has, after decontamination, been converted to a heritage visitor centre allowing the public to learn about the science, nature and history of the site. A large area of this site is listed as a Site of Special Scientific Interest and another, but separate, area is a scheduled ancient monument. So only a fraction of the original site is now open.
There are quite a few attractions including a railway. The original and large layout used an 18 inch gauge, but later a part of the site used 2'6" gauge. Originally the wagons were pushed by hand but later engines were used. In the gunpowder production areas with the risks of spare spark, steam engines could not be used and they had 4 paraffin driven engines each weighing 4.5 tones. There is no evidence of passengers being carried.
In 2000 the Mills bought rolling stock from Bicton Gardens, near Exeter, most of which originally came from Woolwich Arsenal. Although not original to Waltham Abbey's railway, all are to similar War Department designs, and the carriage bodies are almost all on frames and bogies identical with those used here for the large cordite wagons of 1917. The steam locomotive 'Woolwich', built by Avonside of Bristol in 1916, is the sole survivor of 16 and one of the 6 designed to burn waste oil, and whilst at Bicton was from 1962 the sole 18" gauge steam locomotive in regular use in Britain. After the closure of the Royal Ordnance Factory at Bishopton near Paisley, they acquired a lot of 2'6" rolling stock and track parts and installed some of this. A lot of work has been done, much by volunteers, to get this fully working, including converting vehicles to carry passengers, laying more track and work with the sole surviving complete wagon turntable. Just north of the 2'6" gauge depot and visible from the land train is the recently placed 3' gauge Coal Dust Explosions Simulation Unit of 1960 from the Health and Safety Laboratory at Buxton where it was used in research into spontaneous explosions in deep coal mines. Development continues...
There is also an exhibition called Farewell to Arms, a very large collection of armoury, over 200 working guns covering the periods from the English Civil War to present day conflicts including, heavy, medium and light machine guns, sub machine guns, manual and self loading rifles, revolvers and pistols, mortars, rocket launchers and grenades. The weapons come from all over the world and represent the small arms used by all the major combatants in the English Civil War, Napoleonic, Crimean, American Civil, Zulu and Boer, First World, Spanish Civil, Second World, Korean, Vietnam, Arab-Israeli, Falklands, Gulf and Afghanistan wars and conflicts. The exhibition includes most of the weapons produced by the Royal Small Arms Factory in Enfield, Bren guns including a rare 1938 dated MK1, .455 and .38 revolvers, Sten guns and rifles. It also contains helmets, hats, uniforms, badges, leather and webbing equipment, flags, swords, bayonets and spears.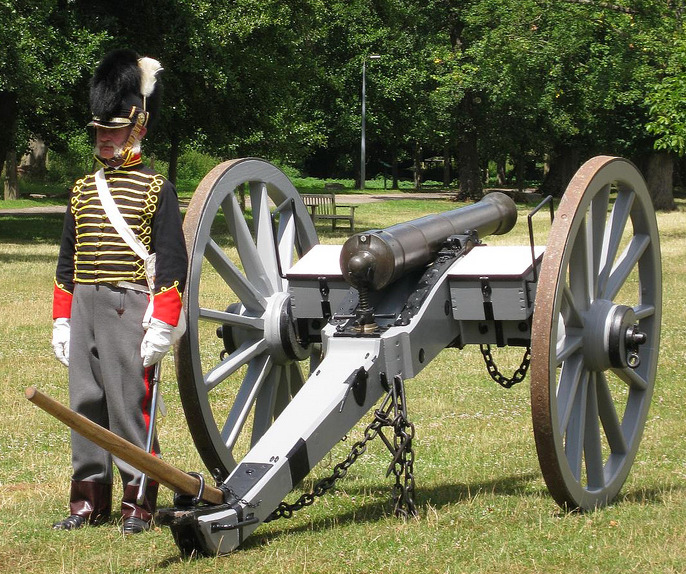 Guarding his Gun Photo

Visitors are encouraged to learn how to load, cock, aim and fire a variety of machine guns and rifles - this "hands on" experience proves to be not only interesting and informative but also good fun and they award certificates to those who qualify.
Other exhibitions include rockets, an interactive exhibition, transport and fire related exhibitions, and models including a model railway. A 1940's exhibition has the smells and sounds of the period, you get to experience the sight and sounds of an air raid shelter and browse in a 1940s shop, peek into a 1940s Nursery and Kitchen. Besides this there are the incorporating mills where the gunpowder was produced, engine houses etc. and far more. Discover the canal system, how explosives were made and far more. It's a lot on one site.
A wildlife tower allows local wildlife to be seen from the edge of the site, nature trail and woodland, a land train taking visitors around the site.
Throughout the year there are many Events and re-enactments, on a very wide range of themes.
They have a good website, if you can't find what you are looking for take a look under visitor services, site map (website), to locate the page you want. They also have a map of the site (property) see links below.
---
Location: Royal Gunpowder Mills, Waltham Abbey, Essex

Grid Reference:

TL375011

Ceremonial County: Essex
Aerial photo:

Getting there: See maps above or Diagram of local roads .

Its probably also signposted locally.

Access:
Website: own site map Map of website
Other Useful Websites: Wiki
Email: mailto:info@royalgunpowdermills.com
Address: Royal Gunpowder Mills, Beaulieu Drive, Waltham Abbey, Essex
Postcode: EN9 1JY
Telephone: 01992 707370
Opening Times: Click here for opening times and here for Events calendar

Charges: Adults £6.50; Children £4 (5-16) under 5 free; over 60 and students £5.50; family 2+3 £21. A wide arrange of season tickets are also available.

Nearby Locations:

Notes:

---

CIN Page Ref:

Royal_gunpowder_mills

Classification: Living History

Date Updated: 07/2008
---
This page is a Quick Guide, the idea of Quick Guides is to allow very basic information and linking forward information to be added to the system rather than having to wait until a full location guide has been developed. It should therefore be considered a development stage rather than a finished objective. Once more information is known the objective is to create either a Location or Featured Location page which has two grids and far more information.
Please let us know any other information that we can add to the Further information and Planning Grids or page and any errors that you discover. Before making a long trip to any location it is always wise to double check the current information, websites like magazines may be correct at the time the information is written, but things change and it is of course impossible to double check all entries on a regular basis. If you have any good photographs that you feel would improve the illustration of this page then please let us have copies. In referring to this page it is helpful if you quote the CIN Page Ref at the bottom of the Planning Grid above. To print the planning grid select it then right click and print the selected area.
Please submit information on locations you discover so that this system continues to grow.