Beaumaris Goal

Beaumaris, Anglesey

Location Guide
This Victorian jail was built in 1829, as a result of the Gaol Act passed in 1823, by Joseph Hansom (designer of the Hansom Cab). Originally it was built to house 30 inmates. It is most well known however for its methods of keeping control of its criminals, including such items as using stretching racks, chains and whippings.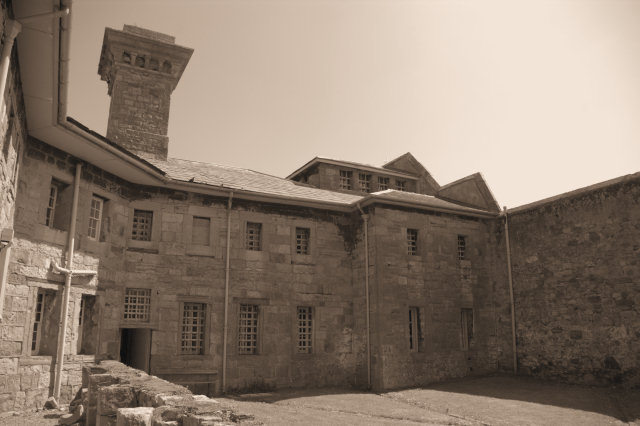 Only two hangings took place at Beaumaris. In 1830, William Griffith, for the attempted murder of his first wife. He reacted badly to the news that he was to hang and on the morning of his execution, barricaded himself inside the cell. The door was eventually forced open and he was half dragged and half carried to the gibbet. The gibbet can still be seen today fixed to an outer wall.
The second execution was in 1862. Richard Rowlands was found guilty of murdering his father in law. He protested his innocence right up to the final moment and legend has it that he cursed the church clock from the gallows, saying that if he were innocent the four faces of the nearby church clock would never show the same time, and for a while they didn't. Both men were buried within the walls of the gaol in a lime pit, but the exact location of their burial is unknown.
Throughout it's time, there appears to be only one account of someone escaping, prisoner John Morris, who escaped in January 1859, using a rope he had stolen whilst working with it. He was re-captured outside of the town and was found to have a broken leg which had occurred during the escape.
The prison also housed women prisoners like that of Gaynor Jones who was jailed for one month's hard labour for stealing a quart of milk.
During World War II the jail was the location for the towns air raid siren.
After closure the building became a police station until during the 1950's when it was converted to a Children's Clinic and then in 1974 it became a museum, as it is today.
On a visit you can see the:

The Prisoners admission room

A Cell

The chapel

The Governors Room

Kitchen

Washroom

Punishment room

The Condemned Cell

The Infirmary

The Women's Workroom where female prisoners were brought in the daytime to sew, knit, wash clothes.

The Whipping Room

The Stone Breaking Yard
The Treadmills including an original, which is one of the last working tread wheels in Britain. It is unusual in that it pumped water to the top of the building for use in the cells, meaning that the prisoners were not being forced to work for no reason.
Explore this large building with its dimly lit corridors, spartan cells and places of punishment, handle chains and fetters last worn by prisoners and during the main summer season you may also find actors re-creating some of the aspects of prison life in Victorian times.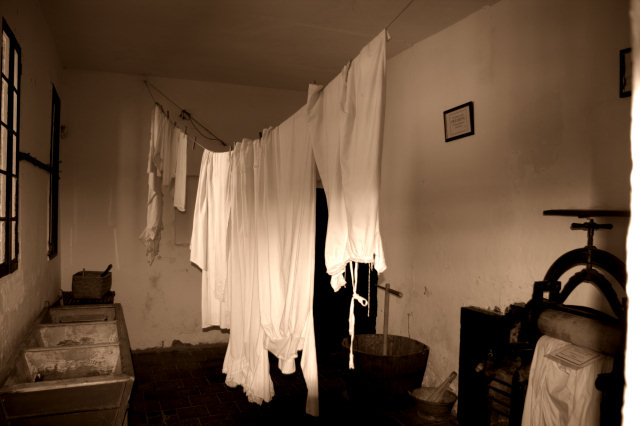 Prison Laundry Room

Photo

---
Location: Beaumaris Goal, Beaumaris, Anglesey

Grid Reference:

SH605761

Ceremonial County: Anglesey

Map Link: Multimap

Aerial photo:

Getting there: From Menai Bridge follow the A545 to Beaumaris. Once in Beaumaris, Steeple Lane is off Castle Street. Entrance to the Goal is on the road sign posted "Bunkers Hill".

Access: Town car parks nearby.
Website: www.visitanglesey.co.uk/beaumaris_gaol-34.aspx
Other Useful Websites: Visit Anglesey
Email:
Address: Beaumaris Gaol, Steeple Lane, Beaumaris, Anglesey
Postcode: LL58 8EP
Telephone: 01248 810921
Opening Times: Apr-Sept Sat-Thurs 10.30am-5pm. Oct every weekend and half term holiday

Charges: Adult: £3.50; Concession: £2.75, Child: £2.75, Family (4): £12

Joint ticket with Courthouse: Adult £6, Concessions: £4.50, Child: £4.50, Family (4); £20

Nearby Locations: Beaumaris Courthouse Beaumaris Castle
Other Location Pages: Anglesey Coastal Path
Other Relevant Pages: Anglesey Attractions Anglesey Attractions Map

Notes:
Please let us know any other information that we can add to the Grid(s) or page and any errors that you discover. Before making a long trip to any location it is always wise to double check the current information, websites like magazines may be correct at the time the information is written, but things change and it is of course impossible to double check all entries on a regular basis. If you have any good photographs that you feel would improve the illustration of this page then please let us have copies. In referring to this page it is helpful if you quote both the Page Ref and Topic or Section references from the Grid below. To print the planning grid select it then right click and print the selected area.
Please submit information on locations you discover so that this system continues to grow.