4½ miles of track along the southern shore of Llyn Tegid (Bala Lake), in the Snowdonia National Park along a part of the trackbed of the former Bala and Dolgellau Railway (Ruabon-Barmouth line of the Great Western Railway). It runs on 2ft (1ft11 1/2 inches) line.

The main station is at Llanuwchllyn, but there are other stations at Llangower and Bala, and halts at Pentrepiod and Bryn Hynod.

The engine sheds, refreshment rooms and souvenir shop are located at Llanuwchllyn. At Llangower you will find a picnic site on the shore of the lake (it has toilet facilities).

A new narrow gauge opened in 1972, but using quarry engines over 100 years old.

Being built on what was a wider track bed, is likely to mean that the line will be straighter than many narrow gauge lines and it may make it easier to photograph.

You can see the steam locomotives being serviced prior to coupling onto the train, can view the 1896-built Signal Box in operation and can enjoy light refreshments in the Station Buffet. Often, visitors can visit the railways' other engines in their shed.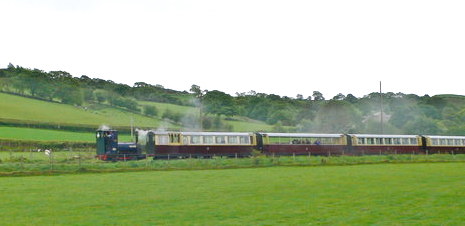 Holy War between Llanuwchllyn and Pentre Piod

Photo By
Eirian Evans
Holy War is the name of this small locomotive, and it used to be used at the Dinorwic Slate Quarry, Llanberis, N. Wales from 1902, where it worked up to 1,860 feet above sea level. It was the last steam loco working in a British slate quarry. It entered service on the Bala Lake Railway in 1979.