Gloucestershire Warwickshire Railway
Toddington/Winchcombe/Cheltenham, Gloucestershire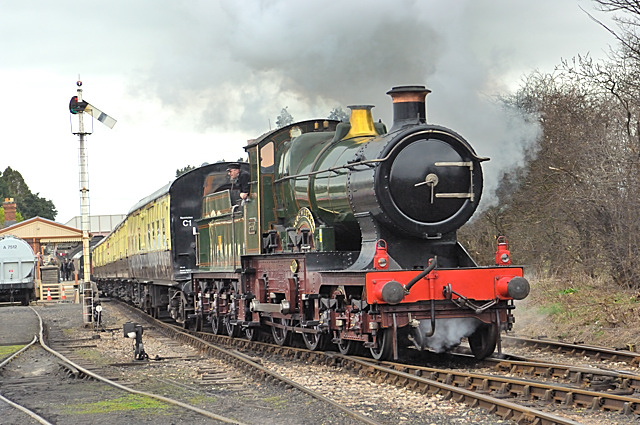 Gloucestershire Warwickshire Railway allows journeys over 10.5 miles of standard gauge line between Cheltenham Racecourse and Toddington, but with an extension under construction to Broadway this will increase it to around 15 miles. Steam operations started in 1964 and the Cheltenham Racecourse extension was opened in 2003.
It's likely that trains will be able to run to a place with a loop to allow the engine to get back to the front of the train part way to Broadway, allowing travel over the viaduct and two way trains at Toddington before long. The lines and points for this are being put in now.
The potential is to develop this line from Cheltenham to Stratford upon Avon, making it then the longest heritage railway in the country, but this is probably a long way off. They currently have the track bed as far north as Springfield Lane bridge at grid reference SP 091386, about 440 yards north of the old station site at Broadway, so far enough to put events on running trains from this end point through Broadway station and on towards the existing line. They will need a another 4.6 miles beyond this to get to Honeybourne junction that would allow it to link up with British Rail. The section between the racecourse station and the mainline station at Cheltenham is mostly available but with one bridge problem along the route, and a lot of expensive work required on other bridges and infrastructure. The trackbed through Cheltenham town centre is owned by the Borough Council. Railtrack has a plan that shows this line being rerouted to join the main line north of Swindon village.
This is a nice line for photographers for several reasons, including good access to take photographs from bridges and public rights of way, the Cotswold scenic location, and the fact that this once before was a dual width line as there is extra width either side of the trackway, plus with a lineside pass, walking along the trackside is safer as much of the way there is a safe walkway on much of the route, left to drive railway service vehicles along.
Greet tunnel is impressive and trains can be photographed coming out of either end (with lineside pass). There is a second smaller tunnel beyond Cheltenham racecourse station, which is not yet in use. North of Toddington, and not yet having regular trains over is the Stanway Viaduct, 15 arches in curve standing 50ft high. On some special events some trains may be run across it, but watch the locomotive roster page for information on these events.
Due to the line width and the number of bridges, there are a lot of opportunities to get photographs. The roads between, although country roads, are not generally busy, and allow rapid access so that you can often leap frog the train getting several shots along its journey, with some planning. There are a number of good photo points.
Growing towards Broadway
Leaving Cheltenham Racecourse
Leaving Toddington

Click the image to see a larger version
Along this 15 miles there are a lot of structures including:-
3 Stations and 1 halt (open) at least one more being constructed.

Workshops and large yards at Toddington, further extensive sidings and workshop at Winchcombe.

Signal boxes. Large traditional at Toddington and Winchcombe plus others being constructed along the line. I have heard that they have another original signal box for reconstruction at Broadway.

2 Tunnels (Hunting Butts and Greet)

Greet Tunnel can be photographed from both ends as trains come out (with lineside pass).

1 Viaduct (15 arches, 50ft high).

16 Steel line-over bridges (such as at Gotherington and Gretton).

5 Steel line-under bridges.

12 Brick or concrete line-over bridges.

5 Brick or concrete line-under bridges.

39 Culverts.

3 Siphons.

1 Aqueduct (combined with a footbridge, near Stanway).

4 Footbridges, 2 at stations, 2 alongside road bridges.
Click on an image to see a larger version
Both Toddington and Winchcombe stations are impressive historic stations that have been moved and re-erected in these locations. The original Gotherington station and signal box are privately owned but have been restored, and a goods siding added, all of which can be photographed. Cheltenham Racecourse station is the original building at bridge level with a walkway down to platforms.
They have a range of resident steam and diesel trains and put on both regular days throughout the year and a number of spectacular special events. In addition there are dining trains and other specials like the ones to the Racecourse of Race Days (ie Cheltenham Festival in March) and fish and chip specials.
Lineside passes
Lineside passes are available for the day or as annual passes. Available to those over 18 and you must wear an ORANGE HIGH VISIBILITY JACKET. You can go nearly anywhere, except inside Greet Tunnel or on the line in stations between the platforms.
Day passes are £8, some events may be £10.
Annual passes are £35 for non members or £15 for members. As membership starts at £14, you can save £6 by becoming a member. Lineside passes run for the calendar year but membership is renewable around April time. So one years membership could allow two annual passes to be obtained. Membership also includes other benefits. Like many organisations run largely by volunteers, things may not happen fast, so allow loads of time if applying by mail.
Information and application form on lineside passes is available by clicking here

. Day passes can be obtained from Toddington station, but arrive in plenty of time to allow the right person to issue them to be available. The volunteers on the fire service side at the railway (they also have some period fire engines) sometimes act as checkers to see everyone has a lineside pass, and at events I have seen passes being checked around Winchcombe and the Greet Tunnel areas, so don't be tempted to join the crowd of photographers at events and go onto the line.
Locomotive roster is available by clicking here

---
Further information Grid
.
---
Planning Grid

Location:

Gloucestershire Warwickshire Railway

Grid Reference:

Toddington SP 050322

Winchcombe SP 027298

Gotherington halt SO 075298

Cheltenham racecourse station SO 954250

Getting there:

Toddington Station is 3 miles from Winchcombe, 10 miles from Cheltenham, the station is on the right going from Toddington to Stanway on the B4077.

Winchcombe Station is a mile from the centre of Winchcombe on the B4078.

Gotherington Halt off Granna Lane, (right turn before railway bridge over road coming out of Gotherington) has no car park, and parking is difficult, trains only stop on the blue timetable.

Cheltenham Racecourse station is accessed from inside the Race Course, at the far extreme of the car park.

Access:

Parking:

Car parks at Toddington, Winchcombe and Cheltenham Racecourse, which are free unless otherwise stated in the events pages.

There is no car parking at Cheltenham Racecourse on race days.

Facilities:

At Toddington and Winchcombe stations.

Things To Do, See and Photograph:

What to take:

Nature highlights:

You often see a lot of wildlife on this track, especially around Gotherington.

Address:

Gloucestershire Warwickshire Steam Railway plc

The Railway Station

Toddington

Gloucestershire

Postcode:

GL54 5DT

Telephone:

01242 621405 (same number for talking timetable non operational days)

Opening times:

Check their website for dates open and times and note which trains are steam and diesel hauled. Current timetable is at http://www.gwsr.com/your-visit/2010-timetable.aspx

You will also find events pages on the website.

Charges:

Unlimited travel on day of issue Adults £11, Child (5-15) £6.50, under 5 free, Seniors £9.50, Family 2+3 £30. (First class travel extra). Special events may have a special prices.

Photo Restrictions:

None

Other Restrictions:
None
Special Needs Access:
Cheltenham Racecouse station is down a steep slope, Gotherington involves steps, Toddington and Winchcombe are level, but both have bridges to platforms the other side of the tracks. There are crossing paces accessible with help from staff when no trains are present.
Special Needs Facilities:

Toilets for disabled visitors at Toddington and Cheltenham Racecourse stations. Maybe at Winchcombe?

Wheelchairs can be accommodated in specially converted carriages, call to make arrangement on this and other help.

Children Facilities:
Dogs Allowed:
Well-behaved dogs are welcome
Please let us know any other information that we can add to the Further information and Planning Grids or page and any errors that you discover. Before making a long trip to any location it is always wise to double check the current information, websites like magazines may be correct at the time the information is written, but things change and it is of course impossible to double check all entries on a regular basis. If you have any good photographs that you feel would improve the illustration of this page then please let us have copies. In referring to this page it is helpful if you quote both the Page Ref and Topic or Section references from the Grid below. To print the planning grid select it then right click and print the selected area.
Please submit information on locations you discover so that this system continues to grow.