North Norfolk Railway
'Poppy Line'
Sheringham to Holt, Norfolk
Click on images to see larger ones
North Norfolk Railway, known as the 'Poppy Line', is a heritage railway with 5 miles of stand gauge line running from the coastal town of Sheringham inland to Holt in Norfolk, with an extension onto Melton Constable planned, and a further plan to push on to Fakenham, where they hope to join two other railways.
At Sheringham it is divided from the national rail network by just the width of a road, and there are plans to reinstate the connection with an 'occasional use' level crossing, this has been approved by Network Rail. At first this will allow limited use for special excursion trains and rolling stock movements.
There are two other stations along the line at Weybourne, about a mile from the village and former Army camp, and Kelling Heath. The NNR operates both steam and Diesel hauled services, and organizes a programme of seasonal special events. A museum has also been built at Holt.
Stations:-
Sheringham
Weybourne
Kelling Heath
Holt
Stations have signals and other features, and have been used in a number of films and TV series.
Norfolk is traditionally thought of as quite flat, but this line does run through some areas that have more character, the bumpy part of Norfolk as they put it on their page for filming companies. We sometimes look to the longer lines, that have perhaps more engines and longer trains, but we should remember that on a shorter line they are often running more trains per day, so more trains will go past you when taking photos.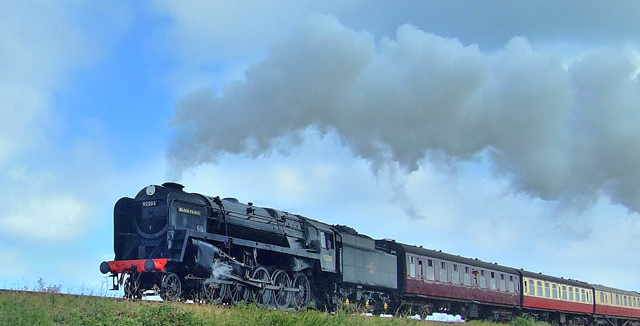 Line side passes details on website

One Day Pass £5.00; Gala Pass £10.00; One Month Pass £20.00; One Year Pass £50.00
Arrange by completing the online form or calling 01263 820800 to get full terms and application form.
These are the most expensive annual lineside passes we have so far come across, but day rate is not bad. With all the options you can select the one that is right for you depending on how many times you expect to use it. If you happen to live near this line then you may use it many days and get full value of the annual pass. As with others you must wear an ORANGE high visibility vest whilst on the lineside.
Other pages off specific interest to photographers are:
---
Further information Grid
Location:

North Norfolk Railway 'Poppy Line', Norfolk

Ceremonial County:
Norfolk

Grid Reference:

Sheringham TG157431

Weybourne TG119420

Kelling Heath TG110418

Holt TG094396

Map Link:

Aerial photo:
multimap aerial of Sheringham station

Route(s):

SG track

Best Times to Visit:

E-mail:

enquiries@nnrailway.co.uk

Website:

Other useful websites:

wiki

Nearby Locations:
Mid Norfolk Railway website
Other Relevant pages:
Norfolk Orbital Railway (plan to expand and link up several railways)

Classification:

Date Updated: 07/2008
.
---
Planning Grid

Location:

North Norfolk Railway 'Poppy Line'

Grid Reference:

Sheringham TG157431

Weybourne TG119420

Kelling Heath TG110418

Holt TG094396

Getting there:

Holt is on the A148 Kings Lynn - Cromer road. The station is signposted from the roundabout at Holt

Sheringham is a mile off the same road. The station is in the centre of the town.

Access:

Parking:

Car parking is available at Sheringham (Pay & Display), Weybourne and Holt. Car parking is free at Holt and Weybourne although space at Weybourne is very limited and may not be available during special events.

Facilities:

Things To Do, See and Photograph:

What to take:

Nature highlights:

Address:

North Norfolk Railway plc,
Sheringham Station,
Station Approach,
Sheringham,
Norfolk,

Postcode:

NR26 8RA

Telephone:

01263 820800 Talking Timetable: 01263 820808

Opening times:

Click here for timetable - Up to 11 trains running in both directions some dates. See also events list

Charges:

Several ticket types are offered including Day Rover tickets allowing unlimited travel. Rovers are adults £9.50; Children (5-15) £6; seniors £8.50; family 2+2 or 3+1 £29. Under 5 free.

Photo Restrictions:

Other Restrictions:
Special Needs Access:
Special Needs Facilities:
They have two carriages fitted out to take wheelchairs and quite a lot of other provisions click here and look down the page.
Children Facilities:
Dogs Allowed:
Yes charge £1

CIN Page Ref:

North_Norfolk_Railway

Date Updated: 07/2008
Please let us know any other information that we can add to the Further information and Planning Grids or page and any errors that you discover. Before making a long trip to any location it is always wise to double check the current information, websites like magazines may be correct at the time the information is written, but things change and it is of course impossible to double check all entries on a regular basis. If you have any good photographs that you feel would improve the illustration of this page then please let us have copies. In referring to this page it is helpful if you quote the CIN Page Ref at the bottom of the Planning Grid above. To print the planning grid select it then right click and print the selected area.
Please submit information on locations you discover so that this system continues to grow.