North Yorkshire Moors Railway
Pickering to Whitby, North Yorkshire
For all above images Click on image to see a larger version
North Yorkshire Moors Railway is currently the second longest heritage railway in the UK with 18 miles of standard gauge line. It runs across the North York Moors from Pickering via Levisham, Newton Dale, Goathland, Grosmont, to Whitby. It is the end section of the former Whitby, Pickering and Malton line which was closed in 1965.
I think the link from Grosmont to Whitby, is over part of the Esk Valley line. On the website and PDF timetable it says that steam trains operate on the Esk Valley line as far as Batterby, two stations up away from Whitby, during gala weekends.
Trains are mostly steam-hauled, but heritage diesels are also used. At the height of the running timetable, trains depart hourly from each station. As well as the normal passenger running, there are dining services on some evenings and weekends. The recent extension of steam operated services to the seaside town of Whitby have proved extremely popular.
The railway was planned in 1831 by George Stephenson as a means of opening up trade routes inland from the then important seaport of Whitby and opened in 1836. The initial railway was designed and built to be used by horse-drawn carriages. Their three main achievements were cutting a 110m tunnel through rock at Grosmont, constructing a rope-worked incline system at Beck Hole and traversing the marshy and deep Fen Bog using a bed of timber and sheep fleeces. The tunnel is believed to be one of the oldest railway tunnels in the world. In 1845 it changed hands and shortly after steam engines were introduced, stations and other permanent structures were added. At first it was very successful but as time went on it became uneconomic and was closed in 1965.
The railway was able to reopen for running in 1973 as the North Yorkshire Moors Railway, with much of the traction provided by the North East Locomotive Preservation Group.
An interesting feature of this line is that the stations are set in different periods, allowing time as well as steam travel to occur.
Pickering Station is the southern terminus of the railway. The station has recently been restored to its 1937 condition. Original fixtures and fittings have been installed in the Booking Office and Parcels Office, as well as in the Tea Room. The station is home to the railway's carriage workshops, and there is also a turntable.
Levisham Station is a small countryside station set in the scenic Newton Dale valley. The location of the station is notable, as it is nearly two miles from the village which it serves, and whose name it takes. The area is ideal for walking and a wide variety of wildlife and flowers can be found within a short distance of the station. Levisham Station has been renovated and preserved to represent a small NER country station, circa 1912. The station has a traditional camping coach, which is let for holidays. Since 2007 the North Yorkshire Moors Railway's Artist in Residence Christopher Ware can be seen at work in an open studio at the station which is open every day when trains are running, and often when they are not .
Newton Dale Halt is a remote walkers' request stop. There are excellent walks and beautiful scenery within easy reach.
Goathland Station is another typical countryside station, almost unchanged since its construction in 1865. The station has been restored to represent an NER country station post World War 1 circa 1922. The station is popular with tourists due to its appearances in Yorkshire TV's Heartbeat (Goathland is Aidensfield in the TV drama and shops, pubs and more are easily recognisable). This station also featured in the Harry Potter films as Hogsmeade Station. The station has a newly refurbished Tea Room which is inside a Goods Warehouse. The station also has a traditional camping coach, which is let for holidays.
Grosmont Station is the old northern terminus, and houses the locomotive sheds. The station itself has been restored to the British Railways style circa 1955. The shed area has facilities to provide water and coal for the engines, as well as stabling. The sheds are also used for the maintenance and overhaul of the engines. At Grosmont, the line connects with the Network Rail operated Esk Valley Line. Platform one of the station is served by Northern Rail services, whilst platforms two, three and four are used by the NYMR.
Whitby Railway Station is the new northern terminus of the NYMR as of 2007. There will now be regular trains to Whitby from Pickering throughout the year. (Note that not all trains go to Whitby).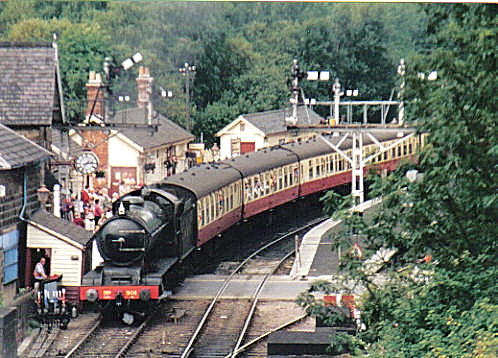 They have a wide range of resident locomotives, as well as others visiting for gala events. You can see the .Locomotives operating today.

For photographers this line is attractive, running through a national park. Stations set in different periods and a number of features like a level crossing at Grosmont station adds to the appeal. Getting good shots of the line in open moorland is not difficult but in other areas it is more difficult to get ideal views than on many others. The website is not as informative as some others and timetable difficult due to the type size. However this line wins many national awards, has been selected for many films and TV series, although being quite a long way from most places.
---
Further information Grid
.
---
Planning Grid

Location:

North Yorkshire Moors Railway

Grid Reference:

SE797841

Getting there:

Pickering Station is just off the A170 between Scarborough and Thirsk and lies just off the A169, 9 miles from Malton and the A64.

Goathland and Grosmont Stations can be reached from the A169 Pickering–Whitby road or the A171 Whitby–Guisborough road and are well signposted.

Access:

Parking:

Available at Pickering, Levisham, Goathland and Grosmont Stations. Parking is limited.

Facilities:

Things To Do, See and Photograph:

What to take:

Nature highlights:

Address:

NYMR

12 Park St

Pickering

North Yorkshire

Postcode:

YO18 7AJ

Telephone:

01751 472508 Talking Timetable: 01751 473535

Grosmont Station: 01947 895359

Opening times:

Beginning of April to end of October, plus selected dates through the winter. Timetable is on the website but type is difficult to read due to its small size. You may be able to use the browser magnifier to read it. The bottom right also allows you to download the timetable. TimetableLeaflet2008.pdf

Events are shown on the website.

Charges:

A range of single/return/one station tickets are available.

Typical Fares

Pickering-Grosmont Day Rover: Adult £14.50; Child £7.30; Over 60 £12; Family (2 Adults & up to 4 Children) £31

Pickering-Whitby Day Rover Adult £20; Child £12; Over 60 £17; Family (2 Adults & up to 4 Children) £45

Its likely although not stated that event costs are higher.

Full prices are not on the website as at 01/07/08

Photo Restrictions:

Other Restrictions:
Special Needs Access:
Special Needs Facilities:
Click here or call 01751 472508
Children Facilities:
Dogs Allowed:
Allowed charge £2 fee

CIN Page Ref:

North_Yorkshire_Moors_Railway

Date Updated: 07/2008
Please let us know any other information that we can add to the Further information and Planning Grids or page and any errors that you discover. Before making a long trip to any location it is always wise to double check the current information, websites like magazines may be correct at the time the information is written, but things change and it is of course impossible to double check all entries on a regular basis. If you have any good photographs that you feel would improve the illustration of this page then please let us have copies. In referring to this page it is helpful if you quote the CIN Page Ref at the bottom of the Planning Grid above. To print the planning grid select it then right click and print the selected area.
Please submit information on locations you discover so that this system continues to grow.