Caer Gybi Roman Fort and

St Gybi Church

Holyhead, Anglesey

Location Guide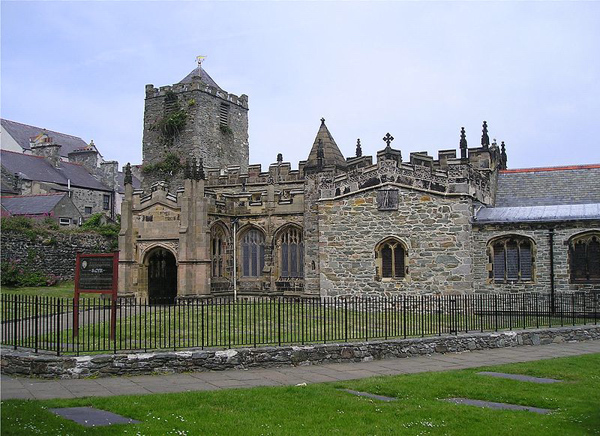 Photo from Wikipedia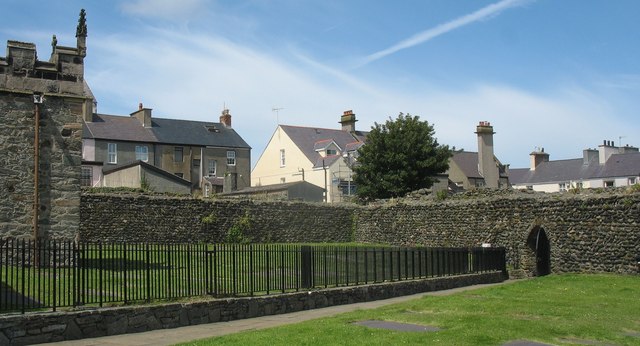 Roman Wall around the site of St Cybi's Church

Photo by Eric Jones

The Roman Fort which stood on what later became the site of St Cybi's Church is said to have been built to keep the Irish out, although this does not make sense as it only has 3 walls, so this appears more like walls for civilian control than military protection.
It is said that in the 3rd and 4th century the western coastlands of Britain were subject to attack by Irish raiders.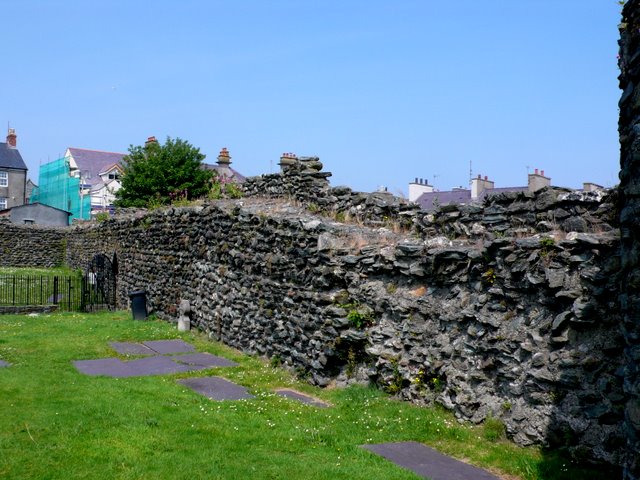 View north along the inside of the Roman fort walls

Photo by Nigel Mykura

Caer Gybi was a small Roman fortlet. Its Latin name is not known, neither when it was built, but it is said to be part of a late 4th century scheme, associated with Segontium in Caernarfonshire, which was set up to defend the west coast against Irish sea raiders.
Today it stands at the centre of Holyhead on Anglesey. Holyhead is named Caergybi in Welsh, after the fort.
The fort is one of Europe's only three walled Roman forts. The fourth side fronted the sea and was probably the site of a quay. There are the remains of three towers, one the North west, is mostly Roman origin and two others largely later reconstructions.
The fort measured 246ft (75m) by 148ft (45m), the walls stood up to 13ft (4m) high and are 5ft (1.5m) thick. There were originally 4 towers, today there are 3, the largest is 26ft (7.9m) tall but most of this is a later rebuild.
The Romans also built a watch tower, some think it was a lighthouse, within Mynydd y Twr on the top of Holyhead Mountain, known as Caer y Twr Hillfort

which may have been used as the fort's look out point, a signal station or a lighthouse, or a combination of these. This also had a small fort or encampment. Both were probably abandoned around 393, when the troops were probably sent to respond to the revolt of Eugenius of Gaul.
There is a second possible lookout/tower on Carmel Head.
A three sided fort with fairly low walls, makes little sense from a military installation, so it may just have been a landing point for supplies that was able to be protected against pilfering. It may also have been constructed to form part of the supply chain to support an expedition into Ireland. The Romans had plans to expand the empire to include Ireland, but other demands took away the force they had intended to use.
In the 6th Century, the old fort is said to have been given to Saint Cybi, who founded a monastery here. The Church of St Cybi still stands on the site today, with a small detached chapel over Cybi's grave. The current church was built in the 13th century, with later extensions and additions, one account says it was extensively rebuilt in the 15th and 16th centuries.
St Cybi came from Cornwall and was the cousin of St David who was to become the patron Saint of Wales. He is said to have been the son of Salomonm King of Cornwall, who was made a bishop, declined the crown of Cornwall and travelled about preaching, going up through South Wales and settling on Anglesey. Cybi died on 8th November 555 and was buried in 'Capel y Bedd' (the Chapel of the Grave) adjoining his monastery.
A close friend of St Cybi was St Seiriols, who also had a well, at the opposite end of Anglesey on the Penmon peninsula, see St Seiriols Well.

Beside the church today you can see the walls, complete with wall top walkways and part of the wall beyond it still in place.
This is also the location for the start and finish of the Anglesey Coastal Path.

---
Please let us know any other information that we can add to the Grid(s) or page and any errors that you discover. Before making a long trip to any location it is always wise to double check the current information, websites like magazines may be correct at the time the information is written, but things change and it is of course impossible to double check all entries on a regular basis. If you have any good photographs that you feel would improve the illustration of this page then please let us have copies. In referring to this page it is helpful if you quote both the Page Ref and Topic or Section references from the Grid below. To print the planning grid select it then right click and print the selected area.
Please submit information on locations you discover so that this system continues to grow.