Barclodiad y Gawres Burial Chamber

Aberffraw, Anglesey

Location Guide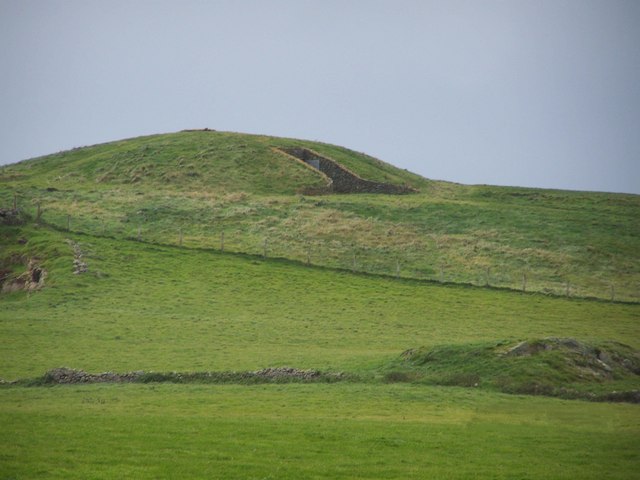 Photo By Raw West

This burial chamber is a restored chambered cairn, and dates from 3000BC. It is the largest of the chambered tombs of Wales. It is dramatically situated on a headland to the north of Porth Trecastell (Cable Bay) on the west coast of Anglesey. The site has been extensively restored with a new stone wall supporting a concrete roof covered in turf.
The name translates into English as the Giantess's Apronful.

Photo by Keith Williamson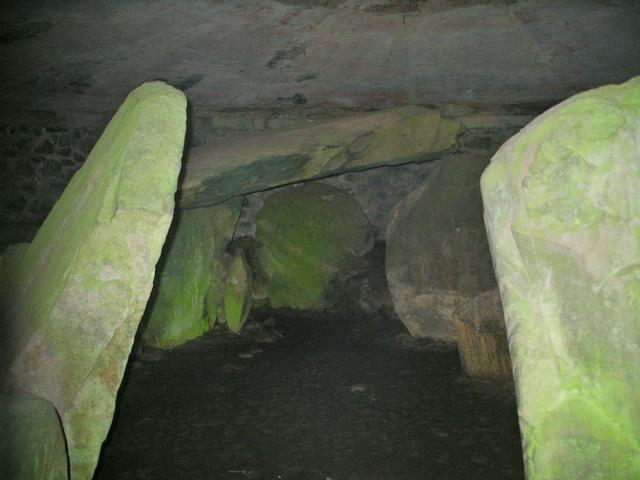 Photo Lynne Kirton

The chambered cairn Barclodiad Y Gawres is the largest Neolithic tomb in Wales. It was built around the same time as the Egyptian Pyramids and Stonehenge




in Wiltshire, somewhere between 2500-3000BC. It was excavated in the 1930's and the mound reconstructed with a turf covered concrete dome. The now hollow dome was originally solid earth. It was a public grave for the local farming community and it is said that it probably acted as a focus for religious ceremonies.
Although today we assume they were tombs, this may have been a later use, and they may have been a secure store or cool food store as part of a household or for a community. Many structures like this had entrances that required the person entering to bow or crawl into them, so they would as have been a secure place that could be easily defended. Structures like these were shown to have been around for a long time so their use may have changed over time, starting perhaps as a safe cave, then a community cold store, before being used as a place to put the dead. Where only a few bodies have been found it may just be that they were used for shelter from the elements when the weather was very bad and the entrance was sealed suffocating those inside. There is no evidence one way or another as to their use, and therefore as the remains of bodies were found in them, it is fair to assume to one point they were used for burials, and as many were earth filled at this point this would have been their final use.
Five of the interior stones are decorated with incised zigzags, lozenges and spirals, these may have some meaning or maybe were just the art of the time.
The entrance was through a long, stone lined passage leading to a central area. From this there are three separate side chambers, all originally covered by large capstones. One of the capstones is visible today.
It is said that many aspects of the tomb, and of its decorated stones, are similar to Neolithic monuments in the Boyne Valley in Ireland, suggesting a link between the cultures at the time. Its location overlooking the sea may also have had significance.
Tombs of this type, known as a decorated Cruciform Passage Grave,

are usually only found in Ireland and reach their peak in the tombs of the Boyne valley area, a similar tomb can be found at Fourknocks. Other than this site, the only other known possible site may have been a similar tomb at Calderstones near Liverpool.

Six stones recovered from this site do bear "Irish style" rock art, but the Calderstones monument has been completely destroyed and its original design and function is therefore unknown, it was, at one point, thought to have been a stone circle but later said to have been a tomb (Wikipedia

). There are others that are said to also be surviving Cruciform Passage Graves in the rest of the British Isles, but they lack the characteristic decoration found in Barclodiad y Gawres and the Irish tombs. The Maes Howe

at Stegness, Orkney is a similar structure that has markings on its walls.
Also on Anglesey is Bryn Celli Ddu Burial Chamber

and this has a single decorated double sided stone plus some others with markings.
Part of the interior can be seen through the locked entrance gate, but you can see the inside fully if you wish, see the details below on how to gain entry. To see the inside fully, and the marks on stones, you will need to take a torch.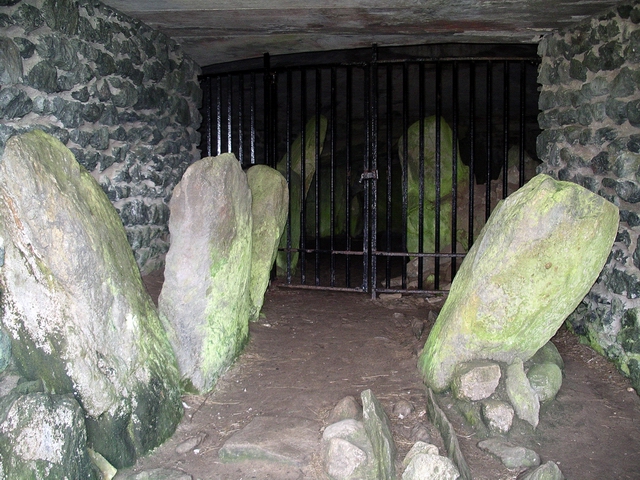 The entrance from outside

Photo Lyne Kirton

The structure
Barclodiad y Gawres has been been damaged over time, most of its structure being removed during its use as a stone quarry in the 18th century. Full excavation and documenting was carried out in 1952-3 by Powell and Daniel and the rock art that the tomb contained was revealed.
The mound we see is not original but a reconstruction, the original was 27m or 90ft across. This makes it around twice as far across as what we see today.
Today the surviving stones of the chamber and passage are protected by a modern concrete dome, but the original covering mound was composed of turf, contained by an edging of stones. The mound at Barclodiad y Gawres was about 20m in diameter.
The original passage was about 7m long and ran SSE to the chamber, it was a lot lower and narrower than the modern entrance way. The chamber is about 6m in diameter and has 3 other chambers, a terminal chamber and two side chambers, producing a cruciform layout. The SW chamber has been closed with stone blocking and has an unusual annexe chamber attached to it.
The smaller chambers were originally roofed with capstones, only that of the terminal chamber surviving today. The main chamber was probably too wide for capstone roofing and was probably of corbelled construction.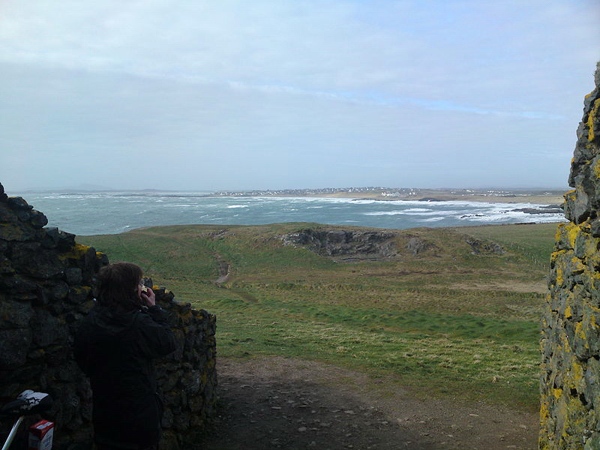 Photo Richard Keatinge

Analysis of remains found
This tomb was not thought to contain anything of interest and was first explored in 1952-3 producing the discoveries found.
Analysis of tree pollen found under its remnants suggests that the tomb was surrounded by thick woodland when it was constructed.
Excavation showed the cremated bones of two men, resting on the old ground surface in the SW chamber, the other two chambers had been dug into in the past and the only finds there were tiny bone fragments in the corners.
Amongst the bones in the SW chamber were found the remains of two polished bone pins, thought to be clothes fastenings, these pins are a common find amongst bone in the Irish Cruciform Passage Graves.
No burials were found in the central chamber area. A fire had been burned here for some time, and on top of its remains were the remnants of a stew. The contents of this stew included residual bone fragments and a mixture of wrasse, eel, frog, toad, grass snake, mouse, shrew and hare. The fire site was then buried under a layer of pebbles and limpet shells. Some suggest this may have bean a ritual or magical mix!
Although no direct dating evidence exists for Barclodiad y Gawres, some Irish Cruciform Passage Graves have been carbon dated to 2500-2400BC, it's therefore suggested that it is likely that Barclodiad y Gawres was constructed around this time.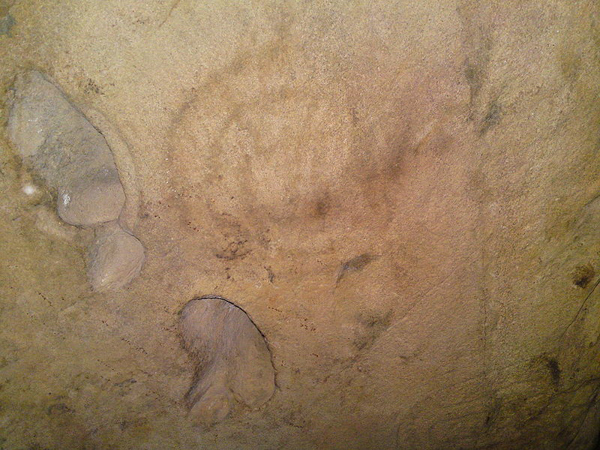 Photo Richard Keatinge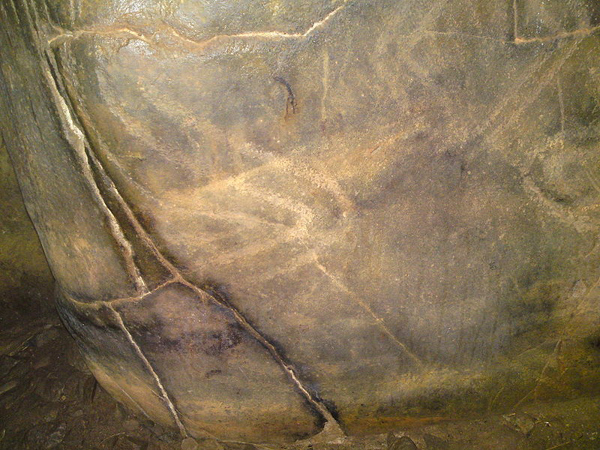 Photo Richard Keatinge

Rock Art
Several of the chamber stones have marks or carvings of lozenges, zig-zags and spirals, but what makes some of them of particular interest is the way the carved shapes are manipulated and shaped with each other to form an overall integrated design. This type of large scale integration, and the elements of the decoration itself is also seen in the rock art of the great Boyne valley tombs of Newgrange, Knowth and Dowth.
The carvings here have been made by pecking small pits in the stone surface, probably with a pointed hardstone chisel. The markings on some of the stones are very faint and are difficult to make out in the gloom of the interior, some of them also seem to have a strange "surface colouration" effect that has not been seen on rock art before.
Accounts by Frances Lynch mention five carved stones and a more recent work by Stan Beckensall shows the locations of six, his additional carving being shown as located on the blocking stone of the SW side chamber.
Some who have more recently visited found six carved stones, they could not find any markings on the blocking stone indicated by Beckensall, but found an extra carving on the northern side slab of the NE side chamber. The carving was a chevron and lozenge motif of a style comparable to other carvings in the chamber.
Further information resources:-
Powell T.G.E. & Daniel G.E., Barclodiad y Gawres: The Excavation of a Megalithic Tomb in Anglesey, 1956, Oxford University Press.

Lynch F., Prehistoric Anglesey, 1970, Anglesey Antiquarian Society, p70-9.

Beckensall S., British Prehistoric Rock Art, 1999, Tempus Publishing, Gloucester, p132-4.
---
Location: Barclodiad y Gawres Burial Chamber, nr Cable Bay, Aberffraw, Anglesey

Grid Reference: SH328707
Ceremonial County: Anglesey
Aerial photo: Multimap (good) Google

Getting there: A short walk from the A4080. You can also use the car park at Cable Bay and then travel on foot some 500 yards along the Anglesey Coastal Path to reach it.

Access: The site is open, but metal gates stop you entering inside other than with supervision, see below.
Website: CADW Visit Anglesey

Other Useful Websites: Wikipedia Geograph Megalithics.com

megalith.co.uk

Email:
Address:
Postcode:
Telephone:

Opening Times: The burial chamber can now be visited by appointment every Saturday, Sunday and BH Monday between 12noon and 4pm from 1 Apr-31 Oct. Visitors should call into the nearby Wayside Stores in Llanfaelog, one mile north of the chamber, and they will be accompanied to the chamber by a member of staff.

The burial chamber can be viewed externally throughout the year 10am-4pm.

Charges: None

Nearby Locations: Llangwyfran Church
Other Location Pages: Bryn Celli Ddu Burial Chamber Ty Newydd Burial Chamber

Other Relevant Pages: Anglesey Attractions Anglesey Coastal Path

Anglesey Attractions Map

Notes:
Please let us know any other information that we can add to the Grid(s) or page and any errors that you discover. Before making a long trip to any location it is always wise to double check the current information, websites like magazines may be correct at the time the information is written, but things change and it is of course impossible to double check all entries on a regular basis. If you have any good photographs that you feel would improve the illustration of this page then please let us have copies. In referring to this page it is helpful if you quote both the Page Ref and Topic or Section references from the Grid below. To print the planning grid select it then right click and print the selected area.
Please submit information on locations you discover so that this system continues to grow.