Farne Islands

Farnes, Northumberland

Location Guide
The Farnes are a group of islands of the Northumberland coat, most get to them from Seahouses by boat. At the nearest point they are around 2 miles off the coast. The largest islands are Staple and Inner Farne, they are the breeding home to tens of thousands of seabirds, including around 60,000 pairs of puffins, thousands of kittiwake, arctic tern, eider duck, shags and guillemot, hundreds of razorbills. There are about 20 species here.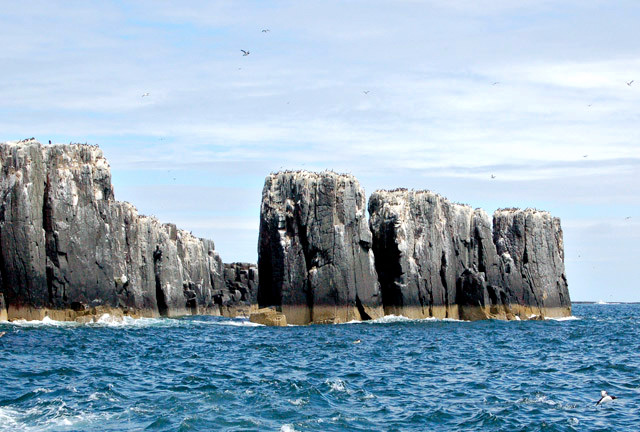 Staple Island Sea Stacks

Andy

In the waters surrounding the Farnes are around 6,000 Atlantic Grey Seals with their pups born every year during September-November. Most of them take refuge on Brownsman Island which has not public access, but boat trips on good seafaring days may give views from the boat.
There are also a number of wrecks around the Farnes popular with diving enthusiasts.
The Farnes consist of 15-28 islands, including several which are only visible at low tide, they are constructed of volcanic igneous rock on the eastern edge of a geological formation called the Whin Sill. After the end of the Ice Age, you could have walked from these islands across to the mainland, but rising sea levels cut them off, making them a great place to enjoy wildlife.
Birds, what and where to see them
Around 20 different species, as many as 100,000 birds in total, make their home here during the breeding season every year.
Pufins. See them on Inner Farne and Staple Island. Puffins are the most numerous breeding seabird on the Farnes. They use sharp claws to dig burrows in the soil where they lay their eggs.
Arctic, Common and Sandwich tern. Mostly found on Inner Farne. Each species has a favourite bit of the island where it chooses to nest - the Arctic terns prefer the grassy banks, paths and courtyard around St Cuthbert's Chapel and the information centre.
Razorbill and guillemot. See them on Inner Farne and Staple Island. Like puffin, these are members of the Auk family of seabirds. They nest in massive colonies on the rocky cliff tops. Guillemots are the more slender of the two. Razorbills are slightly smaller with a white-striped stocky bill.
Shag. See them on Inner Farne. Like guillemot and razorbill, shag nest on rocky cliff tops. They forage for grasses, seaweed and anything else they can grab, to construct large nests, which they guard noisily throughout the summer. Often confused with cormorant, shag are smaller, with green-tinted feathers and a tuft on their head in spring.
Eider duck. See them on Inner Farne. Britain's fastest flying duck and one that prefers the coast.
Kittiwake. Nest on tiny ledges on cliff faces.
Fulmar. Nest on isolated cliff tops
Greater and lesser black-backed gull
Rock pipit. Nest around the lighthouse on Inner Farne.
Cormorant. Nest on some of the smaller, rocky islands.
Gannet. Nest on Bass Rock off the Scottish coast but come south in search of food.
Turnstone. Nest hundreds of miles to the north but alongside
Oystercatcher. Oystercatcher and ringed plover are the only two wader birds who breed on the islands. Unlike many of the seabirds, who migrate or live in the North Sea after raising their chicks, they can be found here all year round. Look out for the oystercatcher's bright orange eye, beak and legs standing out from the seaweed on the rocky shoreline.
Ringed plover. Nest on the beach on Inner Farne.
Passage birds in spring and autumn may be seen for example Bluthroat (rare).
What else is there:-
Range of butterflies and moths
Porpoise and dolphins (occasionally)
The islands' plant life includes

scurvy grass to the scarce fiddleneck, an invader from California, introduced by the lighthouse keepers many years ago, and now growing wild. Flowering from May to August
borage
sea campion with its white flowers in summer
thrift flowering from April to August
silverweed flowering from May to September
sorrel flowering from May to July

Fourteen hundred years ago, St Cuthbert came to live on the island for peace and solitude, and the small chapel built in his memory can be visited.
Peel tower a lookout and military base from 1500, that was also its first lighthouse (fire on roof) now the base of NT wardens
Inner Farne Lighthouse, Farne Islands, Northumberland
Longstone Lighthouse, Farne Islands, Northumberland
Staple Island Lighthouse, Farne Islands, Northumberland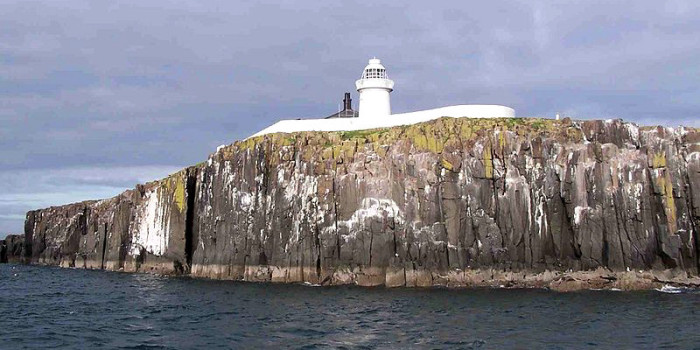 Inner Farne and Lighthouse

Mick Knapton

The boat trips
Several operators run trips, see under access in the grid below, and there is a variety of choices including:-
Tours available of both Inner Farne and Staple Island. The Inner Farne tour lasts approximately two and a half hours including one hour spent on the island. The tour includes a cruise around all the Farne Islands, viewing the sea birds on the cliff faces, visiting the Grey Seal colonies and also follows the route Grace Darling took her heroic rescue in 1838.
During the breeding season (May 1- July 31) it is possible to make a morning landing on Staple Island and the trips leave at 10am and 11am. This trip lasts approximately two and a half hours including an hour on Staple Island itself. The trip also includes sailing round all the other islands including Longstone and Inner Farne and visiting the Grey Seal colonies at several vantage points with full commentary en route.
There is a also a whole day option including visiting two islands.
Its worth comparing the offerings from different operators to match your own interest.
---
Further information Grid
| | |
| --- | --- |
| Location: | Farne Islands, Northumberland |
| Ceremonial County: | Northumberland |
| Grid Reference: | NU230370 Explorer 316 |
| Map Link: | StreetMap |
| Aerial photo: | |
| Route(s): | |
| Best Times to Visit: | June and July |
| E-mail: | farneislands@nationaltrust.org.uk |
| Website: | National Trust then search for Days out Farne Islands |
| Other useful websites: | |
| Nearby Locations: | |
| Other Relevant pages: | |
.
---
Planning Grid

Location:

Farne Islands, Northumberland

Grid Reference:

NU 230370

Getting there:

By road to Seahouses.

The nearest train service is Chathill, four miles away (Sundays excluded). The closest bus service runs to Dunstanburgh Castle and Seahouses. Arriva Northumbria 401, 501 Alnwick-Belford.

Access:

By Boat:-

There are boat trips every day from Seahouses harbour, weather permitting. Organised trips are run by the RSPB in Summer. There are no landings in rough weather.


Hanvey's Boat Trips, 29 King Street, SEAHOUSES, Northumberland, NE68 7XW. Telephone: SEAHOUSES (01665) 720388/720718
www.farneislands.co.uk/farne.html

Motor Vessel 'Glad Tidings' Billy Shiel M.B.E - Est. 1918
Seahouses - Northumberland. Telephone: (01665) 720308
www.farne-islands.com


Golden Gate Farne Island boat trips (also trip to and in Longstone lighthouse exclusive to this firm)

www.farneislandsboattrips.co.uk/ (01665) 721210

Parking:

At Seahouses, opposite the harbour (pay and display)

Facilities:

WC on Inner Farne only

Things To Do, See and Photograph:

Wide range of sea birds, puffins, maybe seals, sea views, other opportunities depending on island visited, i.e. lighthouse.

What to take:

Take a hat - watch out for the dive bombing terns!

Snacks and drinks as the Farne Islands do not have cafés.

Binoculars are a must for bird watchers.

Check the weather before planning a trip.

Take waterproofs and sensible footwear as the weather can change quite quickly.

Nature highlights:

Breeding birds April - end July pos early August. Grey Seal colony, sea birds and plant life

Address:

Postcode:

NE68 7YT

Telephone:

01665 720651
01665 721099 (Infoline)
01665 720308 (William Shiel boat trips)

see others boat companies above under access

Opening times:

Different boat operators may operate different schedules but an example is one that runs:-

During the Summer boat trips run daily to Staple Island (morning) and Inner Farne (afternoon). Occasional boat trips in the Autumn - phone for dates and times. In April, August and September the tours of Inner Farne are available at 10am, 11am, 1pm and 2pm. Between May 1st - July 31st it is possible to make a morning landing on Staple Island with the trips leaving at 10am and 11am. An all day specialist tour operates in the breeding season at 10am. Another operates a tour including a lighthouse. The islands are only open when the boats run.

Charges:

Boat trip (depending on trip) adults £10-£25, Children £7-£15

Plus Farne's landing fee: National Trust, free to NT members,

1st April to 30 April, and 1st August to 30 September, Adults £6.50, Children £3; Family £16.50 and 1st May- 31 July Adults £8, Children £4, Family £20.

Photo Restrictions:

None

Other Restrictions:
Only Inner Farne and Staple Islands can be visited. Visitors to Inner Farne in June should wear hats
Special Needs Access:

Inner Farne - there is a walkway round the island suitable for disabled visitors.

Staple Island is a rocky island and is not recommended for disabled visitors.

Special Needs Facilities:
None
Children Facilities:
Don't take young children to Inner Farne in June.
Dogs Allowed:
NO
Please let us know any other information that we can add to the Grid(s) or page and any errors that you discover. Before making a long trip to any location it is always wise to double check the current information, websites like magazines may be correct at the time the information is written, but things change and it is of course impossible to double check all entries on a regular basis. If you have any good photographs that you feel would improve the illustration of this page then please let us have copies. In referring to this page it is helpful if you quote both the Page Ref and Topic or Section references from the Grid below. To print the planning grid select it then right click and print the selected area.
Please submit information on locations you discover so that this system continues to grow.