Arundel Wildfowl and Wetlands Centre

West Sussex

Location Guide
This is one of the Wildfowl and Wetlands Trust's

site. It is 26 hectares of naturalised landscape and wetland habitat holding many hundreds of exotic wildlife from around the world and is home to many rare species of wetland wildlife, as well as attracting wildlife visitors. It is set in ancient woodlands in the middle of the South Downs next to the River Arun and overlooked by Arundel Castle.
Their wetlands discovery area allows you to take a quiet safari boat ride along the waterways and on your journey discover the wild flora and fauna in their natural environment and hopefully some wetland visitors. Boats have a restricted number of persons on board and with a trained guide you get as close as possible to the wildlife, so no need for telescopes or binoculars. You travel deep into the reed beds, where you might see Water Voles, migrant birds, dragonflies, snakes and more. You can also take a reed bed walk and get up close yourself at your own pace if you want to.
As well as the annual wild visitors which visit, like all of the WWT centres, they also have some permanent residents on their lakes such as New Zealand Blue Ducks.
Other exhibits around the reserve include:
Pond Explorer where you can get up close to pond life

A reedbed broad walk where you get to walk through the largest reedbeds in Sussex

Reed Chamber a building containing a camera obscurer giving a different perspective on the reeds

A thatched building containing an exhibition of a collection of native wild plants and flowers with descriptions of medicinal and nutritional qualities as taken from local country lore

Round thatched buildings used to demonstrate sustainable building techniques

Hides over looking the main wetland lakes where you can watch the visiting waterfowl

Meadow Maze Walk and Tree Creepers which allow children in particular a fun way to learn about wildlife and the little creatures around them.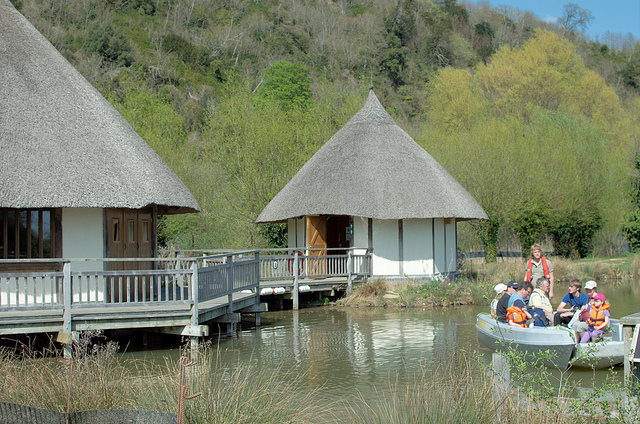 Round Exhibition Huts and Boat Ride

Adam Oxford
RESERVE WILDLIFE REGULARS
Throughout the year on a visit you can expect to see such highlights as Kingfishers, Reed Buntings, Goldcrest, Bullfinches, Blackcaps, Siskin, Redpol, Grey Wagtails, Long-tailed, Marsh, Coal, Great and Blue Tits, Willow and Sedge Warblers, Cetti's Warblers, Water Voles, Nightingale and a Cuckoos may be heard and Common Tern. See their website for daily reports of what can be seen.
A flavour of what you might see on a visit:
Extracted from the ARUNDEL March 13th 2008 NEWS REPORT
Cettis Warbler and Reed Bunting are singing in their territories and the Peregrines on the Hanger have been observed displaying with the pair mating at the end of the ritual. The first Mallard ducklings have been hatching over the past week. Two pairs of Oystercatchers can be seen on the islands of Swan Lake and the Scrape area. Lapwing are starting to display with the males tumbling and diving whilst delivering their lovely 'peewit' call. Snipe have been seen in many areas of reserve with up to 13 in the cut area of the Reedbed and over 50 individuals being seen from the Ramsar hide. A Firecrest has been present in the hedgerow opposite the Wildlife Garden. Good numbers of Pochard and Tufted Duck are still being seen on Wetlands Discovery and most of them are in pairs. Blue Tits and Great Tits have been seen inspecting the numbered woodcrete nest boxes and a pair of Treecreeper are a regular sighting on the silver birch trees at the start of the North American pen. Kingfishers can still be seen around the reserve but not as regularly now that they have paired and set up their territories. Common Frogs have spawned in the newly created pools in the cut area of the reedbed. A couple of Common Toads have been seen in and around the reserve but have yet to spawn.
Coltsfoot is now flowering well in several areas especially on Wetlands Discovery and a single Lady's Smock was seen flowering last week. The Wet Meadow area on the Woodland loop has now had some work completed to remove some of the spreading Dogwood and a cut and rake to encourage some of the delicate flowers which have grown here in the past.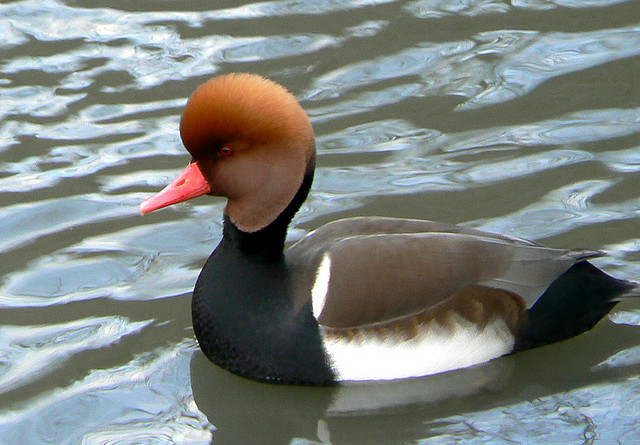 Red Crested Pochard

Kate

OTHER WILDLIFE AND NATURE HIGHLIGHTS
Also on site if you look closely you should be able to see butterflies such as the Peacock, Small Tortoiseshell, Comma and Brimstone. Clumps of Coltsfoot, Primrose, Cuckoo Flower, Cowslips, Dog Violet, Hyacinth, Snakeshead Fritillary, Speedwell, Ground Ivy, Marsh Marigold, Herb Robert and Bluebells flower throughout the reserve.
How to Get There In Detail
WWT Arundel is close to the A27 & A29. On approaching Arundel by road, visitors should follow the brown duck signs. By foot from Arundel railway station, it is half a mile to Arundel Town and a further, gentle mile along Mill Road to the Trust. By Bus, there is a 30 minute service both from Chichester & the West (Route 55), and Brighton, Worthing & the East (Route 702) every weekday to the Arundel Town centre with the same walk along Mill Road.
---
Further information Grid

| | |
| --- | --- |
| Location: | Arundel WWT - West Sussex |
| Ceremonial County: | Sussex |
| Grid Reference: | TQ020081 |
| Map Link: | StreetMap |
| Aerial photo: | Google Aerial |
| Route(s): | |
| Best Times to Visit: | Any time of year, different times will see different wildlife visitors. More activities for children available during the summer months and school holidays. |
| E-mail: | info.arundel@wwt.org.uk |
| Website: | http://www.wwt.org.uk/visit-us/arundel/ |
| Other useful websites: | |
| Nearby Locations: | |
| Other Relevant pages: | |
.
---
Planning Grid

Location:

Arundel WWT - West Sussex

Grid Reference:

TQ020081

Getting there:

WWT Arundel is close to the A27 & A29. On approaching Arundel by road, follow the brown duck signs.

Access:

Level access and hard surfaced tarmac paths. The broadwalk is wooden with anti-slip netting.

Low level viewing windows and level access in most hids.

Parking:

Large free car park.

Facilities:

Cafe (serves hot food between 11am and 3pm), gift shop and art gallery. Picnic area. Talks and tactile exhibits can be organised by prior arrangement.

Things To Do, See and Photograph:

Wetland wildlife, butterflies, wild flowers, buildings, reed beds and other activities.

What to take:

telescope, binoculars, long lenses for when in hides, polarizer may be useful on sunny days when doing wider views. During winter months wrap up warm most of the site is outdoors.

Nature highlights:

Waders, Raptors, Wildfowl, butterflies, dragonflies and wild flowers.

Address:

WWT Arundel

The Wildfowl & Wetlands Trust

Mill Road

Arundel

West Sussex

Postcode:

BN18 9PB

Telephone:

01903 883355

Opening times:

Open daily 9.30am to 4.30pm. Closed Christmas Day

Charges:

Adult £9.91; Concession (Students, Over 65 and unemployed) £8.27, Child £4.95 (4-16 years); Family Ticket (2+2) £26.45

Child (<4) and disabled visitor helpers FREE.

FREE to WWT Members

There are also special Group Admission Prices and Gift Aid prices.

Photo Restrictions:

Commercial and stock photography must be agreed in advance and is subject to a fee.

Other Restrictions:
Keep to the paths at all times.
Special Needs Access:
Level access to all areas. Car park has reserved bays
Special Needs Facilities:
Disabled toilet in main visitor centre, free wheelchair loan
Children Facilities:
During weekends and school holidays activities are put on for the younger visitor. Baby changing facilities.
Dogs Allowed:
Dogs are not allowed in WWT Centres except guide/trained assistant dogs.
Please let us know any other information that we can add to the Further information and Planning Grids or page and any errors that you discover. Before making a long trip to any location it is always wise to double check the current information, websites like magazines may be correct at the time the information is written, but things change and it is of course impossible to double check all entries on a regular basis. If you have any good photographs that you feel would improve the illustration of this page then please let us have copies. In referring to this page it is helpful if you quote both the Page Ref and Topic or Section references from the Grid below. To print the planning grid select it then right click and print the selected area.
Please submit information on locations you discover so that this system continues to grow.