Walsall Illuminations

Walsall, Staffordshire

Location Guide
Not taking place from 2009-2011 as the Arboretum is undergoing major refurbishment, they hope to return in the autumn of 2012.
The Walsall Illuminations take place in Walsall Arboretum around 35 acres of lakes, trees and gardens. It is a family event with something for everyone. It is an annual autumn event and has over 250 illuminated features with scenes from children's favourite TV characters, musicians and dancers, clowns, jugglers, acrobats and more. The shrubs and tress in the rock garden are picked out with subtle lighting and many of the very large trees are floodlit in greens and purples. Across Hatherton Lake there is a laser and projection show with a mix of aerial beams and laser graphics. There are also children's rides.
Tim Ellis
Tim Ellis
Since around 1875 the centre green of Walsall Arboretum has been illuminated in these early days it was candles in glass jars and in 1892 fairy lamps were added to a grand floral display. However it only became an annual event in 1951 and over the years it has grown in size and moving with technology improvements has incorporated the latest light advances. In 1951 the illuminations included a fountain in the middle of the lake which threw 8 jets of water 25 feet in the air, an illuminated waterfall, garden lights on flowerbeds, the show used 3000 lamps and about 3 miles of cable. It only lasted for one week and attracted 200,000 visitors. Since then it has run annually the first year for 15 days and today it lasts for 5 weeks from end of September to beginning of November. There have only been two occasions when it has not run in 1998 when the lake flooded and in 2002 when storm force winds damaged trees and made the area unsafe.

The route around the illuminations is about a mile and all pathways are flat. It is advised you take suitable clothing as there is limited shelter on site.

Click on the smaller images to see larger versions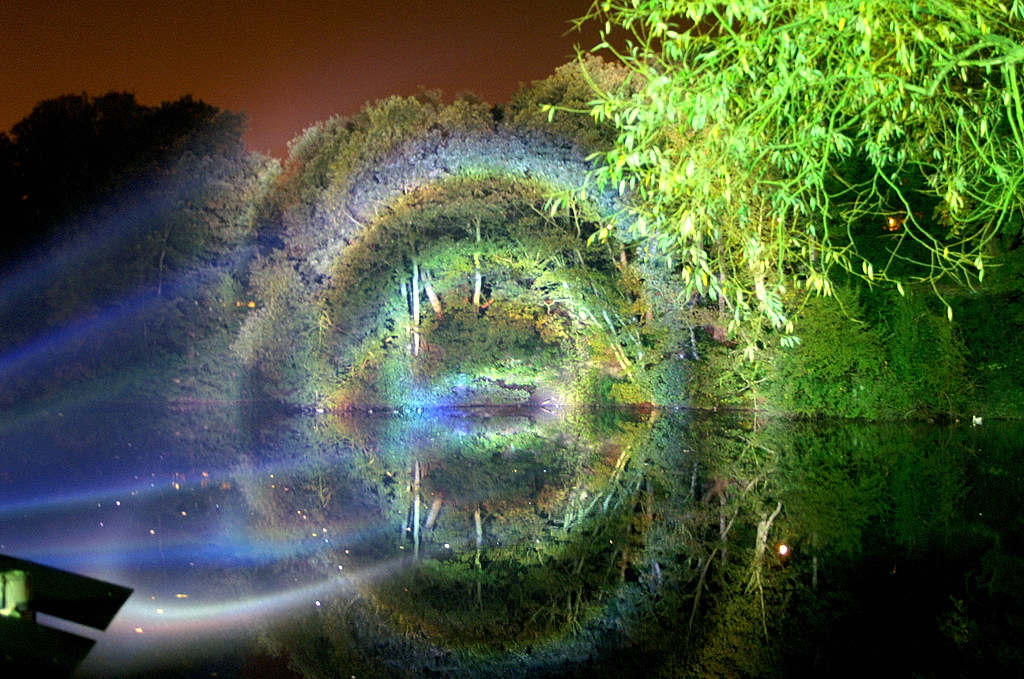 ---
Location: Walsall Illuminations, Walsall Arboretum, Walsall, Staffordshire

Grid Reference: SP019990
Ceremonial County: Staffordshire

Map Link: Multimap

Aerial photo: Google Aerial Photo

Getting there: Just outside Walsall town centre at the junction of A461 Lichfield Street and A4148 Broadway north.

Access: All paths are tarmac's so no muddy grass areas. Park and ride is provided. Car park is free but there is a charge for the bus ride to the site, you can get a combined park and ride/entry ticket. See website for details.
Website: www.walsall-lights.com
Other Useful Websites:
Email: boxoffice@walsall.gov.uk
Address: Walsall Arboretum off Lichfield Street, Walsall
Postcode: WS4
Telephone: 0845 111 2909
Opening Times: Vary depending on when you visit but the earliest is 6.30pm and last admission is 9.15pm, with the park closing 1 hour after last admission. See their website for full details.

Charges: A range of prices apply - see their website for full details.

Nearby Locations:
Other Location Pages: Illuminated Events

Notes: Wide range of refreshments available. No vehicles allowed in the park. Dogs are allowed but must be kept on leads at all times.

Not taking place from 2009-2011 as the Arboretum is undergoing major refurbishment, they hope to return in the autumn of 2012.
---
Please let us know any other information that we can add to the Grid(s) or page and any errors that you discover. Before making a long trip to any location it is always wise to double check the current information, websites like magazines may be correct at the time the information is written, but things change and it is of course impossible to double check all entries on a regular basis. If you have any good photographs that you feel would improve the illustration of this page then please let us have copies. In referring to this page it is helpful if you quote both the Page Ref and Topic or Section references from the Grid below. To print the planning grid select it then right click and print the selected area.
Please submit information on locations you discover so that this system continues to grow.