Four miles south from Southport is the Ainsdale Nature reserve. A peaceful nature reserve, which is home to some of the best sand dune wildlife in Britain. The Ainsdale Sand Dunes National Nature Reserve (NNR) totals 508 ha and forms part of the Sefton Coast, a dune system on the north-west coast of England. It contains a range of habitats, including intertidal sand flats, embryo dunes, high mobile yellow dunes, fixed vegetated dunes, wet dune slacks, areas of deciduous scrub and a predominantly pine woodland.

Key species include sand lizard, natterjack toad, great crested newt, various rare butterflies, dune helleborine and pendulous flowered helleborine. The pine woodland also supports a healthy population of red squirrels.

The Dunes Pool in Ainsdale dunes is home to Natterjack toads who hibernate by burrowing into the dunes, emerge and spawn in the pools from March, followed by tadpoles around May and baby toads from June.

Several pathways go through the site including the TransPennine Trail, the Cheshire Lines Path, the Sefton Coastal Footpath. There is also a local trail from Freshfield called Fisherman's Path that marks much of the reserve's southern boundary. The main hard path is suitable for disabled and cycling.

The beach at Ainsdale away from the dunes which are protected are used for Kite and Kite buggy racing.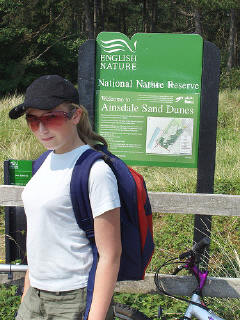 Ainsdale Nature Reserve


by markhsal