Axbridge Then and Now

Axbridge, Somerset

Location Guide
Axbridge, although smaller than several of the villages around, is a town. This came about through its importance as a cloth making centre and the location it is said of King Johns hunting lodge. It got its Royal charter in 1202, when King John sold the area to a church group.
The building and museum known as King Johns Hunting lodge on the left of the photographs below actually had nothing to do with King John, who died in 1216. This building was originally a wool merchants house built around 1500. Earlier in 1340 a building known as 'the stockhouse' containing shops and accommodation was on the same site. In 1915 when a book, the 'Heart of the Mendips' was produced it was a saddlers shop.
Its thought the name came about through a carved head being found nearby of a King and the assumption was made that this was King John and it was added to the building.
King John had a hunting lodge at Tollard Royal, just inside the southern edge of Wiltshire, and it may be that he had a lodge also at Axbridge, but its location is not known.
The building had shops on the ground floor and living accommodation and workshops on the floors above. It now belongs to the National Trust who in 1971 overhauled it, removing 18th century windows and adding 16th century decoration to the upper windows.
You will see the appearance of the building has changed a lot since the first photograph below taken in March 1905.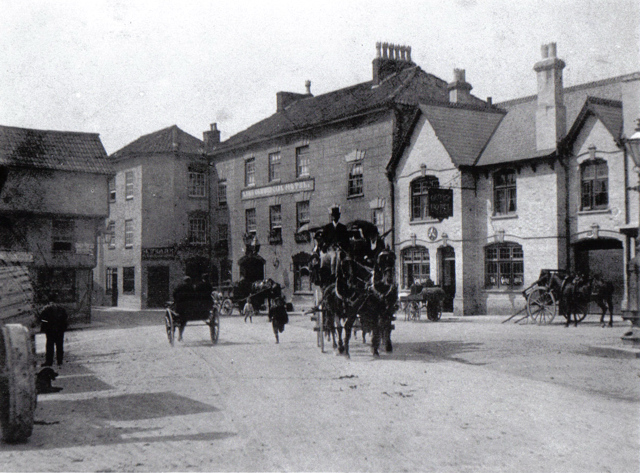 March 1905
Autumn 1995
August 2010
Besides the changes in colour of the buildings, you will see that a larger outside area now exists for the hotel ahead.
In both the 1905 photo and 1995, deliveries were being made to the hotel.
The 1995 photograph was taken with film and the print later scanned. It was taken by me as a part of a series of assignments to do 'then and now' photographs for a magazine.
You can explore this area with Google Streetview using the following link:-
http://maps.google.co.uk/maps?f=q&source=s_q&hl=en&geocode=&q=axbridge&sll=51.275461,-2.776505&sspn=0.00594,0.016469&ie=UTF8&hq=&hnear=Axbridge,+United+Kingdom&ll=51.287965,-2.81718&spn=0,0.004117&t=h&z=19&layer=c&cbll=51.287221,-2.817251&panoid=Ia4fNdBzUfYKVRfKTAcELQ&cbp=12,287.61,,0,5

The building known as King Johns Hunting Lodge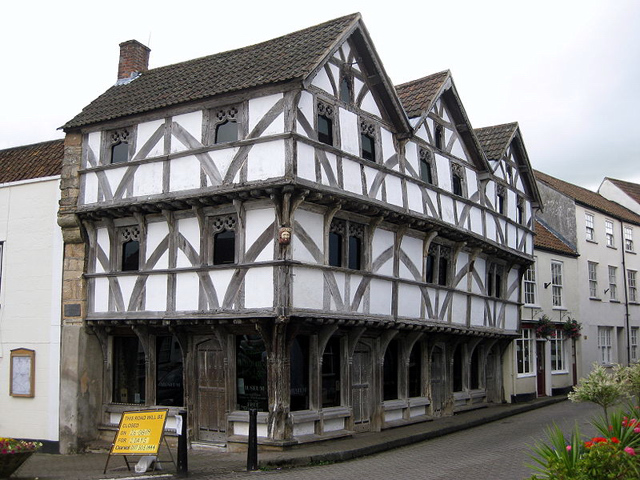 Image from Wikipedia

notice the craved head on the building
---
Please let us know any other information that we can add to the Grid(s) or page and any errors that you discover. Before making a long trip to any location it is always wise to double check the current information, websites like magazines may be correct at the time the information is written, but things change and it is of course impossible to double check all entries on a regular basis. If you have any good photographs that you feel would improve the illustration of this page then please let us have copies. In referring to this page it is helpful if you quote both the Page Ref and Topic or Section references from the Grid below. To print the planning grid select it then right click and print the selected area.
Please submit information on locations you discover so that this system continues to grow.