Caernarfon Castle

also spelt Caernarvon

Caernarfon, Caernarfonshire, Wales

Featured Location Guide
"A part of the World Heritage Site Castles and Town Walls of King Edward in Gwynedd"
Caernarfon is a coastal town in north west Wales, with an impressive castle of which the exterior is complete. Some of the best views of the castle is across the river with boats in the front. It is possible to drive to the position to photograph it, but there is also now a footbridge over the river from the road by castle.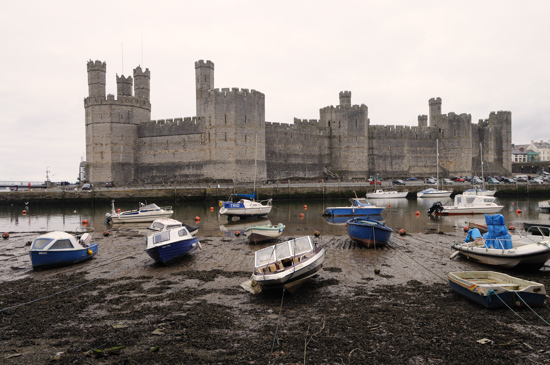 Castle from across the river
Initially built by Edward 1st, as his seat of Government in North Wales and stated in 1283, to serve as a castle, seat of Government and Royal Palace. It was overrun in the uprising in 1294, leading to a stronger main gate (king gate) and strengthening of the northern defences between 1295 and 1301. It was never completed, due to the King's change in focus in handling problems in Scotland and the northern campaigns, taking funds away from the project.
The kings gate is one of the strongest defences anywhere, with two drawbridges, five great doors, six portcullises, with all of it covered by arrow loops and murder holes. Entry also involved a 90 degree turn, so that shields could not protect those entering. Anyone seeing this would be put off the idea that this castle could be overrun again. As it could be supplied from the sea it could also not be starved into submission, making it an ideal fortification for its time. There had also been a history of ambushes on land and most of the building materials for the castle and town were brought in by sea. Conwy Castle,

25 miles north, and Harlech Castle,

27 miles south, were also accessible by sea. The history of the developments in Wales that brought about the need for this and the other castles is covered in the article Wales - a potted history.

This castle is made of coloured stone, with banding and other arrangements, many of the others including Conwy where originally rendered and painted white.
Caernarfon's symbolic status was emphasized when Edward made sure that his son, the first English Prince of Wales, later to become Edward 2nd, was born here in 1284. According to a famous legend, the King had promised the Welsh that he would name as the Prince of Wales "a prince born in Wales, who did not speak a word of English" and then produced his infant son to their surprise. It was the scene of the Investiture of Prince Edward (later Edward VIII) as Prince of Wales in 1911 and in 1969, the castle was the setting for the Investiture of Prince Charles, as Prince of Wales.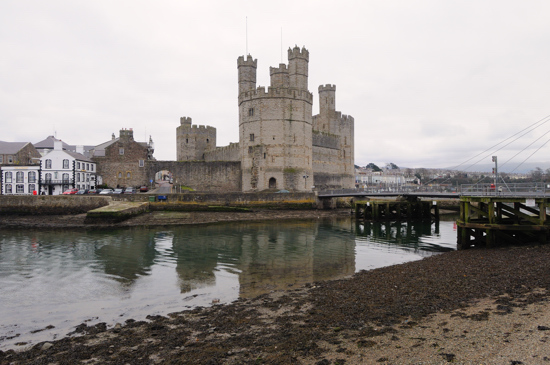 Castle and foot bridge
Before this castle stood on this location there had been a Roman fort and a Norman motte and bailey, built by Hugh of Avranches around 1090. The Welsh retook the original motte in 1115 and retained control until Edward's invasion and colonization in 1283. This motte was incorporated into the Edwardian castle, but mostly destroyed around 1870.
The castle itself had two gateways defended by strong gatehouses, it also had seven towers lining it's walls that were up to twenty feet thick. The north wall was initially absent, being defended by a ditch and the town, in the second building phase the north castle wall was added, plus the extra strong King's Gate.
The town walls were entirely surrounded by water filled moats, and the Rivers Cadnant, Seiont, and the Menai Strait. The East Gate was the principal entrance, defended by a drawbridge, crenulated gateway, and two towers. The West Gate also had two towers, in addition to a barbican and portcullis, it faced out onto the Menai Strait.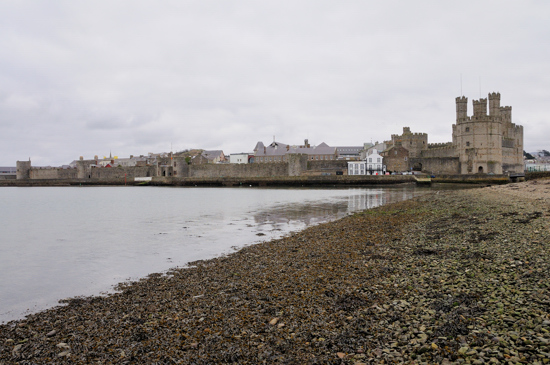 Castle and town walls on the seaward side
The north wall of the castle had originally absent, and was instead defended by the town walls and a wide rock cut ditch. Madog ap Llywelyn over-ran the castle through this ditch in his revolt of 1294, and succeeded in burning part of the castle and damaging the town walls. The English retook the castle the next summer, and orders were given to make the castle defendable again by 11th November 1295. The town walls and castle were repaired, and the north wall of the castle was finally added, including the King's Gate.
The castle withstood sieges by the forces of Owain Glyndwr in 1403 and 1404.
During the Civil War, Caernarfon finally surrendered to Parliamentary forces in 1646.
It then suffered many years of neglect but a lot of repairs took place in the 19th century.
The castle also houses the Royal Welch Fusiliers Museum (Wiki Link),

museum link,

(entry fee included in castle admission),

a gallery is available for this castle, which links back to this page.
---
.
---
Planning Grid

Location:

Caernarfon Castle, Caernarfonshire, Wales

Grid Reference:

SH477626

Getting there:

Located in the town.

To get by road to the opposite side of the river, take the A487 south, after crossing the river take the first turn right and then right again. At T junction, turn right, after a short while you will see the castle across the water on your right, the road goes right by the river. Beyond this around the corner is roadside parking.

Access:

From town

Parking:

Pay-and-display parking nearby

Facilities:

WC, gift shop, museum

Things To Do, See and Photograph:

Castle, coastal and harbour, as well as taking the castle walk around the coastal side past the footbridge to see town wall by the coast across the water.

What to take:

Wide angle lens if you have one.

Nature highlights:

costal location, wading birds

Address:

Caernarfon Castle

Castle Ditch

Caernarfon,

Postcode:

LL55 2AY

Telephone:

01286 677617 or 01443 336000. Museum 01286 673362

Opening times:

01.11.08-31.03.09: Mon- Sat 9.30am-4pm, Sun 11am-4pm

01.04.09-31.10.09: Mon- Sun 9am-5pm

01.11.09-31.03.10: Mon- Sat 9.30am-4pm, Sun 11am-4pm

Closed:- 24th, 25th, 26th December, 1st January

Last admission 30 minutes before closing. There are special events regularly from May to August.

Charges:

CADW and English Heritage members (1YR plus) free, English Heritage members first year 50%.

Entry is FREE for Welsh residents aged 60 and over or 16 and under who have a valid pass.

Adults £4.95, Reduced rate £4.60. Family ticket £14.50 - admits 2 adults and up to 3 children under 16 years.

Also included in world heritage pass ticket

Photo Restrictions:

None known

Other Restrictions:
None known
Special Needs Access:
Ground floor accessible as is access to exterior views, routes up towers and along walls may be unsuitable for some.
Special Needs Facilities:
Nothing specified but a town location so other facilities would be available locally.
Children Facilities:
Not known
Dogs Allowed:
From April 2009, dogs on leads will be also welcome at these Cadw monuments. Please see information for dog owners
Please let us know any other information that we can add to the Further information and Planning Grids or page and any errors that you discover. Before making a long trip to any location it is always wise to double check the current information, websites like magazines may be correct at the time the information is written, but things change and it is of course impossible to double check all entries on a regular basis. If you have any good photographs that you feel would improve the illustration of this page then please let us have copies. In referring to this page it is helpful if you quote both the Page Ref and Classification from the Grids above. To print the planning grid select it then right click and print the selected area.
Please submit information on locations you discover so that this system continues to grow.