Article
Britain's Buildings
Take a look at Britain's buildings and you can get a good insight into the history of the country. From the early beginnings of living in communities using roundhouses right through to the modern day with high use of glass and materials that make buildings quick to assemble, if not always cheap, or the new buzz word sustainable, Britain's history is on show for all to see through it's buildings.
It is believed the earliest settlements in Britain, where many of our communities lived in community groups, and did not always have individual buildings to live in, they worked during the day and had structures where they could sleep at night. A couple of examples of these early Neolithic structures include Stonehenge

and Avebury

in Wiltshire. From extensive excavations carried out over the years it is believed these domestic buildings were round, and generally had wattle and daub type walls and roof's usually with a small central hole to allow out smoke from a fire. None of these original buildings survive, but you are able to see examples of them at Living History

museums in various parts of England and Wales, including St Faganís

near Cardiff.
When the Romans arrived in the 5th century, they bought order, new materials and tools, structures, modern amenities and were the first to create what we know today as cities and towns. Their buildings were generally built of stone and a new material brick. With their hypocausts they introduced heated bathing and early forms of central heating with underfloor heating as well as in some walls where they allowed the excess heat and smoke generated to escape. They also bought lavatoriums albeit communal ones as well as creating roads and street systems. Good examples of Roman layouts for buildings and towns can be found amongst the remains of Hadrian's Wall.

A good example of a Roman Bathhouse is The Roman Baths,

at Bath in Somerset, although of course various modernisations over the years has covered up much of the original Roman structure. If you want to get an idea of what a Roman residence would have been like then there are various sites where you can see what remains and reconstructions, including Fishbourne Palace in Sussex, Chedworth Roman Villa

in Gloucestershire, and Lullingstone Roman Villa in Kent. Other Roman remains and locations you can visit to get an idea of what it was like in Roman times can be found in our Roman Britain Section.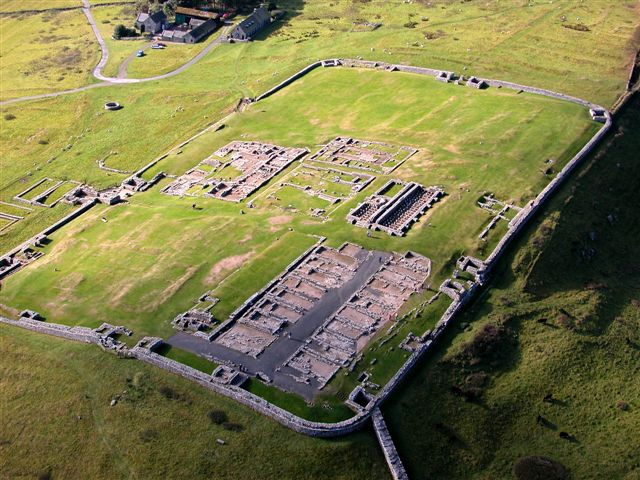 Housesteads Roman Fort

from the air Housesteads Roman Fort

Aerial photo by Simon Ledingham used with permission. Previously on www.visitcumbria.com

There are very few Roman structures left, only ruins and excavated remains. This is partly due to the amount of time we have come since their occupation, but also because over the following years buildings evolved or were deconstructed and materials re-used in the next generation of buildings.
Following on from the Romans, next comes the Anglo-Saxons and although it is thought that they will have had a building style of their own, it is difficult to say as very little survives as the majority of buildings were made of wood. The only types of building that survive are churches, and most of these have been glossed over with later Norman adaptations. A typical Anglo Saxon church would have used Ashlar Masonry in combination with reused Roman Brick, they were typically high and narrow, and usually accompanied with a West Tower. They had small windows with rounded or triangular tops deeply splayed or in groups divided by squat columns. Although no major Anglo Saxon church survives today, it is possible to see their influence in Earls Barton Church, Northamptonshire and Bradford on Avon Church in Wiltshire.
The next big development in buildings came with the Norman Conquest of 1066. They basically destroyed all trace of the Anglo-Saxons. Their underlying focus of their buildings was 'fitness for purpose', meaning all their buildings had to be functional. So for example Cathedrals and Churches had higher towers, they used rounded arches that were supported by cylindrical piers. Any decoration was low relief sculpture or decorative Chevron patterns. When it came to building their Motte and Bailey Castles, the battlements and turrets were constructed for a defensive purpose not as an ornament. Some examples are Durham Cathedral, or the White Tower at the Tower of London. The domestic buildings were fortified manor houses and some good examples include Oakham Castle in Rutland and Haddon Hall in Derbyshire, which although have been remodelled and adapted right through to the 16th century it shows the characteristics of function over form for a medieval house of it's time.
From the plainness of Normal buildings during the medieval period designs and influences continued and the next influence to come into Britain was from France, with it's gothic style. This style is more decorative, impressive and stylistic. Single columns have been replaced with columns composed of multiple shafts, with pointed arches, rib vaults, flying buttresses and pinnacles, but still having rigidity and steadfastness. Windows have become larger and often containing stained glass and subdivided by decorative stone tracery. Some good examples of this exuberance can be seen inside Salisbury Cathedral in Wiltshire and Wells Cathedral in Somerset. The focus on castles moved away from the squareness of towers and turrets and focused more on large impressive Gatehouses. Towards the end of the medieval period the trend moved back to buildings made of wood and using wattle and daub, clay and turf as building materials and insulators. It also moved away from purpose more to an emphasis on entertaining and houses were built around large great halls, where the entertaining would take place. A good example of a medieval manor house is Stokesay Castle in Shropshire, where you have a fortified medieval manor house of timber construction on a stone castle foundation with it's great hall and an impressive gatehouse at it's entrance.

By the time of the Tudors buildings were now being used to display status and wealth. They had moved away from the need to produce defence buildings. They moved away from houses have a central courtyard that it
looked upon to having something that was grand and allowed for much more exterior ornament. Inside the rooms are bigger and lighter and the use of great expanses of glass was itself a statement of wealth. There was also a general move towards balanced and symmetrical exteriors with central entrances. Not only the wealthy houses started to become grander and built of materials that would last, but also the lower social order began to have buildings made of stone and brick instead of wood. If you want to see some good examples of Tudor buildings then visit Hampton Court Palace, one of palaces used by Henry VIII, and take a look at his great hall. Longleat House in Wiltshire has classical detailing and uses large amounts of glass with carved busts of Roman emperors. While Hardwick Hall

in Derbyshire is an archetypal Elizabethan house being tall, compact and yet beautiful.
Next comes the Stuarts and their designs were influenced by Italy as well as taking on the Baroque style of heavy embellishment and mass. Granduer was enforced with formal, geometric and symmetrical designs, meaning that the lord of his house would be at the centre of his world and have suites of rooms radiating in straight lines on either side. Their gardens also have the same principles applied. This is the period of Sir Christopher Wren and his most famous building is St Paul's Cathedral

in London, with its domed roof and over the top decoration. Another good example of buildings for this period is Blenheim Palace

in Oxfordshire, with it's large house and large grounds.

Blenheim Palace

Oxfordshire
The next significant period of development was during the Georgian period of the eighteenth and early nineteenth century which saw the development of Palladianism or Neoclassical architecture. It was during this period that comfort and style became truly popular, and many of England's old fortified houses were rebuilt or remodelled in the new taste. At the same time this is the period where large sections of urban development occurred in cities, good examples of these being Bath in Somerset and Mayfair in London, where we see large buildings but now built in stylised crescents and terraces in prospering industrialising cities. Some examples of buildings of this period include Woburn Abbey in Bedfordshire and Kedleston Hall, Derbyshire.
As this period went into the Victorian era, uniformity was continued and many buildings in towns and cities for domestic use were built of brick, and in terraces to provide housing for workers of the factories. It was also the start of mass production and resulted in buildings becoming uniformed all looking the same, rather than having their own individuality as was previously achieved when created by master craftsman. Industrial buildings were
| | |
| --- | --- |
| becoming more elaborate and larger like the wool factories in the Manchester and Bradford areas, but it was also a time for using new industrial process in building structures, like in 1851 when Joseph Paxton built the Crystal Palace for the Great Exhibition using Iron and huge amounts of glass. As a result of industrialisation a new breed of individual was also becoming wealthy and not able to loose some of the austerity from the past, wanted big or elaborate to show off their wealth. It was considered that you had made it if you had a big house to show off to visitors. Bath is a good example of uniformity in its terraces and streets, while Castell Coch near Cardiff in South Wales is an ostentatious folly with its many turrets, working portcullis and elaborately decorated interiors. In their estates workers houses were built of brick, but still had elements of decoration on them like the house I was brought up in, which is brick built and has the most elaborate chimney's, and thick stone window surrounds. | Castell Coch near Cardiff, South Wales Castell Coch Gallery |
During the beginning of the 20th century there were some individuals trying to turn the clocks back and were constructing buildings again with Non symmetrical designs, using Mullioned or Lattice windows and multiple gables, and tall chimneys, aesthetically influenced by the Arts and Crafts movement and later Art Deco. Although large amounts of glass were still being built into buildings either in windows, or on roofs and traditional materials of stone and brick making up the walls, there were others experimenting with reinforced concrete.
After the Second World War Britain had to rebuild much of it's towns and cities and there was a need for cheap housing that could be produced quickly, now design and aesthetics have disappeared, uniformity and getting as many homes in a space as possible was the order of the day. In fact it also saw the use of prefabricated elements, using wood once again and metal frames and encasing it in concrete cladding. At this time construction of homes now moved away from individuals and became the domain of local Government and the introduction of the council house/estate and the development of high rise housing in the form of blocks of flats. This was the first time that houses incorporated indoor toilets and their own private gardens. Buildings then continued to be built by local authorities and a combination of national and multinational companies, building housing, city centres, industrial estates, educational facilities and more.
Today we still have multinational companies building estates of houses, trying to get as many properties on a single piece of land. However they are not so uniform in design as they were, from the outside at least, with collections of different materials being used and having houses from terraces to detached alongside smaller apartment blocks. Inside they now have at least two toilets but they are still the owners kingdom. High tech architecture using glass, metals, curves is still being produced and boundaries being broken but mainly in the industrial/commercial sector. Examples of this can be seen in a number of buildings in London, including the Lloyds Building in the City of London, or the Millennium Dome (now O2 Arena) in the Docklands and The Gherkin.
Sustainability is now the new buzz word and even though techniques and designs move on, it is difficult not to also draw on what has happened in the past. This is best seen in today's housing market where local authorities and some self-builders are reverting back to earlier times by using natural materials like wooden frames, hay as insulation in walls (wattle and daub), or large amounts of glass with skylights and conservatories to some buildings even having turf on their roofs.
A good place to see a representation of historic buildings relating to an area is to visit a Living History Museum, like St Faganís National History Museum

near Cardiff where you can see over 40 buildings not only showing the development of buildings but also the development of the Welsh economy and life through these structures, starting with replica roundhouses and a Castle, through to farm buildings, a row of minors cottages and Workmen's Institute as well as rural crafts, animals and more. Other living history museums depict regional buildings and economies through them, such as the Avoncroft

in Worcestershire which displays 25 historic buildings including a Windmill, a Toll House, a Merchants House and a Prefab amongst others. The Weald and Downland Open Air Museum

in Sussex has a rural theme displaying buildings of rural crafts such as a Blacksmiths, a watermill, a sawmill but also some domestic farm buildings within its farmyard settings. For buildings relating to industrial areas then the Black Country Museum

near Birmingham has buildings relating to mining and canal communities, while the Beamish Living Museum

in Durham has buildings representing their region during Georgian, Victorian and Edwardian times including a pit village, town, trams and railway. Finally Ironbridge in Shropshire has buildings and many attractions of its industrial age, from the houses of the factory owners and workers, through the the extended community that built up around the Iron industry which is used in many of its buildings. Take a look at our Living History

section for many more.
---
See Also:
Time Line of Britain's Buildings

List of historic buildings and architects of the United Kingdom

List of British architects

Lists of Grade I listed buildings in England by county

Timeline of Architectural Styles