Amlwch Lighthouse

Amlwch, Anglesey

Location Guide
This minor lighthouse that is at the end of pier to a small port is a part of a larger heritage site.
The Amlwch lighthouse is a square 15ft tower situated on the outer pier of Amlwch, at the northeast tip of Anglesey in Wales.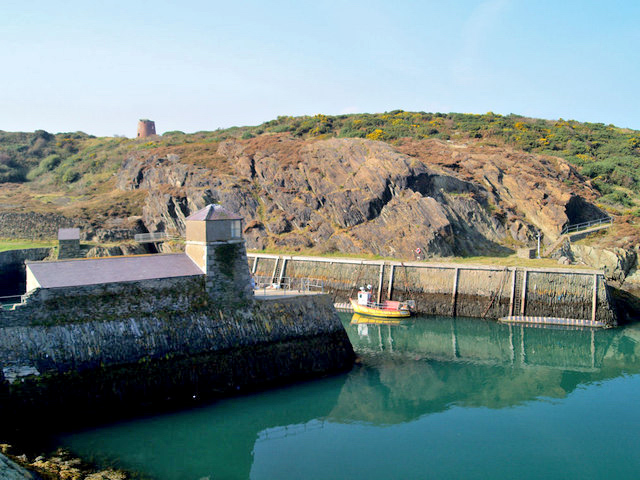 Photo from Geograph

The existing lighthouse, a square tower erected in 1853, is the fourth on this site, the first probably in 1817. It has original fine, but battered, ashlar masonry to a height of 4.6 metres (15ft), the present lantern was added on top at a later date.
History
Two short piers at Amlwch were built following a private Act of Parliament of 1743, when the harbour was improved. Two octagonal houses with small lanterns, protruding from the roof, were added. They were described in the New Seamanís Guide as "small white houses displaying lights at night".
In 1816 an outer pier, about 46 metres (151ft) long, was built to give shipping extra protection inside the harbour. In 1817, a small lighthouse with a light 8.5 metres (28ft) above high water mark was built, subsequently replaced with the present lighthouse. There are, like many, variations to this story, some say it was built in 1853, others sources including Findlay's 1879 list say the building is the 1817 original.
The drydock and lighthouse on the small creek at Amlwch once served the shipping of one of the largest copper mines in Europe, located at Parys Mountain. The significance of the early copper-exporting port at Amlwch makes the lighthouse part of a heritage site of international importance.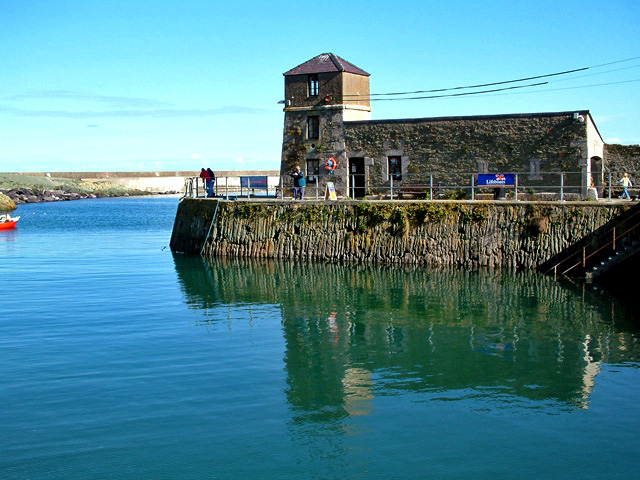 Photo by Bob Abell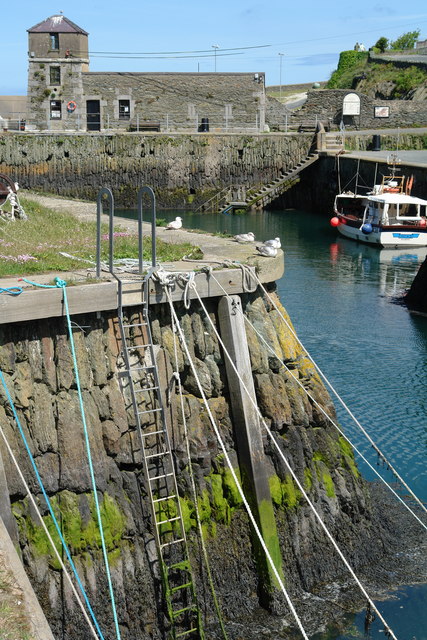 Photo from Geograph

---
Lighthouse information Grid

Name:

Amlwch Lighthouse, Anglesey

Current status:

Inactivate now. I think it stopped being used in 1972.

Geographic Position:

Grid Reference:

SH450934

Ceremonial County:

Anglesey

Appearance:

Square tower on top of harbour wall.

Square stone tower with lantern attached to a 1 storey stone building, square lantern room with slate roof

Map Link:

Aerial photo:

Google satellite view Multimap

Other photos:

Originally built:

3 earlier versions on this site. History is not clear, maybe 1817

Current lighthouse built:

1853 some say 1817

Height of Tower:

15ft on top of harbour wall

Height of light above mean sea level:

11 metres 36ft

Character of light:

None now

Character of fog signal:

None

Range of light:

Owned / run by:

Isle of Anglesey Council

Getting there:

see map

Access:

Site open for harbour and area, tower closed

Website:

Other Useful Websites:

Routes:
Anglesey Coastal Path
Nearby Locations:

Amlwch Copper Kingdom, Amlwch, Anglesey

Other Relevant pages:

Notes:
Please let us know any other information that we can add to the Grid or page and any errors that you discover. Before making a long trip to any location it is always wise to double check the current information, websites like magazines may be correct at the time the information is written, but things change and it is of course impossible to double check all entries on a regular basis. If you have any good photographs that you feel would improve the illustration of this page then please let us have copies. In referring to this page it is helpful if you quote both the Page Ref and Topic or Section references from the Grid below. To print the planning grid select it then right click and print the selected area.
Please submit information on locations you discover so that this system continues to grow.