Point Lynas Lighthouse

Llaneilian, Anglesey

Featured Location Guide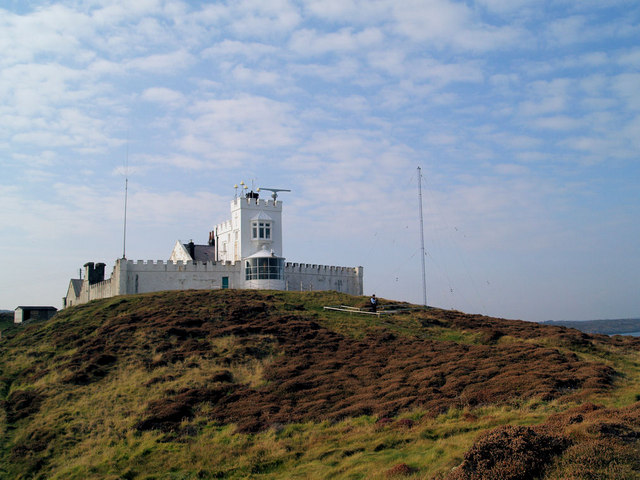 Photo From Geograph

Known as the Liverpool's Pilots lighthouse this started out as a place to pick up a pilot to get into Liverpool, and nearby ports, and it retained this connection over most if its history. It's interesting to look at, different and considered of architectural importance. It was up until relatively recently run by the Liverpool Dock Board and only transferred to Trinity House in April 1973.
We luckily know a lot about the history and a number of families of keepers who spent very many years here, so perhaps have a more complete picture than with many lighthouses. For that reason the research and description now produced is far longer.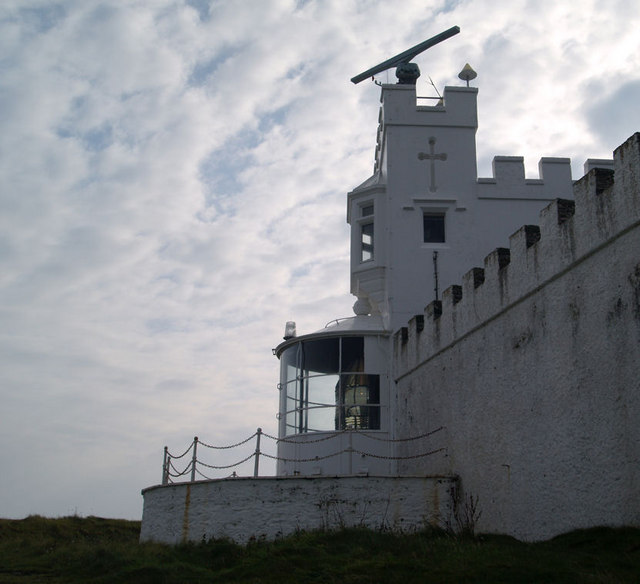 Photo From Geograph

The first Lighthouse
Most lighthouses came about through heavy loss of life in the area, but this one has a different history, in that it was initially chosen as a place between two safe bays with anchorages.
It was William Hutchinson, the Dock Master at Liverpool and three other men, who in 1779, set off on horse back to find an ideal location for a new pilot station. It took them two days to travel to Anglesey, and having rejected a load of locations over the next few days they arrived at a small peninsula running north west with a sheltered bay on either side. They surveyed the area and drew up a sketch map that still survives, showing everything in detail from short pieces of road, that belonged to individuals, to water supplies, to the proposed location of the pilot station, where boats would be launched from and more.
The point they chose for the pilot station was around 300 yards back from the headland, and here, shortly after, they built a pilot station, and had two small lights with reflectors shining out of upstairs windows. This provided two light beams, that provided leading lights into one or other of the bays, and could not otherwise be seen. Next to the pilot station was a flag mast used for signalling to the ships. Initially the pilots used the building to live in while they waited for ships. Six oared boats were kept on nearby slips ready to take the pilots out.
Instructions to boats was that they were to come into either Pilots Bay or Williams Bay and hoist their colours by day, or show lights and fire guns at night. The bay to be used being at the time, the one most sheltered, so that pilots could safely get on board.
By 1796 eight large pilot boats were taking pilots out of Liverpool and by that time the lighthouse was principally for navigation with no pilots based there. However, from this time on pilot boats would be based off this coast and in touch with the lighthouse, which was still the meeting place.
The first lighthouse keeper was Robert Beaver, born in 1748, he had gone to sea at a young age and worked his way up to the point where he became the Captain of a slave trading boat out of Liverpool.
Slave traders travelled in a triangle, from Liverpool with goods to West Africa, sell the goods and buy slaves, across to the Caribbean, West Indies, or Virginia, sell the slaves and obtain tobacco and cotton and then return around the south of Ireland and back to Liverpool. Until 1807 when both Britain and America made it illegal to be involved in external slavery, this trade was legal. Slavery internally continued in Britain and the colonies until 1833. The Royal Navy declared around 1808 that ships transporting slaves were the same as pirates, and so ships carrying slaves were subject to destruction and any men captured were potentially subject to execution. We are talking about some time prior to this.
Robert Beaver left the sea in 1782, his health having deteriorated, and for a period between being a Captain of the slaver and retiring he was the Captain of a licensed privateer, a state licenced pirate, with a a government license to attack French and American ships with his armed merchant ship. He was said to have taken many prizes, captured many ships. and he was a wealthy man at the point he retired. William Hutchinson had also at one point been a privateer, and this may have influenced the appointment.
Robert Beaver had two jobs, for many years he was the unpaid lighthouse keeper, but received pay from 1787 until 1805 as a look out for the Royal Navy, watching out for invading American and French warships. In 1805 the Admiralty sent Lieutenant Robert Pritchard, and paid him 2 shillings (10p) a day, who took over a purpose built mound at the end of the point. In 1797 the Liverpool Dock Board stared to pay Robert Beaver £25 a year plus coal.
Robert Beaver was to struggle to keep the lighthouse going from here with a lot of complains, but no action beyond enquires by the Liverpool Board, and statements that he ought to be replaced, until they eventually retired him in 1814 age 65. Within days of retiring him he died.
Lieutenant Robert Pritchard, moved from the look out to become the next lighthouse keeper, at a salary of £50 a year plus £5 for coal and candles. Although he was well known to them and had excellent references from both the Admiralty and local landowners on Anglesey, the Liverpool Dock Board asked for a £100 bond against his removal and created a long list of rules. Over the next 2 years Robert Pritchard did up the lighthouse at his own expense and his salary was raised to 70 guineas (£73.50) on condition that the improvements he made, were left when he retired.
Improvements continued and a bill was presented to Parliament in 1816 to allow ever grander improvements to be made to the lighthouse, but they did not happen.
The risk in the Liverpool Bay was sandbanks, while around Anglesey it was largely submerged rocks. In 1818 the light was adjusted to act as a guide down the east coast of Anglesey and a guide to Beaumaris harbour.
In 1819 a survey was commissioned by the Liverpool Ship Owners Association and subsequently Trinity House undertook a survey of the area. They strengthened and adjusted the light and all agreed that ideally it should be moved north west to the tip of the land. However nothing was to happen. Trinity House did provide advice on the lights, that was acted upon and was an improvement.
With the increase in trade and the port now busy, the ship owners wanted to know when ships were approaching so faster turnarounds could be possible. The solution was to extend the signalling system that was working locally with flags, to a more complete system using mechanical semaphores, two large arms looking in each direction. A line of signal stations was set up from Holyhead to Liverpool, many at or near to lighthouses. The mechanical semaphores were very efficient, often a reply to the first part of a message would be back to Holyhead before the last part of the message had been sent. Initially most were operated by lighthouse staff or relatives, then they were a separate service, before later being joined back together again. In 1859 the system changed from mechanical semaphores to an electrical system.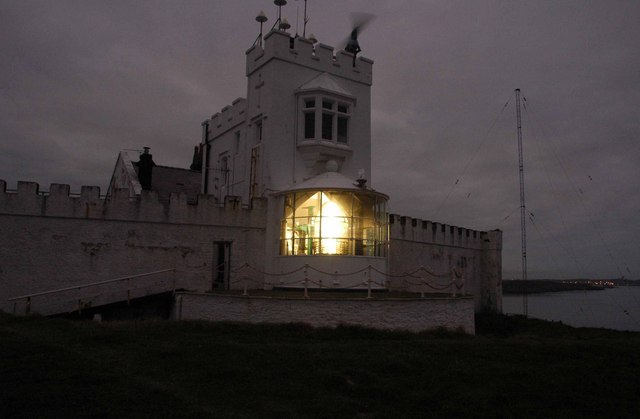 Photo from Geograph

Hartley's Castle
In 1833, another review identified the need to move the light to the end of the point to make it visible from further around. Solutions were sought and two principle designs were put forward, one by Alan Stephenson who was in change of Scottish Lights at the time and one by Liverpool's own engineer Jess Hartley, both were for lighthouses at the then current location, rather than a move to the point, but with tall towers. The Stephenson solution was a 70ft (21m) plain tower that would look right in the sea. Hartley's was a more decorative tower, and this was chosen.
The Dock Board changed their mind and instead decided to relocate the lighthouse to the top of the headland 300 yards North east.
Jess Hartley, engineer to the Mersey Docks and Harbour Board from 1824 to 1860, came up with the new design to be known as Hartley's Castle. The headland being 128ft above sea level gave ideal views, but the risk of the light being too high. He created two lighthouses with similar designs one here on Anglesey and one on the Great Orme on mainland Wales, both have lamp rooms on the ground floor.
Hartley's Castle has a light room on the ground floor with a look out room above it so as to see the pilot boats, and is structured to look like a fort or castle, with castellated wings, and building. The existing single lamp was replaced with an array of 13 argand lamps and reflectors. In clear weather this was visible for 18 to 21 miles from a ships deck.
We know quite a lot about this, as the drawings still exist and there was interest from the US Navy and in a reply the following information was provided on the 19th September 1838. Base of lantern above high water 116ft, diameter of lantern 13ft 3inches, height of lantern 8ft, number of reflectors 13, diameter of reflectors 22inches, horizontal illumination 211 degrees, annual consumption of oil 696 gallons, persons permanently appointed, 1 keeper at £73.10 shillings, who finds an assistant, annual cost of keeping it up £322.8 shillings including salary and £23 for fuel. Cost of construction and fitments £2,781.8 shillings.
Trinity House gives the cost of building and the light as £1,165, this was against an initial estimate of £500 for the building and £400 for the lamp, so £1,617 was spent on other fitments. They did not buy the land as later problems with the lease was to come up, so we don't know what this cost could have been.
In 1832 Lieutenant Robert Pritchard, had died age 58, Liverpool had quite a few lady lighthouse keepers and his wife took on the lighthouse, on the same salary, on condition she provided her own male assistant, which she did. She continued with the new lighthouse, and in the 1842 census she has 1 young male assistant and 3 female servants. She gave her age as 55, although she was 67. She continued to look after the light until 1848 when she died aged 75. Between her and her husband they ran the lighthouse for 34 years and in this time there were no complaints about the light or lighthouse. They are buried together in the churchyard at St Eilian's church nearby.
In 1839 the steady light was changed to an occulting light, the new light being covered up for 2 in every 10 seconds, to differentiate it from other lights. This was controlled by a clockwork mechanism. A report later from a visiting commissioner explained how this worked:-
The flash is produced by boards which are turned by machinery, They turn slowly until their edges are towards the lantern then close suddenly and shut out the light. the machinery is wound by pulling an endless chain hand over hand repeatedly. It takes the keeper 20 minutes to wind and it goes for 4 hours.
Following the death of Mrs Pritchard in 1848, David Morgan aged 44, was appointed keeper. He had previously been second keeper at New Brighton Lighthouse,

he was married with a third child arriving very soon. He started at a salary of £84 a year, and was given £7.10 shillings to cover his removal costs, about a months salary. He was in trouble from early on, he bought coal for more than Mrs Pritchard had, employed some local labour without permission and requested more supplies. When he complained he was reprimanded for making frivolous complaints.
Supplies were delivered to the lighthouse annually, and it was up to the lighthouse keeper to make sure he did not run out. The supplies were lantern items: Sperm and olive oil, cotton waste, calico, flannels and leathers for cleaning, to clean the home they had 1 banister brush, 1 long brush, 30lb of soft soap and 24lb of hard soap. For office use they had ink, blotting paper, foolscap paper, steel pens, quills, some disks of dried paste used to hold papers together called wafers, plus an almanac containing tide and astronomical information.
Two years later he put in a request and was given a large toolkit, chest for item, workbench, wheelbarrow, axe, soldering iron and solder.
There were a whole series of disputes between Morgan and neighbours, over access, over rights for cattle to wander, trespass by others on land controlled by Morgan and the like, this ended up in Chester Court. This ends up with Morgan being told by the court not to allow his cattle to wander and the farmer being told not to trespass on the lighthouse land. He also managed from time to time to employ people not suitable, such as one with only one eye. In 1852 he was in court again, this time it was more serious, because some items from the ship the 'Fairfield' that went aground ended up in his house, and he was charged with wrecking, wrecking and collecting or receiving being considered the same. This was, at the time, a very serious offence and the magistrate found him guilty. The lighthouse board interviewed him and backed him offering to pay the cost of his appeal, and the problem went away.
However in the 36 years he worked for them he never had a single pay rise and after 14 years when he asked for a 2 week holiday, his first, he was told he could only have it if he paid for someone to cover for him for the period. He had a number of daughters who at different periods was his assistant. By 1861 he had 9 children ranging from ages 1 to 20.
The third lighthouse
Major redevelopments occurred up to April 1879 when the new light was first shown. For 7 months prior, a temporary light was in place for the building work to be done. This included the building of two more houses and the extending of the castellated walls. The light was also changed at this time.
The new and present lantern is 15ft (4.6m) in diameter. The lantern has a cast iron lower wall and rectangular glazing bars take the height to 12ft (3.7m). The lantern is topped by a plain conical roof with a ball finial.
The design was by George Lyster, at the time Chief Engineer at the Dock Board, and a budget of £4,087 was allocated. Chance Brothers got the contract to fit the second order dioptric illuminating apparatus and lantern at a cost of £1,685, this included a Chance occulting optic fitted in the light room. This is 4ft 7in (1.4m) in diameter and displays a light through 206 degrees. The fixed part of the optic consists of three sections, the central unit on the focal plane has a 9.8in (0.25m) deep curved lens with bands of six prisms above and below it. The bottom unit is made up of six bands of reflective prisms, while the inclined top unit contains sixteen.
Also at this time they bought 14 acres of land for £2,500 where the land was previously leased, and rights of way for a new access road for £500.
After the redevelopments David Morgan was still in charge, but he now had two assistants, his 1st assistant is Richard Roberts and Lewis Jones is 2nd assistant keeper. Morgan' salary stayed at £84pa, Roberts was £55 a year and Jones was paid weekly 15 shillings the equivalent of £39pa. Both of the assistants had previously been keepers at the telegraph station which was now combined. Morgan's youngest daughter 24 year old Elms who had been his assistant lost her job. Morgan got a one of payment of £15 for supervising the building contractors.
At this time lighthouse keepers who did not have a garden were given an extra £4 a year, and this included locations where nothing much would grow, due to the location. Signal station people did not have this, as they were considered to be too busy and therefore would not have time to tend a garden even if they had one. The two additional keepers had been at the signal station previously, and on their move none of them received this extra £4.
In 1884 aged 69, Morgan having served 42 years, 36 at Point Lynas, was able to retire and given a pension of £65 a year.
Over the next 70 years things would appear to have just rumbled along little changing. There are logs of activity and sightings, and over this time a change of staff.
Jumping forward to the keeper who we think was the last one, we can find a little about what had happened in between and the final changes from interviews he took part in during 1983.
Mr W E Schofield left school at 15, joined the Navy as a signal boy and served for 15 years. This included the Second World War, and being for some time a submariner, leaving with the rank of Chief Yeoman. He took on the job as a Dock Gateman before applying for a post at Point Lynas.
Appointed the middle of the three keepers in the late 40's, very little had changed. His experience of semaphores and Morse code was particularly relevant, flag signalling and flashing lights were used to communicate to the pilot boats that now waited about 2 miles off the coast, and Morse code was used to communicate with Liverpool. The three keepers lived in the three cottages within the castellated enclosure, water was collected from rain water on their roofs and went into a containment well, and when this ran out, the fire brigade would come and fill up the sanitary tanks, and drinking water obtained from a pump well in a field a mile and a half away.
The occulting mechanism was still in use and he explained it as a mechanism similar to a church clock, one and a half hundredweight of lead suspended in a long metal tube. This had to be hauled to the top every hour to keep the clock going. In addition the paraffin lights need to be pumped at a rate of 170 pumps an hour to keep the light running, by the time these had been done there was a 20 minute rest every hour. They had a 4 shift rotating pattern, midnight to 6am, 6am to 12 midday, midday to 6pm, and 6pm to midnight. In another interview he said they worked 3 straight shifts of 8 hours 7 days a week, but this would mean the same person on the same shifts all the time, so this may have been later.
Improvements took place in 1951, two diesel generators were introduced, and it went electric with batteries, the old occulting mechanism became redundant, and the mechanical elements of the original light shutter were removed, plus there was an automatic gas backup that had its own occulting mechanism.
Later mains electric arrived and in 1959 mains water. When water arrived all 3 residences were fitted with bathrooms, complete with the luxury of a bath, basin and Calor gas water heater.
At some point along the way radio communication with the pilot boats and telephone communication was introduced.
In 1961 the Marine Surveyor reported that the keepers had asked for a review of their hours as they were working still 56 hours a week. As a result a 4th person was added who would live locally nearby.
The Dock Board decided to automate the light, and Mr Schofield and his wife was left as keeper and assistant. He explained:-
We had a timer switch on top of the light, and when it got dusk that turned the light on, and in the morning when it got light it switched the light off. There were alarm bells fitted all over the place, we had five alarm bells for what could go wrong, you did not keep any watches at all, you went to bed at night just like anyone else, and if the alarms went off of course everybody knew just which part of the lighthouse was alarming ....
He was able to leave the lighthouse for a short period or leave his wife in charge when he went out.
In April 1973 the lighthouse was handed over to Trinity House, and the Schofield's were kept on. In 1989 it was fully automated and there is no longer a keeper, its monitored by Trinity House from Harwich in Essex. The lamp is 1000W with an intensity of 112,000 candela and is white, occulting every 10 seconds, with a range of 20 nautical miles (40 km).
In 1948 an automatic acetylene fog-gun was installed, but was removed in 1973, when the light was transferred to Trinity House, who fitted electrical emitters. There is also an automatic fog detector which starts the fog signal should the visibility drop to less than 2½ miles.
Back 7 to 10 years ago the whole grade II listed site, three cottages, tower and 17 acres of land was sold for £160-200,000, since then its been done up and it came back onto the market earlier this year with a guide price of £1.2m to £1.5m. From the press releases its appears that the main tower is leased to Trinity House and contains the lighthouse gear, while one property has been converted to owners accommodation and the other two as holiday rental properties. Read more at Walesonline July 2010

Mail Online May 2010,

including some internal views, BBC Wales July 2010.

Two of the three keepers cottages are let out now as holiday accommodation, the third is the owners accommodation, while the tower is leased for now to Trinity House. Links for renting the holiday properties are below.
Located on Point Lynas, about 0.6 miles (1km) north of Llaneilian.
Architecturally the Lighthouse is considered to be important for its association with Jesse Hartley, the engineer responsible for the world's first great floating dock system at Liverpool, and a number of World Heritage site buildings in the Liverpool Docks area.
---
Lighthouse information Grid

| | |
| --- | --- |
| Name: | Point Lynas Lighthouse, Llaneilian, Anglesey |
| Current status: | Currently in use |
| Geographic Position: | 53 25'.O N 04 17'.3 W |
| Grid Reference: | SH479936 |
| Ceremonial County: | Anglesey |
| Appearance: | Castellated walls, and central castellated tower with light at ground level and observation room above, radar device on roof. Painted white. |
| Map Link: | |
| Aerial photo: | Google satellite view |
| Other photos: | Geograph |
| Originally built: | 1799 |
| Current lighthouse built: | 1835 |
| Height of Tower: | 36ft 11m building but light room is at ground level |
| Height of light above mean sea level: | 128ft 39m |
| Character of light: | White Occulting Every 10 Seconds |
| Character of fog signal: | 1 Blast Every 45 Seconds |
| Range of light: | 20 nautical miles |
| Owned / run by: | Trinity House |
| Getting there: | At the end of a road that goes down to the point, there does not appear to be any parking at the end near the lighthouse, entry to the lighthouse yard is marked private no entry, parking is inside for those stopping in the holiday cottages. |
| Access: | |
| Website: | TH |
| Other Useful Websites: | Wiki Liverpool's Lighthouse Keepers |
| Routes: | Anglesey Coastal Path |
| Nearby Locations: | Amlwch Lighthouse Amlwch Copper Kingdom |
| Other Relevant pages: | |
| Notes: | 2 keepers cottages are available for holiday rental, a road goes to them and they have parking inside the crenulated wall structure. |
Please let us know any other information that we can add to the Grid or page and any errors that you discover. Before making a long trip to any location it is always wise to double check the current information, websites like magazines may be correct at the time the information is written, but things change and it is of course impossible to double check all entries on a regular basis. If you have any good photographs that you feel would improve the illustration of this page then please let us have copies. In referring to this page it is helpful if you quote both the Page Ref and Topic or Section references from the Grid below. To print the planning grid select it then right click and print the selected area.
Please submit information on locations you discover so that this system continues to grow.