Holyhead Mountain Hut Group

aka Ty Mawr Hut Group, Clwster Cytiau Mynydd Caergybi
and Cytiau'r Gwyddelod

Holyhead, Anglesey

Location Guide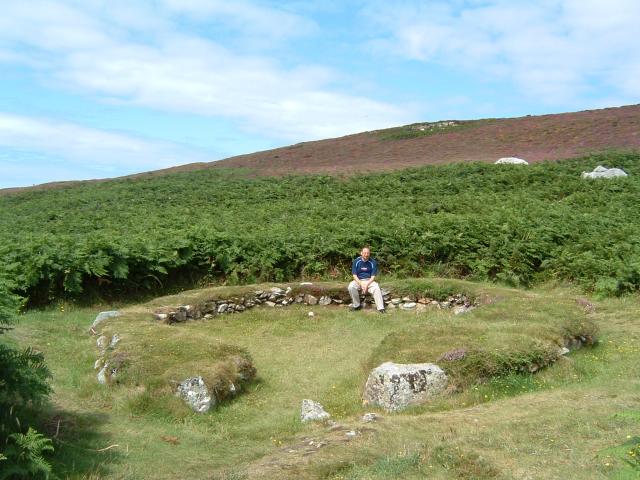 Photo Paul Alison

In the 1860's over 50 buildings were recorded but today around 20 exist, split into a lager and a smaller group. they are thought to represent around 8 farms or homesteads that may not have all been in use at the same time. Initially Roman finds lead people to class this as a British Romano settlement but more recently radio carbon dating suggests some of this was in use as early as 500BC. It was then in use through the Romano British period and beyond, occupation moving through the area, and probably back again. In addition to this while looking at the smaller eastern group in detail in 1978 and 1982 they discovered far earlier Meseolithic flint tools.
In addition to many round houses there are sunken chambers, similar to the Souterrraines found in Scottish and Cornwall early villages. These perhaps were used for cool storage, or as a safe hiding place. The round houses have built in furniture, including benches and basins, and some have elaborate entrances. A typical house is about 26ft across.
Its known by many names, one Cytiau Gwyddelod, means 'huts of the Irishmen' but there is no evidence to support this. Other names include Clwster Cytiau Mynydd Caergybi, its named on some maps as Cytiau'r Gwyddelod, and guide books refer to it as as Ty Mawr Hut Group or Holyhead Mountain Hut Group. Its located near the road, on the mountain side below Caer y Twr Hillfort

although there is a substantial walk up to the hill fort.

Photo by Ray West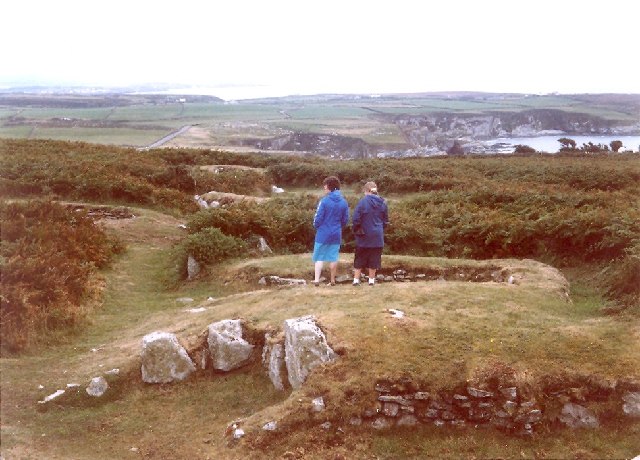 Photo by Humphrey Bolton

What you will find there
The low but clear remains of an Iron Age farming community that originated in 500BC and endured for a millennia. The first excavations in the 1860's were followed by more in the 1970's, and together they discovered the remnants of some 50 buildings scattered across up to 20 acres of the hillside. The buildings come in various shapes and sizes, large roundhouses, but also much smaller outbuildings which may have served as workshops or housed livestock. Amongst these structures are about 8 complete farmsteads, though it is believed that not all of them were in use at the same time. There may not have been sufficient population to inhabit them all continuously, or we can imagine that it was their practice to occupy one hut whilst the dilapidated stone foundations of another were redressed and the old timbers and rotten roofing replaced.
The dry stone walled foundations are all that now remains of these structures, but on top of these there would once have been a timber frame to support a thatched or turfed roof.
Some of the entrances are formed by some not inconsiderable passageways, which most likely would have afforded some protection from the bitter coastal winds. Inside there is evidence of ledges and basins incorporated into the stonework, and also sunken structures which were likely used for storage. Charcoal of heather and sedge has been discovered on the site, and it is thought probable that these were used for bedding or flooring.
The surrounding land was ploughed by the community, wheat, oats and barley seeds have been discovered, though it is unlikely that such farming could ever have been intensive in this landscape. The rearing of livestock appears to have been their chief concern, but evidence of limpet and periwinkle shells offer a clear indication that food was also taken from the sea.


All 9 photos above by Anne Burgess


Click on the smaller images to see larger versions
---
Location: Holyhead Mountain Hut Group, Holyhead, Anglesey

Grid Reference: SH212820
Ceremonial County: Anglesey
Aerial photo: Multimap

Getting there: From Holyhead take the minor road west towards South Stack. There is a car park just short of South Stake where you can park. Just across the road from the car park for Ellin's Tower RSPB bird watchers

Access: Open mountain side
Website: CADW
Other Useful Websites: Pegasus archive Geograph
Email:
Address:
Postcode:
Telephone:
Opening Times: Open all the time

Charges: No entry costs

Nearby Locations: South Stack South Stack Lighthouse

Other Location Pages: Din Lligwy Hut Group Anglesey Coastal Path
Other Relevant Pages: Anglesey Attractions Anglesey Attractions Map

Notes:
Please let us know any other information that we can add to the Grid(s) or page and any errors that you discover. Before making a long trip to any location it is always wise to double check the current information, websites like magazines may be correct at the time the information is written, but things change and it is of course impossible to double check all entries on a regular basis. If you have any good photographs that you feel would improve the illustration of this page then please let us have copies. In referring to this page it is helpful if you quote both the Page Ref and Topic or Section references from the Grid below. To print the planning grid select it then right click and print the selected area.
Please submit information on locations you discover so that this system continues to grow.