South Stack

nr Holyhead, Anglesey

Quick Guide
See below grid for details
Enjoy a close-up view onto a cliff-side nesting colony, with binoculars and telescopes provided. You'll be able to watch guillemots, razorbills and puffins

all raising their young, while live television pictures give you an even closer view of the nests! Rare choughs can also be seen on the reserve.
The RSPB reserve is open year round. Ellins Tower, the RSPB visitor centre, is open from Easter to September. Access to Ellins Tower is via a steep flight of stairs.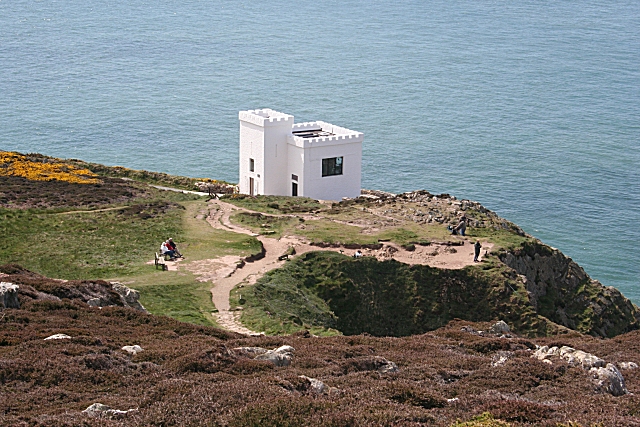 Ellins Tower originally a folly/summer house built for the Wife of W.O Stanley of Penrhos,
now the RSPB viewing tower, for the birds nesting on the cliffs in spring.


Photo by Anne Burgess

The South Stack reserve is very popular with visitors and visitor activity is concentrated around Ellins Tower (a castellated folly), where the paths are maintained to a higher standard than elsewhere on the reserve. The heathland areas and their network of paths are open to the public (on foot) at all times. These paths cross a mix of coastal and heathland terrain and some pass close to cliff edges.

There are no specific RSPB trails, but the route of the Ynys Gybi circular walk and the Anglesey Coastal Path are waymarked along with the routes of other public footpaths. The nature of the terrain makes many of the paths steep and rocky, making access difficult for anyone with impaired mobility.

A well-surfaced, high-quality 2m wide track with benches runs from the RSPB car park (complete with three disabled parking bays) into the heathland and onto a viewpoint in front of Ellins Tower. The permissive path through the farmland connects the two areas of heathland. This path is open to the public (on foot) at all times (except 10 December each year). Grazing animals are present, so please take care and keep dogs under close control.

The image on the left is of the cliffs around South Stack where the seabird colonies of Guillemots, Razorbills and Kittiwakes nest during the spring. Puffins nest in burrows in the earth on top of the rocks.

Photo by Anne Burgess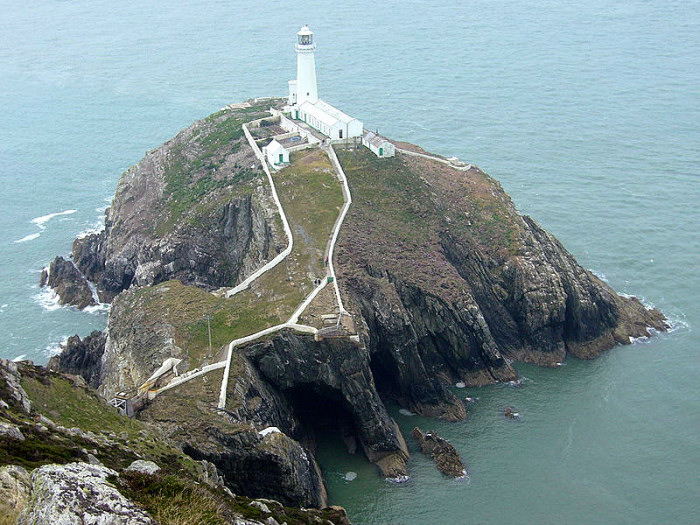 South Stack Lighthouse

Tom Oates

Access to the Isle of Anglesey Council's South Stack Island and the South Stack Lighthouse

visitor attraction is via approximately 400 steps of variable rise and tread width down the cliff (not part of the RSPB reserve).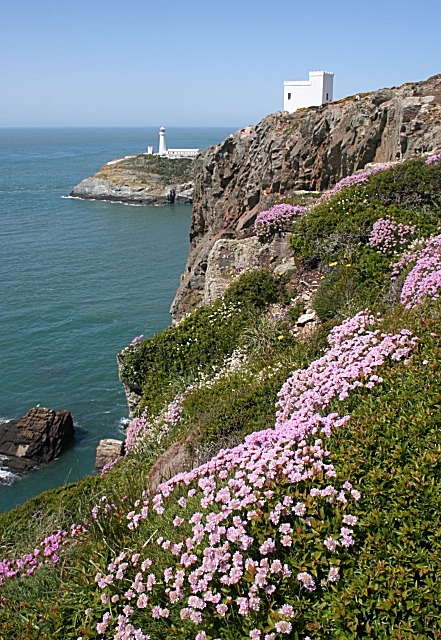 View of Ellins Tower, South Stack Lighthouse
and the cliffs covered in Thrift or Sea Pink, taken in May 2010.


Photo by Anne Burgess

---
Location: South Stack Cliffs, nr Holyhead, Anglesey

Grid Reference:

SH206819

Ceremonial County: Anglesey

Map Link: Multimap

Aerial photo: Multimap Aerial

Getting there: From North Wales follow the A55 to Holyhead, then continue on the A5 into Victoria Road. Take left spur into Victoria Terrace and on into South Stack Road follow this until you end up at the car park of the visitor centre.

Access: Good access from car park, with 3 bays for disabled visitors. Path to Ellins Tower and one of the view points. Rest is via footpaths. Steep steps into Ellins Tower.
Website: www.rspb.org.uk/reserves/guide/s/southstackcliffs/index.asp
Other Useful Websites: Wiki South Stack Lighthouse Anglesey Today
Visit Anglesey Geograph
Email: south.stack@rspb.org.uk
Address:
Postcode:
Telephone: 01407 764973
Opening Times: All year round, Visitor centre in Ellins tower open Easter -Sept 10am-5.30pm

Charges: Free to RSPB reserve. There are charges to South Stack Island and the Lighthouse.

Nearby Locations: South Stack Lighthouse, Anglesey

Other Location Pages: Anglesey Coastal Path Anglesey Attractions

Anglesey Attractions Map

Notes: There is a tea room, South Stack Kitchen Cafe which is now owned and run by the RSPB. Open from 10am-5pm daily with hot food served between 11.30am-3pm.
---
This page is a Quick Guide, the idea of Quick Guides is to allow very basic information and linking forward information to be added to the system rather than having to wait until a full location guide has been developed. It should therefore be considered a development stage rather than a finished objective. Once more information is known the objective is to create either a Location or Featured Location page which has two grids and far more information.
Please let us know any other information that we can add to the Grid(s) or page and any errors that you discover. Before making a long trip to any location it is always wise to double check the current information, websites like magazines may be correct at the time the information is written, but things change and it is of course impossible to double check all entries on a regular basis. If you have any good photographs that you feel would improve the illustration of this page then please let us have copies. In referring to this page it is helpful if you quote both the Page Ref and Topic or Section references from the Grid below. To print the planning grid select it then right click and print the selected area.
Please submit information on locations you discover so that this system continues to grow.