Penmon Lighthouse

aka Trwyn Du Lighthouse

Penmon, Anglesey

Location Guide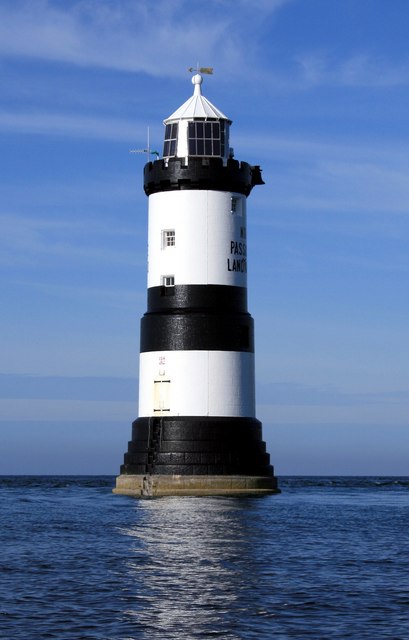 Photo by Jeff Buck

Trwyn Du Lighthouse
The lighthouse was originally manned by two keepers, however these were withdrawn in 1922 when the lighthouse was converted to unwatched acetylene operation.
Trwyn Du Lighthouse was converted to solar power in 1996, work to modernise the station included the development of a unique operating mechanism to work the 178Kg fog bell.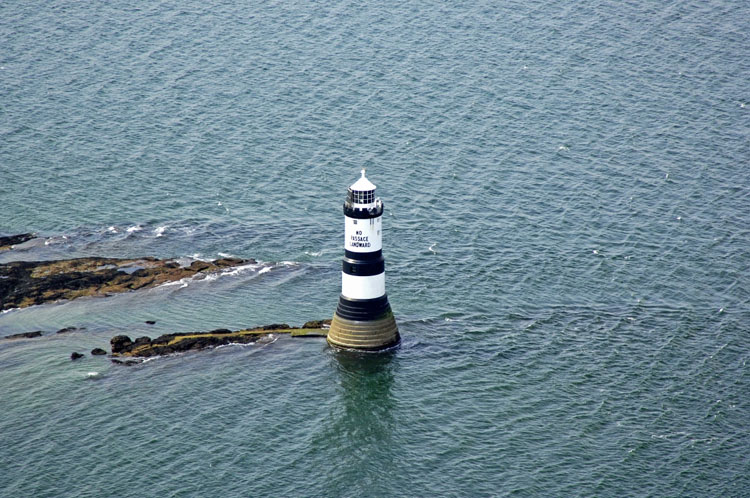 Aerial photo by Marinas.com

more images are available
The Penmon lighthouse also known as Trwyn Du Lighthouse was one of the later lighthouses to be constructed in this area, and was, like many, built after a major loss of life nearby. It marks some rocks that are on the end of land going out towards Puffin Island,

but also marks the north entrance to the Menai Straits.
Coastal shipping making the passage up or down the western seaboard goes around the island of Anglesey, off the coast of North Wales, and as a consequence of its position, in a busy seaway, has several major lights. Skerries Lighthouse

was built first, followed a century later by South Stack Lighthouse

and Point Lynas Lighthouse.

Penmon lighthouse was built following a major loss of life, on 17 August 1831, when an old steamer, 'The Rothsay Castle', ran aground and broke up on or near Puffin Island.
The old steamer was on its regular passage between Liverpool and the Menai Straits, and to be described as "old" in 1831, must have meant it was really quite ancient, or perhaps not in the best of condition. The ship left Liverpool with 150 passengers aboard and ran into very difficult sea conditions beyond the Mersey Bar.
It struggled against the headwinds and had not reached the halfway point of her journey after 4 hours and according to passenger accounts, passengers wanted to turn back but the the Captain refused their requests. It struggled on.
The Rothsay Castle had left the Mersey at 11am and it was now midnight, 13 hours had passed, and she still had not reached her destination. About an hour later 14 hours out, at about 1am she struck the Dutchman Bank, bounced off and continued without much control along the channel. A further series of collisions with the sand banks and appalling sea conditions resulted in her starting to break up.
Survivors recount how there was total chaos on deck even before the funnel broke off and pushed the Captain and his officer overboard, deteriorating more from that point. Of the 150 passengers on board, 130 were lost and 20 survived, being rescued by the Beaumaris Lifeboat, supported by a pilot boat from Penmon.
Nearby is an old lifeboat station, built in 1832. This lifeboat was responsible for saving 116 lives from 50 rescue attempts, however in 1915 it closed.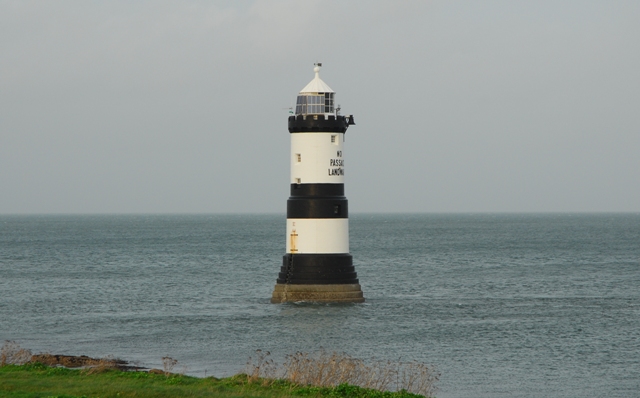 Photo by Ray Jones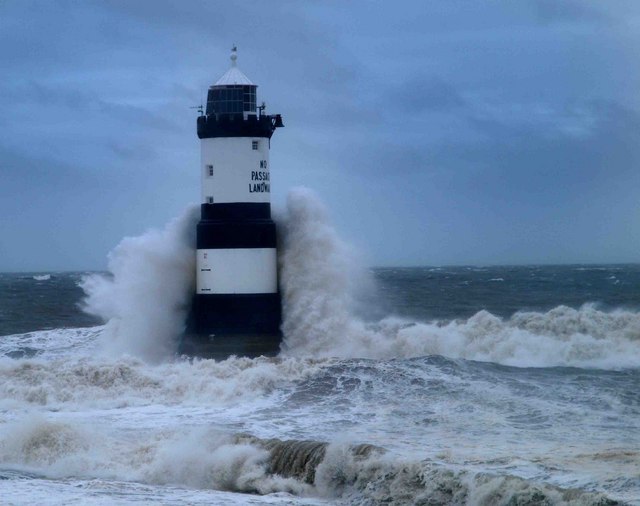 Photo from Geograph

This area of the coast was mostly looked after by the Liverpool Board and their pilots rather than Trinity House, they built the Point Lynas Lighthouse

on Anglesey, to the west and the one at Great Orme Head on the mainland of Wales to the east and Liverpool traffic would go from one to the other avoiding this area, and would always be outside of Puffin Island. However boats going around to Beaumaris would need to pass this point, with many cutting inside between the mainland of Anglesey and Puffin Island.

There are several references to the houses near the lighthouse that refer to them as the old pilot houses, but Liverpool pilots were based at Point Lynas, so its not clear who these pilots based here were. One of these today is the Pilot House Cafe,

which says it was home to 3 lighthouse pilots and their families in the early 1800's when it was three separate cottages. The Cafe is open daily from 10am until late in the summer and during daylight hours on the weekends in winter.
It was Trinity House having first spent some time talking to those at Liverpool, but with no action resulting, who built the Penmon lighthouse. The lighthouse is situated on a low-lying rock surrounded by shingle beaches about half a mile south of Puffin Island. The circular stone tower has three black bands.
The Lighthouse is 29m tall and was designed by James Walker and built in 1835-1838. It was his first sea-washed tower. The Lighthouse has a stepped base designed to discourage the huge upsurge of waves and reduce the force of the water at the bottom of the tower. This was at a cost of £11,589.
Austere vertical walls, instead of the usual graceful lines of other rock towers, are probably an economy measure. The tower has a crenellated stone parapet, in preference to iron railings on the gallery, and narrows in diameter above the half way point.
Walker also pioneered here, unsuccessfully, the use of a primitive water closet, comprising a specially designed drain exiting at the base of the tower. The stepped design of the lighthouse may have helped water exit the closet, but surges of seawater made its use difficult during heavy weather.
When constructed the lighthouse was manned by two keepers, but these were withdrawn in 1922 when the lighthouse was converted to unwatched acetylene operation. In 1996 it was converted to solar power. Work to modernise the station included the development of a unique operating mechanism to work the 178Kg fog bell.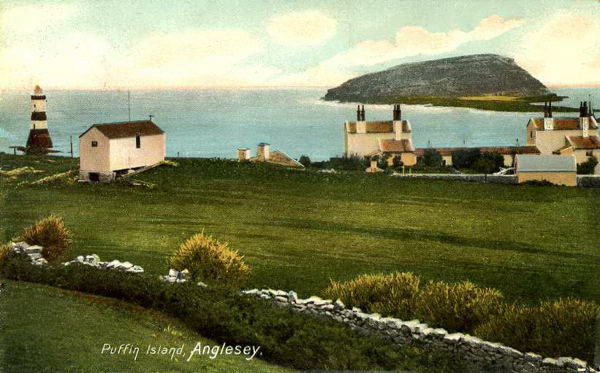 An old postcard view, thought to be from around 1910, that includes the lighthouse
One of the many Lighthouse keepers was Joseph Steer, born in 1831 at Bovey Tracey, Devon. (Source UK census of 1881).
On the north east tip of nearby Puffin Island,

a semaphore station was established. This linked with Point Lynas to the north west and Pen Gogarth on the Great Orme Head near Llandudno, to the east.
Penmon Priory,

as well as a number of other attractions at this location are nearby.
---
Lighthouse information Grid

Name:

Penmon Lighthouse/Trwyn Du Lighthouse, Anglesey

Current status:

Yes

Geographic Position:

53° 18'.80 N 04° 02'.40 W

Grid Reference:

SH641815

Ceremonial County:

Anglesey

Appearance:

White tower with black bands

Map Link:

Aerial photo:

Marinas.com Google satellite view

Other photos:

Geograph

Originally built:

1838

Current lighthouse built:

1838

Height of Tower:

93ft 29m

Height of light above mean sea level:

61ft 19m

Character of light:

White Flash Every 5 Seconds

Character of fog signal:

Bell Sounding Once Every 30 Seconds - all the time

Range of light:

12 nautical miles

Owned / run by:

Trinity House

Getting there:

To Penmon point. From Beaumaris take the B5109 at Tre-castell take a right to Penmon. At the priory area there is a man in a box who takes a small toll and cars can continue down the single track road to the parking area at the end, where there is a small beach, cafe and the lighthouse. Alternatively you could park at Penmon Priory which is about a mile from the lighthouse.

Access:

Road to within sight, access to within feet of it depending on tide, good views and also views from beach and sand dunes behind.

Website:

TH

Other Useful Websites:

Wiki

Routes:
Anglesey Coastal Path
Nearby Locations:
Other Relevant pages:

Notes:

178Kg fog bell.

best seen when tide is out.
Please let us know any other information that we can add to the Grid or page and any errors that you discover. Before making a long trip to any location it is always wise to double check the current information, websites like magazines may be correct at the time the information is written, but things change and it is of course impossible to double check all entries on a regular basis. If you have any good photographs that you feel would improve the illustration of this page then please let us have copies. In referring to this page it is helpful if you quote both the Page Ref and Topic or Section references from the Grid below. To print the planning grid select it then right click and print the selected area.
Please submit information on locations you discover so that this system continues to grow.