Feature week
White Horses and other
Hillside Features
Once upon a time, before red tape, planning consent and protected weeds, people could do far more of what they liked, they could build a folly to make their view interesting, exercise their whims, or mark events and situations. Amongst these activities some chose to cut white horses into the sides of hillsides, removing grass and soils so that the chalk was visible. Some chose to carve other shapes such as military badges, giants, or other animals. As time passed, some were appreciated, and maintained, others were not and grew over. In some case to be rediscovered or re-cut at the same site or nearby later.
In our age, things are never as simple, and although there are some new white horses, like Devizes and Folkestone, creating them has involved not only the physical construction, but also an enormous achievement in wading through red tape and objections to achieve this. With the Folkestone white horse this involved getting planning permission, then a public enquiry and when part built, Europe issued a directive to stop it and took legal action against the UK Government for allowing it to happen. When you consider this horse is an outline only, with narrow lines, like a narrow garden path, and all the weeds that were disturbed were taken up and replanted on another part of the hillside, its difficult to understand the objections. In Devizes they wanted to re-cut one that had gown over, but ran into difficulties, solving this by moving to another hillside a mile away with less sensitive weeds.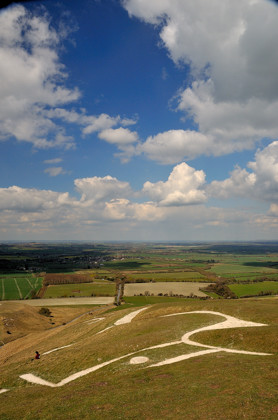 Uffington White Horse
So why is our second featured week looking at what some may consider an eccentric topic, and perhaps risking upsetting those who have strong emotional attachments to weeds, that you can't even see.
The reason is that many present composite views of Britain, there are a few basic symbols that are regularly featured, these include a stone circle, a windmill and a white horse, as well as usually Tower Bridge or Big Ben and perhaps a castle and a river or canal. We have already looked at stone circles, and the largest current featured project we have in development is looking at identifying all the windmills you may want to photograph, and as we have also already looked at some hill forts and older items the white horse being a background item seemed the most appropriate to tackle next.
There are not that many white horses, we have found 17, and produced a listing and location guides on each of these. We have also identified where all the other hillside features are, and produced a listing of these. Over time we will get location pages produced for many of these as well. See the full White Horse and Hillside Figures listing here ........
As you might expect we have produced an article giving more information on white horses and other hill features, and a second one on how to photograph them. A number of the location guides are extended to look at the reasons they were produced, with more in depth information on the Uffington location guide and the Westbury one.
With many we have found a number of stories behind them, and rather than pick one we felt was the answer, we have chosen to list all the variations, even where some are clearly wrong, as information existed in printed form before the suggested date. In some cases we have undertaken further research and included some of this as in the case of the Marlborough White Horse. Last week we visited and photographed 9 of these, the 8 in Wiltshire one day and the Uffington one the day before. On both days we saw and photographed other items as well and these will be featured in later location guides we produce. White Horses are able to be photographed from a distance, so you don't need to go to the actual site unless you want to, and although I have visited the sites of a number these before, last week we only went right up to one, most of the others we were on lower paths or roads, but within about half a field. You can see from this, if you just want to use you car, its still possible to photograph most white horses, and if you do go right up to them then you are too close to photograph them.
You will discover that there is a story behind each, and in some cases we know what this is, in others we have a range of ideas and in others perhaps we are guessing. The oldest surviving White Horse is 3,000 years old or thereabouts, and is the largest. It was produced by a more complex method that makes it 3D and means its shape cannot change like most others. We don't know why it was created, or how, or why they chose this symbolic design as opposed to carving a solid shape. We can of course look at the history and possibilities based on beliefs of the time. You might also consider if this is linked to the hill fort, or The Ridgeway path that is both very close, and if this is also connected with stone circles.
We have a number of other featured topics in development, and these you will appreciate, as well as being interesting in their own right, are also populating our location guide section.
Next week we are back to a normal week but will be introducing a few new items including an online bookshop, and telling you some of the new developments you will see over the next few weeks and months as well as a how you can become involved in extending this free resource for photographers.
As you may know, Multimap was bought by Microsoft recently, and last weekend a change occurred that we had not expected, in that Microsoft maps stopped working, and instead loaded a page about the Multimap system. Microsoft maps are not featured a lot on the location guides available now, so overcoming this will be solved by next week, the larger problem for us it that we has several hundred links to Microsoft maps within the windmill featured week, work we have in development, and all these links now have to be replaced. The Multimap system is also changing, with a new system about to come live that is a composite, taking the best features from both Multimap and the aerial photographs that were a part of the Microsoft system. Although this new system is not fully live yet, and has some problems still ,we have in this weeks location guides used the new version. Next week we will give a better explanation of this. Generally we like what we see.