In This Issue:-
Changing our system
We have made a few changes to the system this month, most you will not notice, unless I tell you. We have reduced the size of many of the symbols we use by links to tell you where the link goes.
For those new to visiting us, I should explain that all our hyperlinks have symbols by them telling you what it is and where it goes so

means its an article (they connect together to tell a full story, so are like parts of a jigsaw),

a list,

a location guide or

a featured location guide that you want to get your eyes on.

is a route guide,

a photo gallery,

a PDF document, and the like.

means its one of our system pages, such as a section or index, while

is a link to another website and will always open in a new browser window. We also have symbols that yell you what is at a location, so when looking through an index or something, you know what is there without looking at each one, or us having to use a vast amount of text. This is really useful as we index everything, multiple ways alphabetically, by topic by county etc. and everything that we add in each edition goes in to make it a larger and larger resource, all cross indexed. You can see the main symbols on the bottom left under the contents, and elsewhere. If you see a symbol you don't recognise putting your mouse over it, tells you its purpose or clicking on its brings up the full list of all symbols, in a new browser winder, so you don't lose where you are reading.
Most of the symbols are the same, with the same meaning, just smaller, initially we had them quite large so people would spot them and get used to their meaning, and now we have reduced them in size, just so they work better within the page layout. A few we have changed because when we reduced them in size they looked too much like another, we created a new castle symbol that was more castle like, and the bridge symbol we had, looked too similar to brackets, when reduced, so we have a new symbol for this too. To do this we have had to update every page in the system, but this was done by using software, similar to a search and exchange, but we will find over time some that still need to be corrected, they will show the new symbol but it will be stretched if not corrected.
We have also added a new type of page and a new symbol to go with these, these are map pages, and you can tell when its a map as it will have a

symbol. We already have route guides and these often contain maps, but we didn't before have a page type that was specifically a map. Our objective is to create interactive maps, and we have started this month with three, covering the locations of lighthouses.
Lighthouse Map of England and Wales
With these interactive maps you have coloured symbols to show location type, in this months maps its small red squares to show lighthouses that are open and can be visited and yellow squares for others we have on our featured list. Put your mouse over it and you see what its called and clicking on it goes directly to the location guide.
The symbols we use and map backgrounds will vary, but the general working will be the same.
Route guides differ as they are a listing of items along a route, so in last months edition we had Hadrian's Wall Route Guide

and looked within the route guide at items along the wall, that then linked to location guides. To have used it for lighthouses we would have had to unwind the coastline unto a line, and this would not have been as clear to most people. There are many other situations where we have found route guides did not make anything clearer, while a map would.
National Trust Update
We visited several more National Trust places this month, all accept one had no photographic restrictions, the exception was Penrhyn Castle in North Wales, here we could not take photos within the main rooms, but could in the kitchens, outbuilding displays and grounds. They were helpful in explaining why, they said National Trust property and items we can photograph, but the Castle contained items belonging to the family who still lives there. and the current restrictions is because you would be unable to photograph the building without photographing these contents.
We have more we are going to visit and will provide further updates but its looking good.
Multimap
In the middle of last month our links and any other request to go to a link on Multimap

started to go to Bing maps,

Microsoft's other mapping system. Multimap is more ideal for the British market than Bing, as Bing does not allow the use of OS grid references as a search item or have such good use of OS mapping. At first it looked as if Multimap was no more, but we spotted an option sometimes on Bing to go back to Multimap and having taken this, it now sends Multimap requests to Multimap as before. Try the two, but in my opinion Multimap is a far more suitable product for the UK market than Bing.
Our Multimap links we have through this system do still work, with Multimap and we are continuing to use it, but in most cases we are now adding a link to another mapping system as well to location guides just in case it stops working at some point. Where we can we also put grid references and you can put thee into Ordnance Survey - Get a Map

and Geograph

shows a similar small map, as well as photos nearby.
Google Maps

shows good maps, satellite views and street view has made huge steps forward in coverage, but not Ordnance Survey maps, and while finding town or street locations are easy, finding locations by grid references are not available. We have a complete review of all mapping and satellite view photographing systems in hand and will bring you this in the next few months.
Feature

Lighthouses

This month we have a feature edition on Lighthouses, not a project that was originally high on our agenda, but once we started to look at them, we found they are probably one of the most underrated of all our heritage subjects, and far more interesting than we had expected.

Just about every one is different, you get tall and short, some stood in the sea some on high cliffs, some works of art while others are an engineering achievement. Most have interesting histories and quite a few are open for you to go and visit, while many of the others can also be photographed. Many are in scenic locations or offer other reasons why we would want to visit and photograph them.

We have added a new large section on lighthouses, with more location guides this month than we have ever done in a month before, plus lists, interactive maps, articles and more.

We have a location guide on every major and some not so major lighthouse, we have found so far in England, Scotland, Wales, the Isle of Man and the Channel Islands. We have identified lighthouses for the whole of Ireland and produced location guides so far on those in Northern Ireland. The original idea was to produce these guides in the form of a special page with a grid containing specific lighthouse relevant information, as well as the sort of information we normally have in a grid, like map links, location, and other items like this, plus adding a photo of each.

Start Point Lighthouse, Orkney

Photo by Beth Loft
We hadn't initially planned to write a history on each, but decided to also add this, which as you will appreciate is a large challenge as there's not a great deal of information about on these. Some we found more information than others and we haven't completed them all yet. The ones we still have to add histories and other texts to have our

development symbol on the Featured Lists. On most of these you have photos and at least some of the grid information, and we will add more.
With many we have both high quality aerial photos, and we are grateful to Marinas.com

for permission to use these, in each case under the marinas.com image, usually in the grids on the location pages, and on the links column on lists, you will see a link, this goes to the collection of images they have on that location, its well worth a look. We have yet to add these links to the Irish list.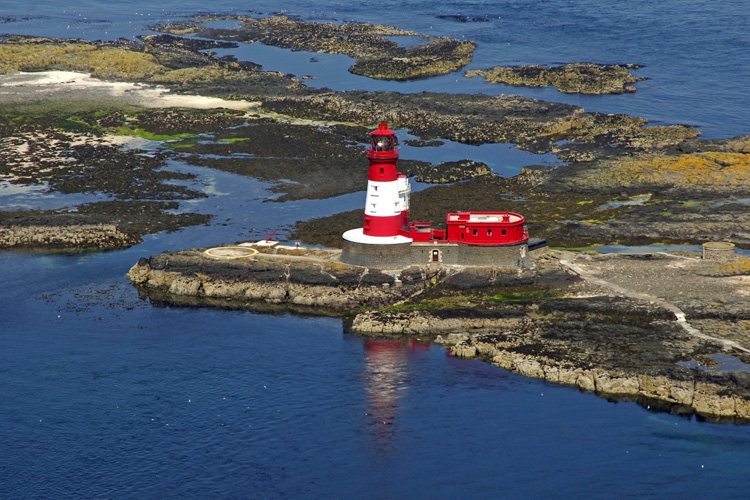 Longstone Lighthouse, Farne Islands, Northumberland

Aerial Photo by Marinas.com

We also have quire a few pictures from around 100 years ago showing how they looked, these images mostly coming from the restored photos in the Camera Images, GBPictures Archive, and again we are grateful for permission to use these.
Both of these sets of photos have really enhanced this section.
We have a new Lighthouse Section

A new Lighthouse doorway

entering our system, specifically looking directly at the lighthouses section.
A new Lighthouses

topic index, and all location guides, lists, maps and articles are indexed in the main indexes, alphabetically, by topic and by county. Alternative names have only been included in the alphabetic index.
There are so many new location guides that I have included them is a supplementary list available by clicking here

, but you will find it easier using the lists or interactive maps to access them.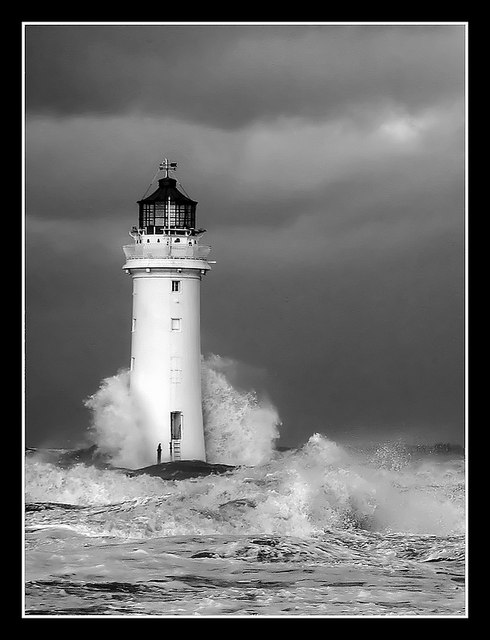 New Brighton Lighthouse, Cheshire


Photo by Ron Franklin

The Photographers Diary
The diary has been updated and July is now in the 'This Month' position and August has been added to the 'Next Month' slot. So what's going on this month. Well the answer to that is just about everything. July and August are amongst the busiest months of the year, with it being the middle of our summer, the schools breaking up and with a bank holiday at the end of August there is just about something for everyone.
The major events this month (July) are:- The Festival of History put on by English Heritage, again this year at Kelmarsh Hall in Nottinghamshire and takes place on the weekend of 17th and 18th, this years highlight is a WWII Battle re-enactment with air displays. The British F1 Grand Prix at Silverstone starts on the 9th, the Royal International Air Tattoo at Fairford in Gloucestershire is on the 17th and 18th, probably the largest military airshow in the World. The Royal Welsh Show, is the annual major agricultural show in Wales, is on from the 19th, and the RHS Tatton Park Flower Show starts on the 21st. This years Eisteddfod is taking place in Ebbw Vale from the 31st and runs into August, one of a number of music events taking place throughout the UK. Cowes Week on the Isle of Wight, for the sailors, also starts on the 31st and runs into the beginning of next month.
| | |
| --- | --- |
| Some of the more unusual events this month include:- the World Tin Bath Championships taking place on the Isle of Man, where around 100 competitors take to the water in tin baths and race each other in the harbour. Or if you want something a little more laid back, but still as competitive, then you could visit Witcham in Cambridgeshire and take a look at the World Pea Shooting Championships on the 10th. For those interested in athletics then you could try the annual Wenlock Olympian Games in Much Wenlock in Shropshire, the home of the original Olympics! Of course for the truly competitive nature in you, you could go along to the World Snail Racing Championships, on the 17th, and see who is the fastest to cross the line!!!! | |
After the hysterical you could try something historical, such as the Tewkesbury Medieval Festival, where a battle with over 2000 knights takes place on part of the original site of the Battle of Twekesbury in 1471. Or you could visit The War and Peace Show in Kent, where over 3000 military vehicles take part, as well as battle re-enactments and living history displays.
July is also the month for the annual Swan count on the River Thames. An ancient ceremony called 'Swan Upping', this dates back to the 12th century when in England ownership of all Mute Swans was declared by the monarchy and it was a dish at banquets and feasts. The Swan Upping

this year takes place from the 19th to 23rd July.
Whatever you decide to do this month, there is so much going on, what you should decide, is to do something. To find out what is on, that is of interest to you, then take a look at our Diary pages, and don't forget we have colour coded the items to make it easier for you to find that event that you want to attend.
Wildlife Photography In July
Much of what we have covered this month is at the coast and on the many islands of our Great Britain. Many of the locations for lighthouses put you in close proximity to a wide range of seabirds on the cliffs and on specific islands like South Stack

on Anglesey or the Farne Islands,

in Northumberland where you will also find the Puffins

still busy feeding their chicks before they decide to fly off out to sea. Many of the lighthouses are accessed via heathlands and vegetation that are good for butterflies, dragonflies, snakes and grasshoppers.
If you go to visit a lighthouse it is invariably at the coast and a walk onto the nearby beaches will allow you to explore the many rock pools and their tiny inhabitants, or you may just come across Jellyfish that have been washed up on the beach. A visit to the Port Erin Lighthouse,

on Isle of Man, will also get you to one of the best places to see Basking Sharks feeding on the plankton in the Bay. A walk up to Barra Head, which overlooks the bay and lighthouse, with your binoculars, you may be lucky enough to get a glimpse of them.
For a more detailed look at some of wildlife on offer this month, take a look at Wildlife Photography in July

and explore the nature and wildlife calendar off the Diary menu.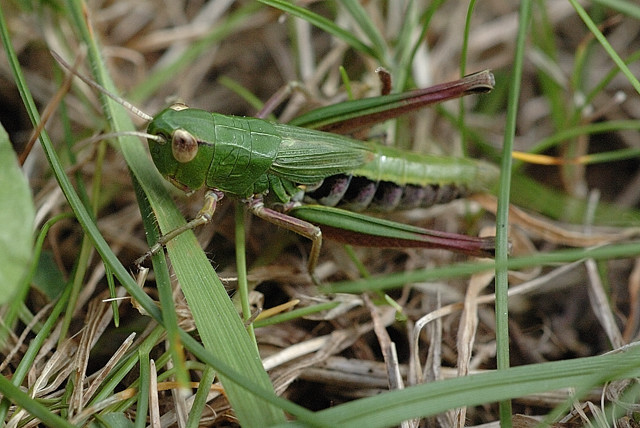 When looking at big things, like lighthouses or items in the air like birds
don't forget the little things around your feet!